Podcast: Play in new window | Download (Duration: 1:00:24 — ) | Embed
Confessions of an Economic Hitman | An Interview with John Perkins

Jerry Robinson begins this week's program with a market recap and a look at the international currency war that has been heating up over the last few weeks.
*** Become an Gold member today and Get Jerry's Personal Stock Trading List Every Month ***
Tom Cloud joins Jerry for a discussion on the recent rally in gold and silver prices along with some other important news of the week in this week's Precious Metals Market Update. Tom also gives his thoughts on what next week may hold for gold and silver prices.
*** Sign up to receive free email alerts and a free investor's kit from Tom Cloud ***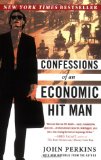 In Segment Two, Jerry is joined by New York Times best-selling author and former "economic hitman", John Perkins. Perkins is author of Confessions of an Economic Hit Man and Hoodwinked. Both books explore how corporate greed has been at the core of the global economic crisis.
*** Click here to learn about Confessions of a Hit Man ***

In our final segment, Jerry provides a few final thoughts. Then its time for this week's Financial Strategies segment with Retirement Specialist, John Bearss. This week, John discusses the importance of long term care planning.
*** Looking for investment advice for your 401(k)? Click here to get more information. ***