ETF trend rankings for traders/investors
ETF LEADERBOARD

Welcome to the ETF Leaderboard
Are you tired of sifting through countless trading and investment options, trying to find the ones that will give you the best returns? Do you want a simple, effective way to stay laser-focused on the top-performing ETFs in the U.S. market? Look no further than ETF Leaderboard.
Not a Member? Start Your FREE 7 Day Trial Here
What is the ETF Leaderboard?
Our proprietary ranking system tracks and analyzes the top 150 ETFs in the United States, providing you with profitable insights into which ETFs are performing the best — and which ones to avoid.
With ETF Leaderboard, you'll never have to worry about missing out on a hot investment or trading opportunity. Our ranking system is based on a range of factors, including price action, market trends, and momentum. This means that you'll always have access to the most relevant and actionable ETF ideas, allowing you to capitalize on the latest market trends and maximize your returns.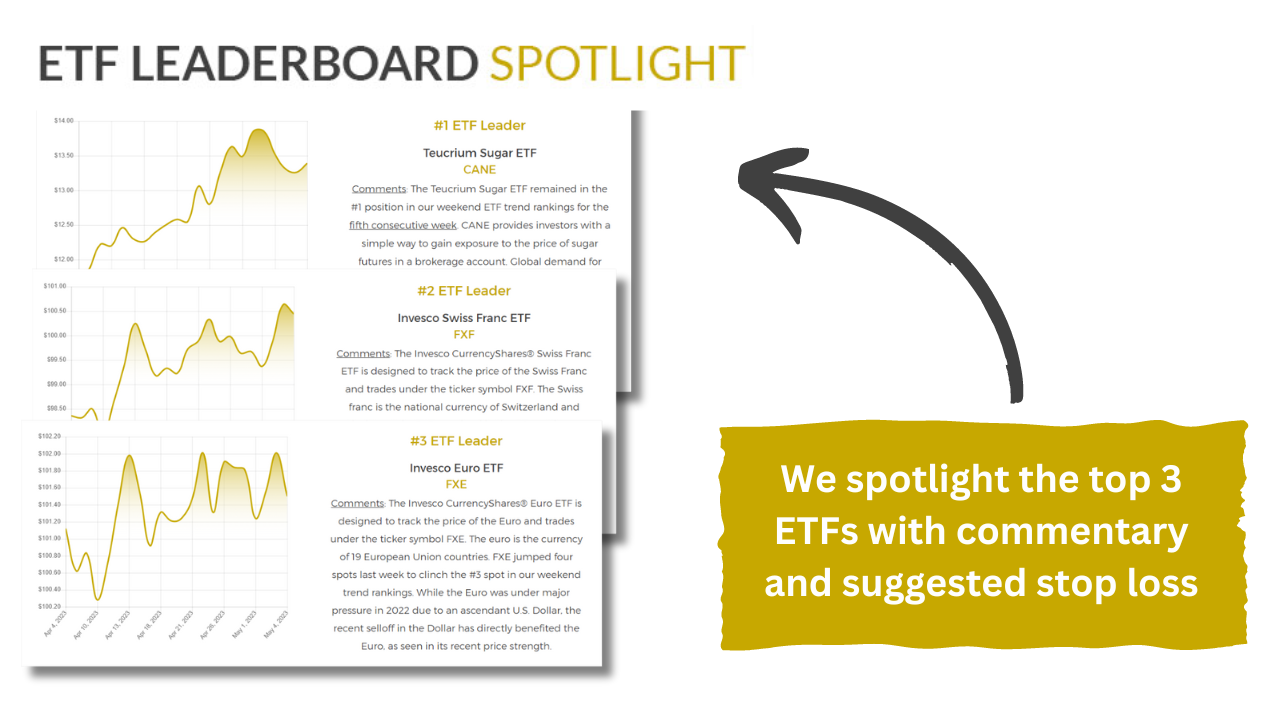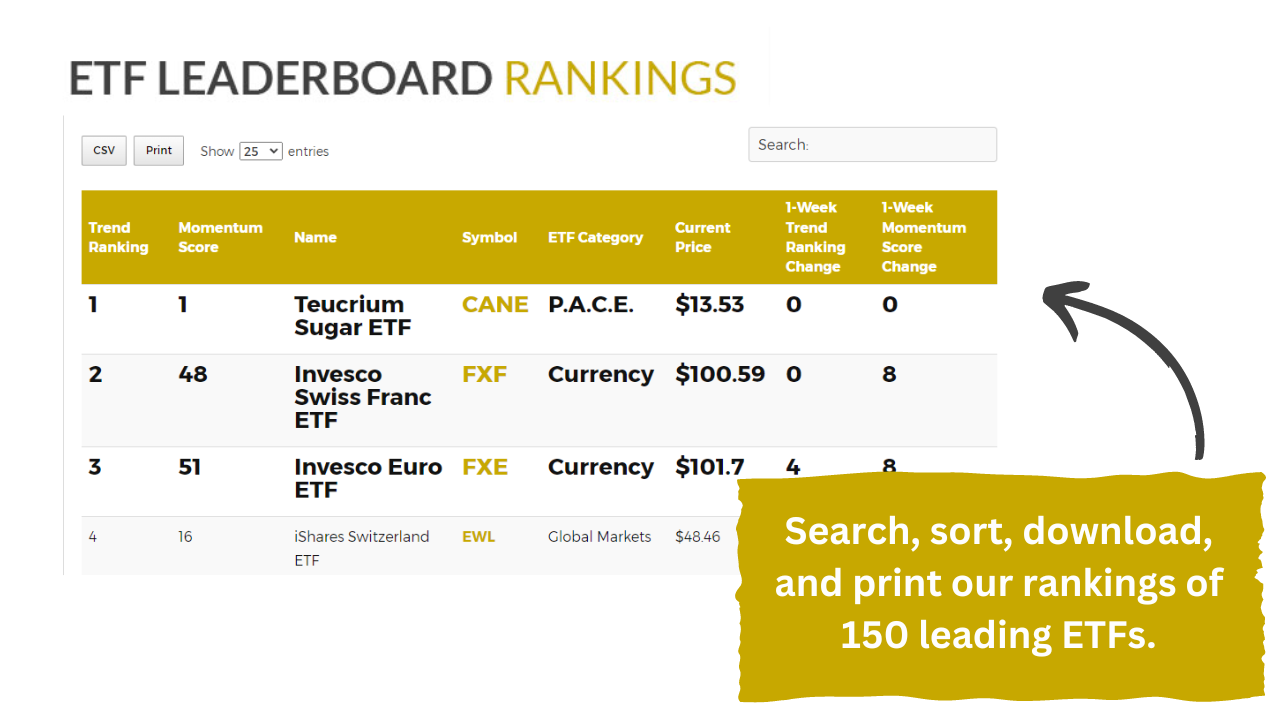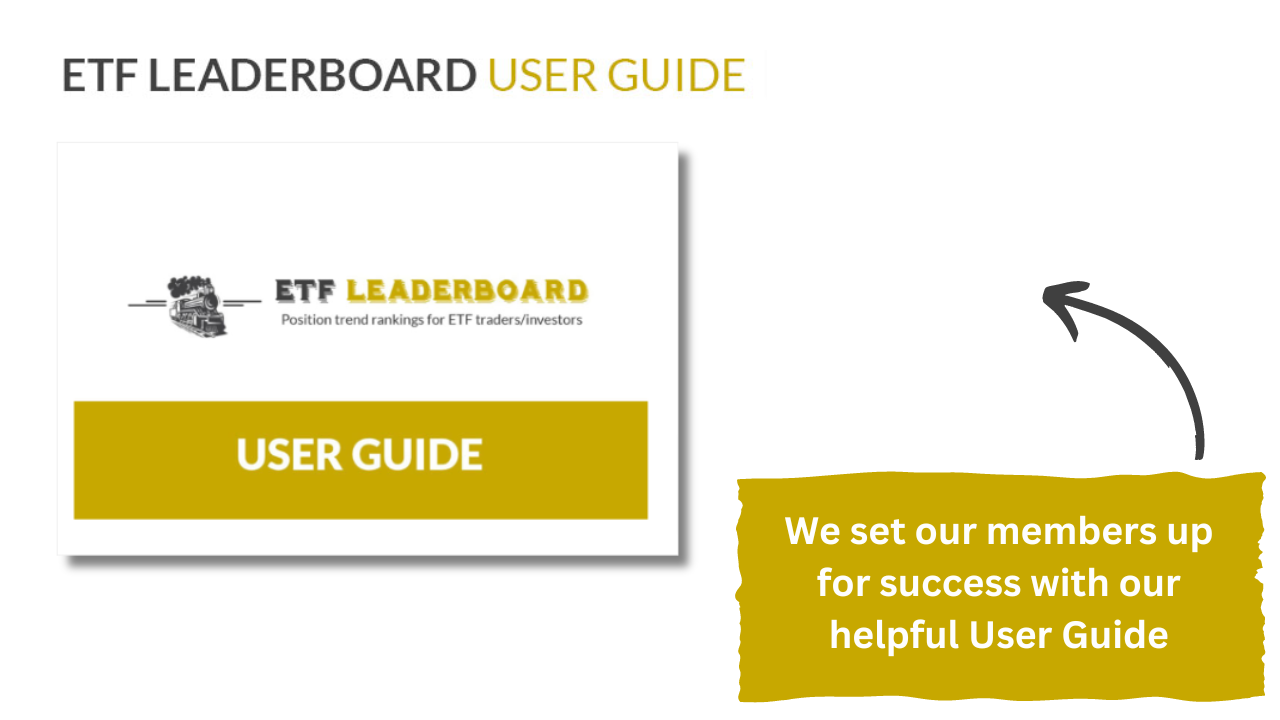 Get Instant Access To The Top-Ranked U.S. ETFs
So why wait? Unlock instant access to our ETF Leaderboard today with a 7-day FREE trial and start trading the top-performing ETFs in the United States. Let our powerful ranking system and expert insights help you take your trading to the next level.
Followthemoney.com's ETF Leaderboard is a powerful swing and position trading service on the right side of current market trends. our members on the right side of the mhelps investors/traders focus on the hottest markets right now. We spotlight the top three ETFs on this page and in each weekend issue of The Robinson Report. (Updated every weekend.)
Who created the ETF Leaderboard?
Meet Jerry Robinson, the founder of Followthemoney.com and the mastermind behind the ETF Leaderboard. With 25 years of experience in the financial markets, Jerry is a seasoned trading coach and well-known authority on successful trend trading and investing. Jerry's expertise and insights are at the heart of our proprietary ETF Leaderboard ranking system. His in-depth market analysis and trend forecasting help us identify the top-performing ETFs, often before they make outsized moves, and provide our members with actionable — and profitable — insights into the markets.
Start Your FREE 7-Day Trial Today