Welcome to FollowtheMoney.com!

Welcome to FollowtheMoney.com, the fiercely independent trend and investment research firm that has been transforming the financial industry since 2010. Our company is led by economist, investor, trader, and best-selling author, Jerry Robinson.
Our mission is to provide our readers and premium members with profitable and cutting-edge investing, trading, and geopolitical insights that are unmatched in the industry. We pride ourselves on being an emerging leader in the financial research space, serving our premium members from around the globe who enjoy access to our investment and trading research along with actionable ideas.
Our team of experts works tirelessly to bring you the latest trends and insights in the market. Whether you're a seasoned trader/investor, or just starting out, our research and analysis can help you make informed decisions that can yield profitable results.
At FollowtheMoney.com, we believe in being fiercely independent in our research. Unlike our bigger competitors who may prioritize profits over people, we are focused on building long-lasting relationships with our premium members that are built on mutual trust and respect. We see them as members of our own family and strive to treat them accordingly.
So why choose our family-owned and operated business over our bigger competitors? Because we offer something that they simply cannot – a personalized and caring approach that puts you and your family's financial well-being first. Join our family today and experience the difference that our independence and family-oriented business model can make for you.
We understand that the financial markets can be complex and confusing, which is why we strive to provide our readers and premium members with easy-to-understand and actionable insights that will help them navigate the markets with confidence.
Join our global community of readers and premium members today and start enjoying the benefits of our profitable and cutting-edge investing, trading, and geopolitical insights. We look forward to helping you achieve your financial goals!
We teach how to trade based on trends, not opinions. Market opinion and sales hype are a dime a dozen and can quickly lead investors to the poorhouse. Instead of relying on opinions and hype, we teach our members how to follow trends for profit.
We stay on the right side of the trend. When the trend begins to rise, we get in. When the uptrend ends, we sell. It's that simple. By trading based on trends, we're able to identify profitable opportunities in both short-term and long-term investments. (Members have access to our premium research, which guides them through market uptrends and downtrends along with actionable strategies.)
Our premium members receive real-time actionable ideas and strategies that are designed to exploit trends in the market. We provide you with the tools and knowledge you need to make informed decisions and capitalize on profitable opportunities.
So why should you choose our trend-based investment approach? Because it's backed by real data and analysis, not just opinion or hype. Our proven strategies have helped countless investors achieve success in the markets, and we're confident that we can do the same for you.
Join our community of premium members today and start trading based on trends, not opinions.
Meet Our Founder, Jerry Robinson

Jerry Robinson is a best-selling author, investor, public speaker, and trend trading coach. However, what sets him apart and truly matters most to him is his passion for teaching others. He's committed to sharing his expertise and empowering people to achieve their financial goals.
Jerry genuinely wants to help people succeed in pursuing (and funding) their callings in life.
Jerry's approach to trend trading is focused on following trends, not opinions, and staying on the right side of the trend. He provides our premium members with real-time actionable ideas and strategies designed to exploit short-term and long-term trends. And as a coach, he offers personalized guidance and mentorship to help traders of all levels achieve their goals.
At the core of Jerry's mission is his belief that financial freedom is a key component of living a fulfilling life. By helping his clients achieve financial success, he hopes to empower them to pursue their passions and make a positive impact on the world.
Jerry's also a best-selling author of Bankruptcy of our Nation. But don't expect fancy, complicated language that nobody can understand. His books are written in a clear, accessible style that makes even the most complex financial concepts easy to understand.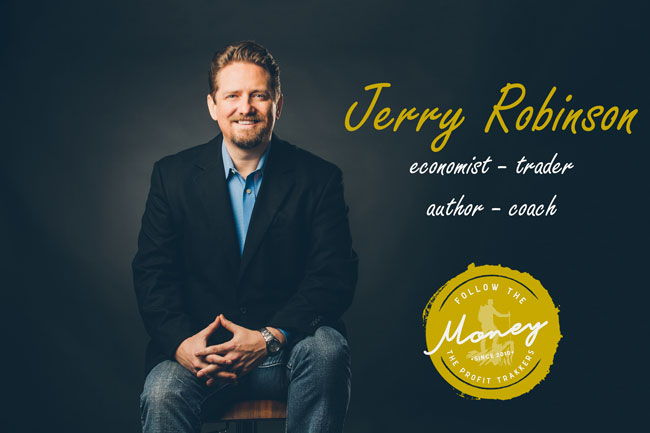 As a trend trading coach, Jerry is committed to helping traders of all levels achieve success in the markets. But he is more than just a trend trading coach with the heart of a teacher. He's also a man of faith with a passion for Christ. Jerry's journey to Christ was a transformative one. Raised as one of Jehovah's Witnesses, he learned the importance of fact-finding, asking questions, and seeking the truth above all else. This experience has had a profound impact on Jerry's life and work, inspiring him to approach everything he does with a dedication to uncovering the truth. It's this unique perspective that sets Jerry's message apart and drives his commitment to helping his clients achieve financial success in a way that's both ethical and empowering. His "Follow the Money" approach is grounded in a deep understanding of the markets and a dedication to cutting through the noise to uncover the trends that really matter.
So whether you're just starting out on your financial journey or you're a seasoned investor looking to take your skills to the next level, Jerry is the expert guide you need. With his unique blend of knowledge, experience, and passion for the truth, he's the perfect partner for anyone looking to achieve financial success on their own terms.
Although he has never been an "insider" on Wall Street, Jerry has used his own trend trading system to profit from many major market uptrends.
Here is a small sampling:
The stock market crash of 2008 (Our trading system generated a Long-term sell signal in December 2007)
Buy signal for U.S. stocks in 2009 (Our trading system generated a new Long-term buy signal in the early summer of 2009)
Long-term buy signal on Bitcoin (BTC) in 2013 (We recommended Bitcoin below $250)
Buy signal issued on Ripple (XRP) in 2013 (We recommended XRP at less than $0.005)
The historic U.S. dollar bull market beginning in July 2014 (We alerted our members of a Long-Term buy signal on July 1))
China's stock market rally in 2014
Major buy signal issued on gold, silver, and mining stocks on Feb. 1 2016
Dec. 1, 2017: Buy signal issued on Tron (TRX) cryptocurrency at $0.002
January 2020: Buy signal issued on Chainlink (LINK) cryptocurrency at $1.96
And many more!
While not a financial advisor, Jerry is a licensed life/health insurance agent. He is the founder of Christian Advisor Referral (C.A.R.), a service that connects individuals, families, retirees, and small business owners with licensed financial counselors and advisors.
Jerry made a bold move in 2012 when he decided to uproot his family from the suburbs in Texas and embark on a new adventure. Today, he lives a more sustainable lifestyle (getting off the grid) in the beautiful Ozark mountains in Northwestern Arkansas with his family.
Media Requests and Booking Information
Are you looking for a dynamic and engaging speaker who can provide unique insights on the economy, investment trends, and trading strategies? Look no further than Jerry Robinson!
As a trend trading coach and bestselling author, Jerry is an expert in his field, with a wealth of knowledge and experience to share. Whether you're a journalist looking for expert commentary on the latest financial news or an event planner seeking a keynote speaker who can captivate and inspire your audience, Jerry is the perfect choice.
With a passion for teaching and a gift for making even the most complex financial topics relatable and understandable, Jerry is a go-to expert for media appearances and speaking engagements. His work has been featured on a wide range of national and international media outlets including FoxNews, Bloomberg, CNNMoney, and USA Today. Jerry has also spoken at conferences, universities, and organizations all around the globe.
Ready to book Jerry for a media appearance or live event? Contact us today to learn more about his availability and booking information.

---