Welcome to FollowtheMoney.com!

FollowtheMoney.com is a fiercely independent trend and investment research firm led by economist, investor, and best-selling author, Jerry Robinson. Our nationwide team of financial experts boast a combined 203 years of experience in the financial markets.
Since 2010, more than one million FollowtheMoney.com readers and premium members from around the globe have enjoyed our profitable and cutting-edge investing, trading, and geopolitical insights.
We trade based on trends, not opinions. Market opinion and sales hype are a dime a dozen and can quickly lead investors to the poorhouse. Instead of relying on opinion, we follow trends.
We stay on the right side of the trend. When the trend begins to rise, we get in. When the uptrend ends, we sell. (We also provide our premium members with actionable strategies for profiting in a downtrend.)
Our premium members receive real-time actionable ideas and strategies designed both to exploit short-term and long-term trends. Learn more here.
Meet Our Founder, Jerry Robinson

Jerry Robinson is an economist, veteran trend trader, best-selling author, investor, public speaker, and trading coach. Jerry also has a passion for researching and teaching the Bible.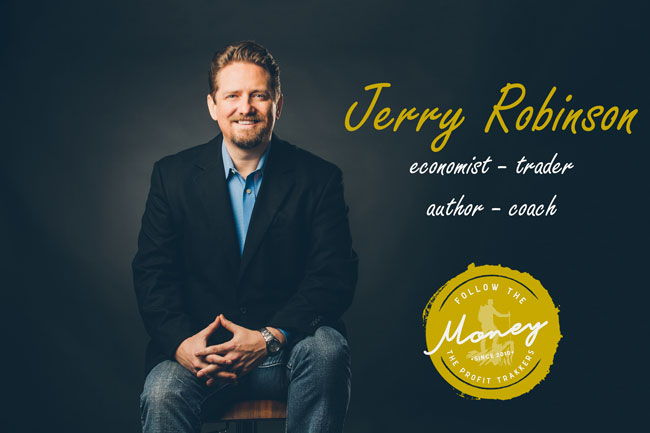 Before coming to Christ in the 1990's, Jerry Robinson was raised as one of Jehovah's Witnesses. Upon discovering the truth, Jerry learned a valuable lesson in fact-finding, asking questions, and seeking the truth above all else. This unique experience sets Jerry's message apart and inspires his efforts to get to the bottom of things in true "Follow the Money" fashion.
Although he has never been an "insider" on Wall Street, Jerry Robinson has used his own Profit Trakker trend trading system to ride many major market uptrends.
Here is a small sampling:
The stock market crash of 2008 (Long-term sell signal issued in December 2007)
Buy signal for U.S. stocks in 2009 (Long-term buy signal issued in the summer of 2009)
Long-term buy signal on Bitcoin (BTC) in 2013 (When price was less than $250)
Buy signal issued on Ripple (XRP) in 2013 (When price was less than $0.005)
The historic U.S. dollar bull market beginning in July 2014 (Major position uptrend alert on July 1))
China's stock market rally in 2014
Major buy signal issued on gold, silver, and mining stocks on Feb. 1 2016
Long-term buy signal issued on European stocks (in December 2016)
Dec. 1, 2017: Buy signal issued on Tron (TRX) cryptocurrency at $0.002
January 2020: Buy signal issued on Chainlink (LINK) cryptocurrency at $1.96
And many more!
Jerry Robinson's best-selling book, Bankruptcy of Our Nation provides an eye-opening critique of America's debt-based economic system. He has regularly appeared on popular radio and television programs and has lectured to audiences in the U.S. and around the globe.
While not a financial advisor, Jerry Robinson is a licensed life/health insurance agent. He is the founder of Christian Advisor Referral (C.A.R.), a service that connects individuals, families, retirees, and small business owners with licensed financial counselors and advisors.
In 2012, Jerry Robinson uprooted his family from the suburbs of Houston, Texas and now lives a more sustainable (about 80% off-the-grid) lifestyle in the beautiful Ozark mountains in Northwestern Arkansas.
Media Requests and Booking Information
Jerry Robinson has been interviewed and quoted by many major news outlets including FoxNews, Bloomberg, CNNMoney, and USA Today. Jerry has also spoken at conferences, universities, and organizations all around the globe for more than a decade.
To learn more about how you can schedule an interview or invite Jerry to speak at your next event, please contact our office here.
---