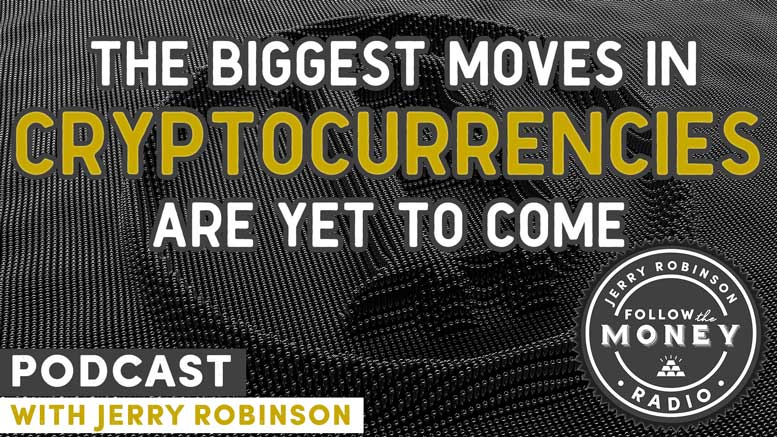 Biggest Moves in Cryptocurrencies Are Yet to Come
Welcome to Follow the Money Radio!
In this episode, we're switching it up a bit, as Founder and CEO of
Followthemoney.com
,
Jerry Robinson
sits on the opposite side of the table – as the interviewee. The host of FinanceandLiberty.com, Elijah Johnson, asks Jerry for his perspective on gold, cryptocurrencies, the state of the stock market, and what 2018 may hold for traders and investors.
Subscribe
on iTunes |
Download

Segment 1: An Interview with Jerry Robinson
As he and his family retreat to the warm, sunny beaches of Mexico, we dip into our archives to bring you this compelling interview with the Founder and CEO of Followthemoney.com, Jerry Robinson. A trained economist, experienced Trading Coach, and veteran trader, Jerry shares with Elijah Johnson, the host of FinanceandLiberty.com, why he is bullish on the market, bearish on the U.S. dollar, and "a permabull" on gold.
All markets move according to trends, boom-bust cycles
Following the trend = Following the money
The benefits of inverse ETFs when a downtrend is forming
Why you should never mix your investing with your political beliefs
Cryptocurrencies are "the #1 reason" to own gold
This extremely bearish signal will be a clear repudiation of the U.S. dollar
 Recommended Links
Bankruptcy of Our Nation by Jerry Robinson
Preparing for the Collapse of the Petrodollar System
PODCAST: Gold: The Ultimate Safe Haven
PODCAST: Why I Am Bullish on Bitcoin in 2018
PODCAST: Bitcoin: The New Wild West
PODCAST: Bitcoin Q&A For Investors
PODCAST: Should I Buy Bitcoin?
PODCAST: The Future Of Bitcoin
Segment 2: The Final Word
Armed with the wisdom of the ages, Jerry encourages us with a powerful, yet simple recipe for achieving success.
Plan your work
Work your plan
Learn from your failures
---
Call 800-247-2812 now for the best prices on gold and silver coins and receive Free Shipping & Insurance when you mention FTMDaily.
LIMITED TIME OFFER: GET THE 10 CRYPTOCURRENCIES WE ARE HOLDING IN 2018!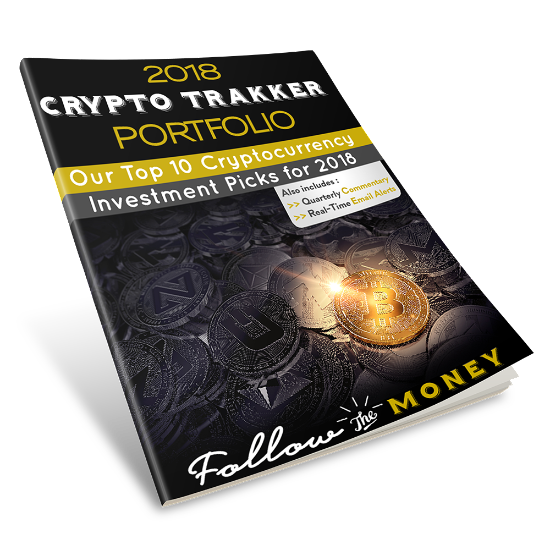 If you enjoyed this week's episode, please share it on Facebook, Twitter, and any other social media outlets. Help us spread the word!
One of the best ways to promote our work is to leave an honest review for Follow the Money Radio on iTunes! Ratings and reviews are extremely helpful and greatly appreciated! They do matter in the rankings of the show, and I read each and every one of them personally. Thank you for your support! See you next week!

---
Get Email Alerts From Follow the Money
Sign up to get our Podcast delivered straight to your inbox


We value your privacy and will never share your email
Recent Podcasts by Jerry Robinson
incoming searches: stock market, gold, cryptocurrencies, bitcoin, should I buy bitcoin, the future of bitcoin, profit trakker, trend trading, Jerry Robinson, Elijah Johnson, investing in cryptocurrencies