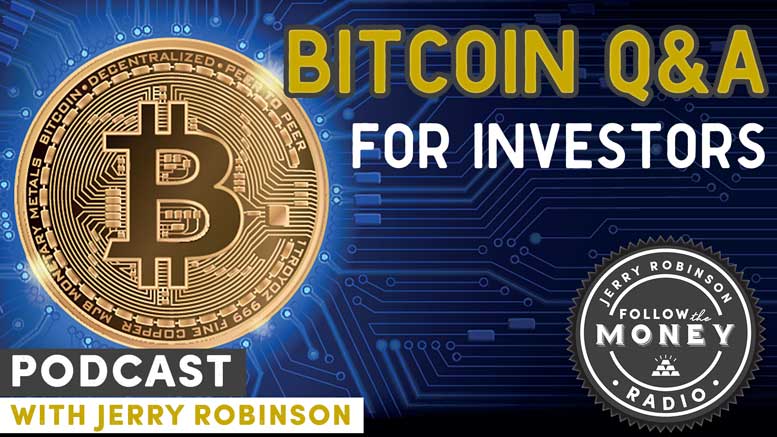 Bitcoin Q&A for Investors
Welcome to Follow the Money Radio!
As the ferocious rally in cryptocurrencies pushes the price of Bitcoin above $10,000, we are receiving a flood of listener questions on the topic. On today's broadcast, Economist and Trading Coach Jerry Robinson addresses several of these questions about cryptocurrencies. Later, an update on the weakening U.S. dollar with precious metals advisor, Tom Cloud, as well as an important investing tip from veteran financial advisor, Mike Mitchell.
Subscribe
on iTunes |
Download

Segment 1: Bitcoin Q&A for Investors (with Jerry Robinson)
As price discovery for Bitcoin catapults its value to over $10,000 per bitcoin, interest and excitement are escalating in the cryptocurrency market. Veteran Bitcoin investor and teacher-at-heart Jerry Robinson devotes this segment to helping our listeners better understand the emerging blockchain technology and its promising future for investors. The questions Jerry answers on today's show include:
Is it too late to buy Bitcoin?
Where do you think the price of Bitcoin will go in the future?
Does Bitcoin fit into your Five Levels of Financial Freedom? If so, at which level?
Can I trade Bitcoin like I trade stocks?
What will happen to the price of Bitcoin if the market crashes?
Why should I trust that my bitcoins are safe?
Can I just invest in a Bitcoin ETF instead of buying actual bitcoins?
What are some companies I can invest in to profit from a rising Bitcoin?
Where can I buy Bitcoin?
Recommended Links
Cryptocurrency Market Capitalizations
Five Levels of Financial Freedom
Trezor by SatoshiLabs (hardware wallet)
Ledger Nano S (hardware wallet)
Coinbase
Bittrex
Binance
Bankruptcy of Our Nation by Jerry Robinson
Segment 2: Precious Metals Market Update
With over 40 years of market experience, precious metals expert Tom Cloud brings us his perspective of what lies ahead for gold and silver. Topics include:

America's detachment from the grim reality of the dying U.S. dollar
The timeless wisdom of diversification
Tom's 2018 forecast for gold
"Central banks are buying gold like it's going out of style"
Why asset allocation in gold and silver is important right now
---
Call 800-247-2812 now for the best prices on gold and silver coins and receive Free Shipping & Insurance when you mention FTMDaily.
LIMITED TIME OFFER: UNLOCK OUR SOFTWARE WITH A 7-DAY FREE TRIAL!
No coupon code required
Offer Expires 12/15/2017

Segment 3: The Rule of 72 and the Real Rate of Return in Retirement (with Mike Mitchell)
Christian financial advisor Mike Mitchell offers an expert voice of wisdom in making proper decisions for sound retirement. This week, he examines a commonly used equation in the investing arena, and two important factors that should be considered in the calculation.

What is the Rule of 72?
What is your actual rate of return after inflation?
What is your actual rate of return after taxes?
Call Mike Mitchell Toll-Free at 833-370-0777 With Your Retirement Questions
---
Call 833-370-0777 to speak directly with Mike Mitchell about how you can experience a sound retirement.
If you enjoyed this week's episode, please share it on Facebook, Twitter, and any other social media outlets. Help us spread the word!
One of the best ways to promote our work is to leave an honest review for Follow the Money Radio on iTunes! Ratings and reviews are extremely helpful and greatly appreciated! They do matter in the rankings of the show, and I read each and every one of them personally. Thank you for your support! See you next week!

---
Get Email Alerts From Follow the Money
Sign up to get our Podcast delivered straight to your inbox


We value your privacy and will never share your email
Recent Podcasts by Jerry Robinson
incoming searches: Jerry Robinson, Follow the Money, finance, bitcoin, cryptocurrency, litecoin, Tom Cloud, precious metals, retirement income, Mike Mitchell