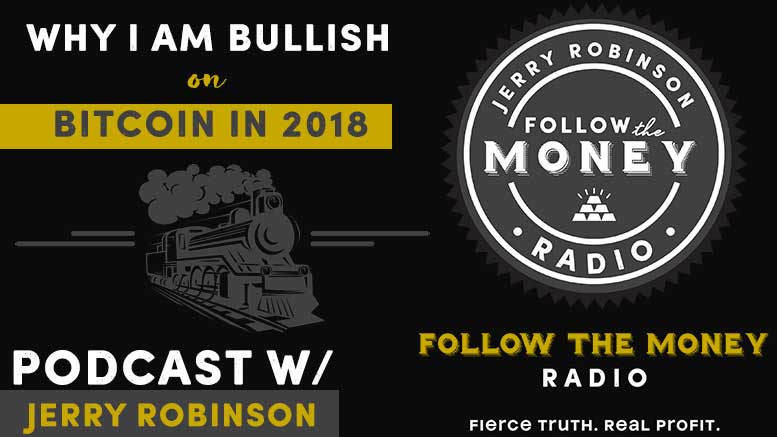 Why I Am Bullish On Bitcoin In 2018
Welcome to Follow the Money Radio! 
The famed investor Warren Buffett recently said that Bitcoin is in a bubble and will end badly for current investors. In this week's broadcast, long-time cryptocurrency investor Jerry Robinson examines Buffett's bearish claims and explains why he remains bullish on Bitcoin in 2018. Later, our 2018 price forecasts on gold, silver, palladium, and platinum.
Subscribe
on iTunes |
Download

Segment 1: Why I Am Bullish On Bitcoin in 2018 w/Jerry Robinson
On this very first podcast of 2018, Trading Coach, veteran Bitcoin investor, and teacher-at-heart Jerry Robinson examines the widespread lack of general knowledge about the revolutionary Blockchain technology, and explains the reasons behind his belief that cryptocurrencies are just getting started.
It's official! We are now Followthemoney.com
The crucial need for diversification in this market environment
Timeless Wisdom: Don't mix your politics with your trading
The current boom-and-bust nature of the cryptocurrencies
Bitcoin is merely the first application of the Blockchain technology
Bitcoin and Blockchain technology: The genie coming out of the bottle
Recommended Links
Warren Buffett On Cryptocurrencies
2018 Crypto Trakker Portfolio
Cryptocurrency Market Capitalizations
Bitcoin Technical Chart
Five Levels of Financial Freedom
Bankruptcy of Our Nation by Jerry Robinson
Segment 2: 2018 Precious Metals Price Forecasts w/Tom Cloud
Celebrating their seventh year together on a mission to educate investors in the art of diversification, and the enduring value of gold and silver, forty-year veteran precious metals expert Tom Cloud shares with Jerry his 2018 outlook for four precious metals. Topics include:

GOLD: China's unrelenting appetite for gold
Cryptocurrencies provide an incredibly compelling case for gold
SILVER: Why Tom is looking for a very good catch-up year for silver
PALLADIUM: Tesla is investing millions in solar panel production
PLATINUM: Platinum is 40 times rarer than gold
Sign up here for Tom's email alerts
---
Call 800-247-2812 now for the best prices on gold and silver coins and receive Free Shipping & Insurance when you mention FTMDaily.
LIMITED TIME OFFER: GET THE 10 CRYPTOCURRENCIES WE ARE HOLDING IN 2018!


Segment 3: It's Here... Our 2018 Top 10 Stock Portfolio
How did your portfolio perform last year? Are you a trader that stays tethered to the market all day every day, trying to catch the right moment to buy and sell? Does searching for the right stocks overwhelm you and consume more time than you can spare? Here's how you can take the headache (and churning stomach) out of your life.
Did you know... Every year, 90-95% of money managers fail to beat the S&P 500
In 2017, we successfully beat the S&P 500 with an almost 23% return
Our 2018 Top 10 Stock Portfolio is poised to smoke the S&P 500 again!
Download our free Special Report: How To Get Out of Debt... Fast!
If you enjoyed this week's episode, please share it on Facebook, Twitter, and any other social media outlets. Help us spread the word!
One of the best ways to promote our work is to leave an honest review for Follow the Money Radio on iTunes! Ratings and reviews are extremely helpful and greatly appreciated! They do matter in the rankings of the show, and I read each and every one of them personally. Thank you for your support! See you next week!

---
Get Email Alerts From Follow the Money
Sign up to get our Podcast delivered straight to your inbox


We value your privacy and will never share your email
Recent Podcasts by Jerry Robinson
incoming searches: Jerry Robinson, Follow the Money, finance, bitcoin, cryptocurrency, Warren Buffett, Tom Cloud, precious metals, gold, silver