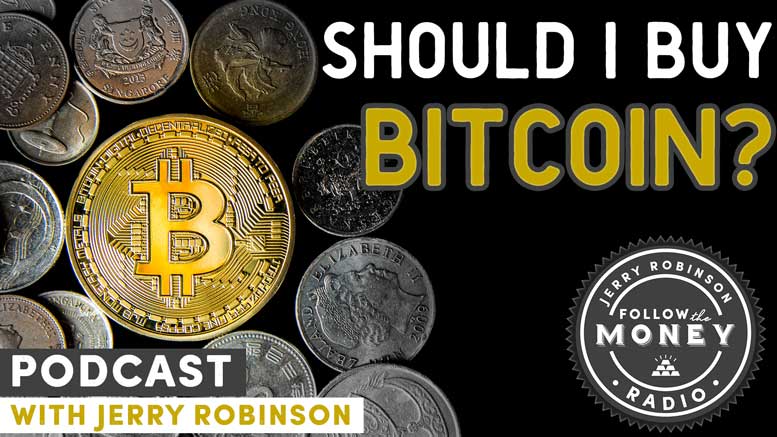 Should I Buy Bitcoin?
Welcome to Follow the Money Radio!
As the price of the world's top digital currency, Bitcoin, surges to new all-time highs and now trades above $7,000 each, one of the most common questions investors have is: Is it too late to buy Bitcoin? As an early adopter of Bitcoin and other cryptocurrencies, Jerry Robinson will provide his answer on today's show. And later, Christian financial advisor Mike Mitchell discusses the importance of understanding your own investment risk tolerance, and precious metals advisor Tom Cloud provides an 
important update for precious metals investors.
Subscribe
on iTunes |
Download

Segment 1: Should I Buy Bitcoin? (with Jerry Robinson)
With a 1000% increase in price since last year alone, Bitcoin's impressive, ground-breaking momentum is likely still in its infancy. In this segment, Jerry Robinson explains why Bitcoin is on the verge of mass acceptance and presents several factors that may propel Bitcoin to seven figures within the next decade.
Basic economics: Bitcoin's finite supply (21 million bitcoins) will drive up demand
It is becoming easier to buy Bitcoin… but there's still no "app for that"
Bitcoin's global brand awareness stands alone
The coming liquid futures market for Bitcoin
Rumor: Amazon is planning to accept Bitcoin as payment
Recommended Links
Coinbase
Bittrex
Bankruptcy of Our Nation by Jerry Robinson
Segment 2: Precious Metals Market Update
With over 40 years of market experience, precious metals expert Tom Cloud brings us his perspective of what lies ahead for gold and silver. Topics include:

Precious metals prices are steadily rising despite selloffs
China's relatively new ease of monetary movement in the yuan
Gold-back cryptocurrency = major purchases of gold
Big money is moving into the precious metals markets
The unprecedented U.S. deficit under President Trump
---
Call 800-247-2812 now for the best prices on gold and silver coins and receive Free Shipping & Insurance when you mention FTMDaily.
LIMITED TIME OFFER: UNLOCK OUR SOFTWARE WITH A 7-DAY FREE TRIAL!
No coupon code required
Offer Expires 11/30/2017

Segment 3: What Is Your Investment Risk Tolerance? (with Mike Mitchell)
Christian financial advisor Mike Mitchell offers an expert voice of wisdom in making proper decisions for sound retirement. This week, he examines the importance of a risk profile that is aligned with your plans for retirement.

How are you establishing your portfolio as you go into retirement?
Is your portfolio overweighted in risky investments?
What is your current age and when do you expect to retire?
Call Mike Mitchell Toll-Free at 833-370-0777 With Your Retirement Questions
---
Call 833-370-0777 to speak directly with Mike Mitchell about how you can experience a sound retirement.
If you enjoyed this week's episode, please share it on Facebook, Twitter, and any other social media outlets. Help us spread the word!
One of the best ways to promote our work is to leave an honest review for Follow the Money Radio on iTunes! Ratings and reviews are extremely helpful and greatly appreciated! They do matter in the rankings of the show, and I read each and every one of them personally. Thank you for your support! See you next week!

---
Get Email Alerts From Follow the Money
Sign up to get our Podcast delivered straight to your inbox


We value your privacy and will never share your email
Recent Podcasts by Jerry Robinson
incoming searches: Jerry Robinson, Follow the Money, Tom Cloud, precious metals, retirement income, Mike Mitchell, Bitcoin, gold-backed cryptocurrencies, risk management