Segment 1: Why Washington Fears Blockchain
Segment begins at 00:44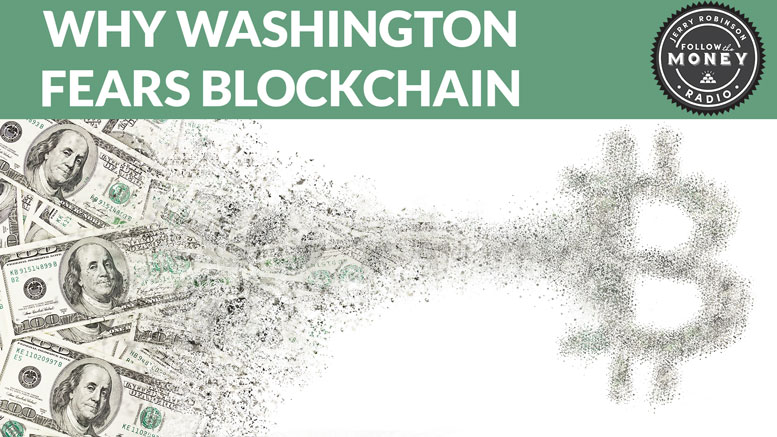 As Facebook makes the case before Congress for its new corporate currency, Libra, China has announced plans to release its own cryptocurrency. Add to that an acknowledgement of bitcoin's value from the current Fed Chair, and it becomes clear that cryptocurrency's landscape is shifting. Listen, as economist Jerry Robinson explains what's really going on in the blockchain arena.
The US dollar is currently propped up by the petrodollar system
Washington is opposed to free market competition in the currency of the US
The US is borrowing $1+ trillion per year to have 'the greatest economy ever'
Illicit and illegal trade was going on with US dollars long before the advent of bitcoin technology
The hash rate of the Bitcoin network just reached a new all-time high
Washington ultimately wants all-things-crypto to fit into their old and broken centralized systems
Is Facebook in bed with Washington?
Why China is watching Facebook intently
America's ability to navigate new technology is slowly being eroded
How to protect your finances in this economic environment
Recommended Links
Preparing for the Collapse of the Petrodollar System
Join our Community
Five Levels of Financial Freedom
2019 Cryptocurrency Investment Report
PODCAST: Bitcoin: The New Wild West
Bankruptcy of Our Nation by Jerry Robinson
Jerry Robinson on Twitter
Find a Christian Financial Advisor
---
Call 800-247-2812 now for the best prices on gold and silver coins and receive Free Shipping & Insurance when you mention FTMDaily.
Segment 2: The Final Word w/ Jerry Robinson
Segment begins at 55:11
Jerry closes out today's show with a 1968 quote from a former Fed Chair (before he assumed the office) in a speech promoting the idea of a gold standard to restrain government deficit spending.