Apple's recent price action has Wall Street observers scratching their heads.
This week, Apple (Ticker: AAPL) suffered its worst performance in over four years, briefly dipping to $505.75 in intraday trading. Shares of the company are down over 6% so far for the week. Making matters worse, these declines were accompanied by massive volume, which is never a good combination.
This is difficult news for many investors who bought just a few weeks ago when the stock was peaking through the $700 level. The stock is currently down over 27% from those levels reached back in mid-September. Despite the recent decline, the stock is still up over 35% so far in 2012.
Back in August, when the stock was trading at around $665, I issued a $725 price target on Apple for the end of 2012. (My crystal ball always gets fogged up this time of year…)
I have since lowered my 2012 projection for Apple. But I am still very bullish on the stock and believe the current price correction may offer new investors a nice entry point. Personally, I would like to see Apple be able to close above $575 for at least three days in a row before being convinced that the bleeding is over.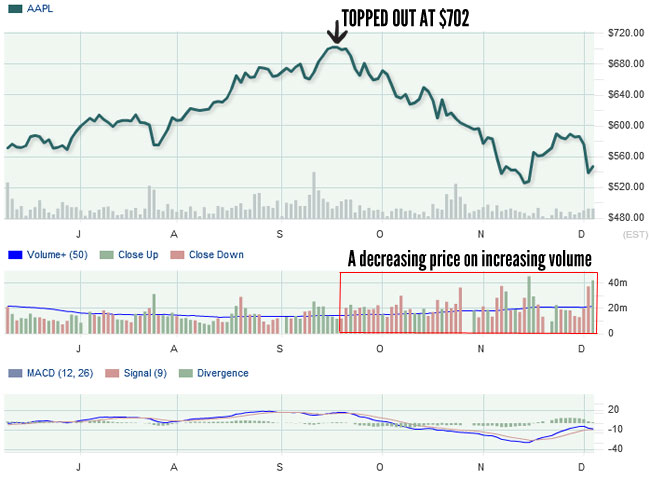 From a technical perspective, Apple is getting dangerously close to an area known as the "death cross."
What the heck is a "death cross?" The death cross is a technical event that occurs when a short-term moving average crosses below a longer-term moving average. For example, a death cross happens when a stock's 50 day moving average crosses below its 200 day moving average.
As you can see in the chart below (courtesy of CNBC), Apple's 50 day moving average is closing in on its 200 day moving average.
So what's driving Apple stock down?
Much of the recent price decline has been due to the increasing competitiveness of the marketplace. While Apple still reigns supreme in many key areas of its industry, its competitors are gaining ground. Google's Android and Microsoft Windows are both aggressively vying for market share.
Mounting concerns over the direction of the global economy and worries over the impending "fiscal cliff" in the U.S. have also added to the difficult climate for Apple.
Apple is a closely watched stock for a good reason. Back in August of this year, Apple was crowned as the largest company in world history, valued at an astounding $623 billion (in nominal terms.) In August, Apple's market value was larger than Google and Microsoft… combined! The meteoric rise of Apple is even more intriguing when you consider that Apple was only a $10 billion company back in 2004.
Over the last several years, mutual funds and hedge funds galore have poured money into Apple's stock. Today, the company sits atop $122 billion in cash and investments.
DID YOU KNOW? With $122 billion in the bank, Apple could buy all of the gold held in China.
Apple's innovative product pipeline appears strong. And despite the loss of their visionary founder, Steve Jobs, their executive management team boasts some of the most brilliant minds in the industry.
Recently, Apple's CEO Tim Cook was interviewed by Brian Williams with Rock Center. You can watch the interview below. (Mobile/Tablet users, click here if you can't see the video)
Disclaimer: Jerry Robinson, and FTMDaily.com, do not currently own shares in AAPL. Investing is risky. Always speak with a trusted financial professional before making any financial decisions. And always do your own due diligence.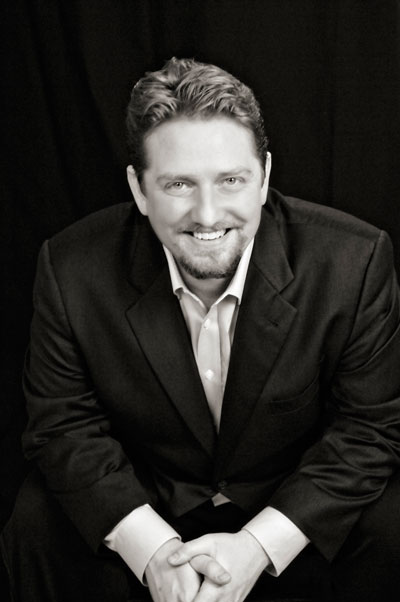 About Jerry Robinson
(Author, Radio Show Host, Investor)
Listen to Jerry Robinson's Radio Show | Get Jerry's Book | Email Jerry
Jerry Robinson is the founder of FTMDaily.com and is the author of "Bankruptcy of Our Nation: 21 Income Streams, P.A.C.E. Investing, and More." Robinson is an Austrian economist, a serial entrepreneur, and an investor. You can get more of Jerry Robinson's investment insights and income ideas by subscribing to our Gold member community. Learn more here.