For Platinum Members Only (Member Login)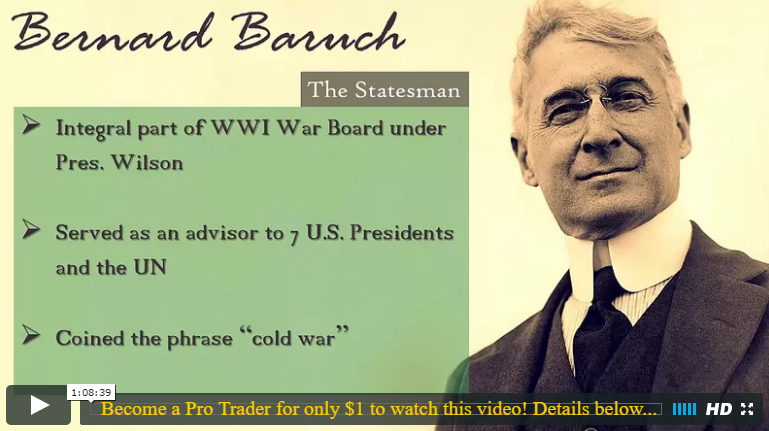 Topics Covered on this video conference call (in order)
What Traders Can Learn from Bernard Baruch. Jerry Robinson profiles one of the most influential men of his time both on Wall Street and in Washington. You would probably be surprised by how many famous quotes came from Baruch!
SmartScore FAQs Answered. The purpose of the SmartScore Rankings is to identify which stocks are the most attractive to the big, institutional money based on our 7 SmartScore criteria.
4 Major Bubbles That 'Need' to Burst. Learn the four ultra-frothy markets from which traders may want to begin taking profits, including:

Two markets you are probably invested in if you have a 401(k)
A hot, innovative industry that has made many traders big profits
Member Questions Answered on Today's Video
How low do you keep your stop loss on your corporate bond fund position ( get the specific ETF details within the video)?
Can you provide your analysis on the Vanguard REIT ETF (VNQ)?
Can you provide your analysis on Southwestern Energy Company (SWN)?
Why do you think Twitter (TWTR) has pulled back recently?
In your opinion, is a short play on Mellanox Technologies (MLNX) a good idea right now?
Become a Platinum member to See the Full Video Instantly
And get access to our LIVE conference call videos every Tuesday with Jerry Robinson
Limited Time Discount – Get 25% For Life
Use Coupon Code: SAVE25

DISCLAIMER: The services provided in the Platinum membership are intended only to provide information. Trading involves risk. Decisions to buy, sell, hold or trade in stocks, futures, securities, and other investments involve risk and are best made based on the advice of qualified financial professionals.