TIME-BASED EXIT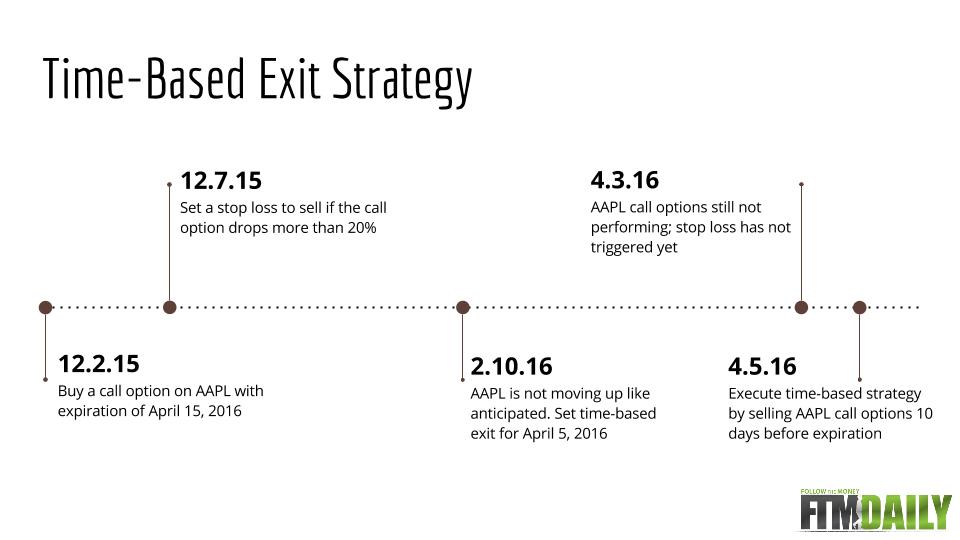 Exit Strategy #2: Exit Your Trade Based on Time
A
time-based exit
is the simplest exit strategy and requires little interpretation. Your focus is primarily on a holding period and secondarily on profitability.
Using the time-based exit strategy, you would set a certain amount of time to be in a trade. If you set it for three months, you exit three months after entering the trade. This strategy is usually paired with one of the other exit strategies and executed if the stock or ETF is not performing as anticipated.
While you can certainly implement the time-based exit strategy with a stock or ETF, it is more practical to use with options. A feature of an option that a stock does not have is an expiration date. Therefore, time is much more important factor in the profitability of an option trade than with a stock or ETF trade.
Let's detail the example from today's chart above. You determine from your research that Apple Inc. (Ticker: AAPL) is likely to increase over the next several months. Instead of going long on the stock, you decide to buy call options to profit from rising AAPL shares. You purchase a call option on AAPL with an expiration date of April 15, 2016. After placing this trade, you set a stop loss order at 20% below your entry price to protect against major downside loss.

Learn more about Jerry Robinson's Daily Trade Setups
After a couple months of holding the call option, AAPL shares are basically flat and not increasing as you expected. With the expiration date of the options coming up in about 65 days, you decide to set a time-based exit strategy to protect against your options expiring worthless. You decide to sell the options ten days prior to expiration — on April 5, 2016 — whether or not you are profitable on the trade.
In next Tuesday's chart, we will outline the third and final exit strategy, the Technical Exit.
Until next time,
Jerry Robinson
P.S. This is just one of the many topics I discuss in our Stock Trading University Podcast. It's free and has 80 episodes available. Listen now.
Stock Trading University Podcast
---
— Paid subscriber access only —
View our Plans and Pricing here
FTMDaily News Feed on Twitter
Tweets by @FTMDaily
Featured image courtesy of: Shai_Halud / Shutterstock