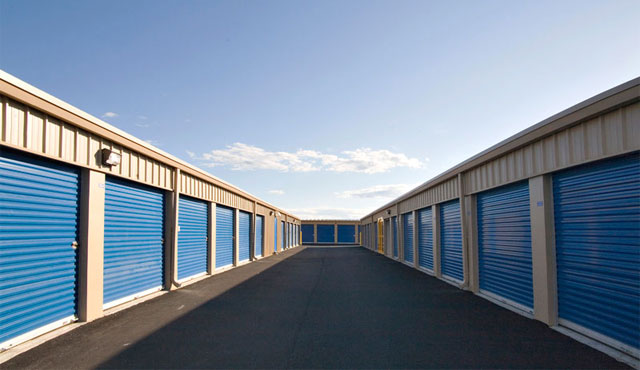 Those who want investment exposure to real estate, without the headache of dealing with tenants, often choose to invest in REITs.
by Jennifer Robinson, FTMDaily.com Managing Editor
Self Storage Investing
You have probably rented one of these spaces sometime in your life. Whether you are downsizing your home, moving for a temporary job, or you simply need a place to park you RV because your neighborhood won't allow it, self storage units come in handy for millions of Americans. It is no shock that Americans have more stuff than they know what to do with, which is why the self storage industry has boasted massive revenue growth, especially over the past three years.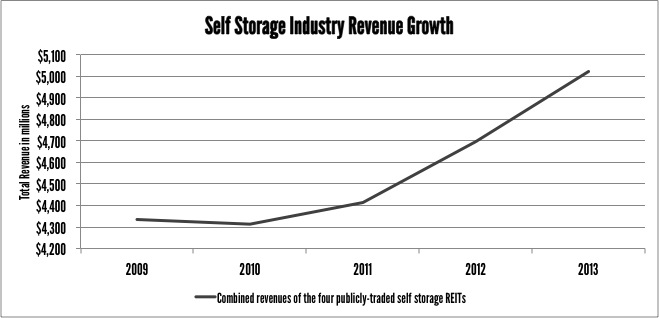 There are numerous other reasons to consider investing in the self storage sector, as macro trends are moving towards the increased demand for storage space in the U.S.
Some of the trends include:
College students often utilize storage space during summer vacation.
The eBay® and Amazon home-business phenomenon has created a huge demand for inventory space.
Suffering businesses are downsizing to smaller offices, which necessitates a need for storage space.
Most new communities have covenants that do not allow recreational vehicles or even extra cars to be parked on the street or outside of the garage.
Most investors can clearly see the growth potential for self storage, but only a handful have the financial resources and management skills required to create reliable cash flow and profits from it. Even if you are able to find a reasonably priced storage facility, that you have the time and skills to operate, most do not produce a profit for years due to the large up-front outlay of cash often required.
Self Storage Investing Without Actually Buying a Facility
Self storage REITs may provide the solution for investors looking to profit from the growing self storage trend in the U.S. without having to actually own a storage facility.
A REIT, or Real Estate Investment Trust, is a security that trades like a regular stock but is invested directly either into real estate or mortgages. In exchange for favorable tax treatment, REITs are required to return 90% of their profits to their shareholders. These profits are returned to investors in the form of dividends.
Many people who want investment exposure to real estate without the headache of dealing with tenants choose to invest in REITs. Like real estate, REITs provide the prospect of both capital appreciation and steady income. For this reason, REITs are often considered a viable hedge against inflation.
Self storage REITs invest specifically into self storage facilities, and their primary source of revenue is the rents generated from the various units. These REITs may provide residential storage, business storage, vehicle storage, or a combination of all three. They may also provide climate-controlled or non-climate-controlled units, or some of each.
There are four publicly-traded self storage REITs available, and you have likely at least heard of them (if not rented a space from them!). They are (largest market cap to smallest):
Self Storage REIT Comparison
| REIT | Ticker | Market Cap | Dividend Yield | FFO/share (2012) | YTD Return (2013) |
| --- | --- | --- | --- | --- | --- |
| Public Storage | PSA | $27.3B | 3.52% | $1.86 | 9.45% |
| ExtraSpace Storage Inc. | EXR | $4.7B | 3.77% | $0.43 | 16.15% |
| CubeSmart | CUBE | $2.2B | 2.63% | $0.74 | 14.14% |
| Sovran Self-Storage Inc. | SSS | $2.2B | 3.04% | $0.77 | 9.81% |
Pay close attention to the FFO/share in the above table. The Funds From Operations (FFO) per share should be used instead of Earnings Per Share (EPS) when evaluating and comparing REITs. This statistic is a great way to measure cash flow for a REIT and is calculated by adding depreciation and amortization expenses to earnings (as these expenses tend to be comparatively high for real estate versus other types of businesses and cause cash flow to be understated in the traditional "earnings" figure).
If the idea of cashing in on the growth of the self storage industry sparks an interest in you, but you lack the desire and/or resources to purchase an actual facility, then REIT investing may be an area worth considering. Not only do you get a steady income that is directly tied to the self storage industry, but you also get a solid potential for capital gains in the years ahead. The best part of investing in REITs is that you do not have the hassle or liability of operating and managing the real estate yourself.
We consider the four self storage REITs listed above to be a bit overvalued at the moment, as they have all had a stellar run over the past two years. On the other hand, all four are also experiencing a slight pullback in the price of their stock.
To get our best investing ideas sent right to your inbox, become an FTM Insider today!
---
Disclaimer: Jennifer Robinson has no position in any stocks mentioned. FTMDaily.com has no position in any of the stocks mentioned. The above REITs are for educational and informational purposes only. They are NOT specific buy recommendations. Trading stocks is risky and you could lose all of your money. Trade at your own risk. You should always consult a trusted financial services professional before making any financial or investment decisions.
---
Receive Market Conditions Alerts and Daily Stock Trading Ideas in your Inbox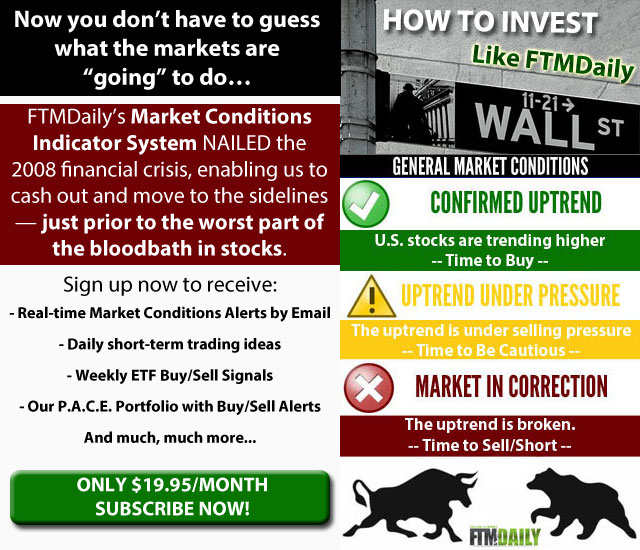 ---
---
Related Posts
---

You are attempting to view premium content for subscribers only. If you are a subscriber, log in here. If you are not currently subscribed, you can learn more here.
---
Daily Wisdom
"Honor the Lord from your wealth and from the first of all your produce; So your barns will be filled with plenty and your vats will overflow with new wine."
Proverbs 3:9,10
---
---