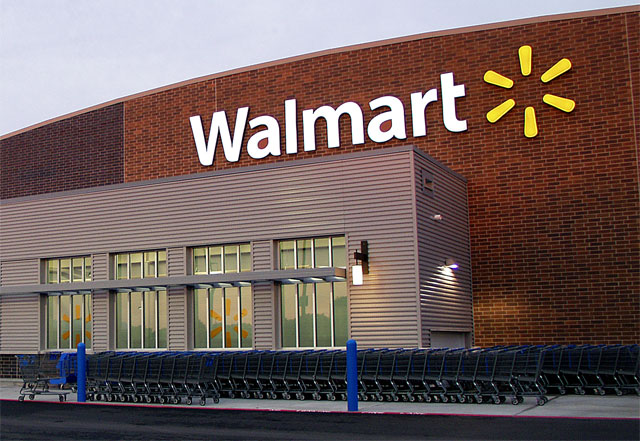 A small $100 investment in this retail giant back in 1971 would be now be worth over $315,000! While the exponential growth days for Wal-Mart are over, is the stock still a good buy?

by Jerry Robinson, FTMDaily.com Editor-in-Chief
Investors have few better ways to gauge the health of the global economy than to analyze the financial data released by retail giant, Wal-Mart. After all, with just over $466 billion of total sales in 2012, Wal-Mart is more like a medium-sized country than a mega-corporation! (In fact, if Wal-Mart were a country, it would be the 26th largest economy in the world!)
But if we listen closely to what Wal-Mart has been saying recently, we can learn that the global economy is still far from healthy.
A "Tough and Unpredictable" Global Economy
Walmart CEO, Mike Duke, recently said that "tough" and "unpredictable" conditions confront the global economy. Amid this ongoing global economic uncertainty, Wal-Mart has responded by "tightening its belt."
Closing Down 50 Stores in Brazil, China. Part of this "belt-tightening" has included closing down 50 underperforming stores in the fast growing markets of China and Brazil. This is likely a wise move as the stores to be closed represent a small fraction of the company's revenues from both countries. Despite the closures, Walmart continues to open new stores in both countries.
Scaling Back Global Growth Forecasts. The fact that the global economy is slowing is clearly seen in Walmart's revisions to its international growth plans. Not only is the company selling off dozens of poorly performing stores, it is slowing its entry into foreign markets. In the last corporate forecast, Wal-Mart expected to open up to 22 million square feet of store space in international markets during 2013. That forecast has been slashed by more than 40%, down to just 14 million square feet.
An Evolving Strategy in China. Wal-Mart currently operates over 400 superstores, Sam's Club stores and distribution centers in more than 160 cities throughout China. While the company faces fierce competition in China, it remains committed to increasing its market share in the country. In addition to the company's 30 new stores slated for 2013, Wal-Mart recently announced plans to open 110 more stores throughout China from 2014 to 2016. Wal-Mart has been forced to adapt to China's rapidly evolving retail landscape as more consumers are choosing to shop through online retail outlets. China's e-commerce trend is enormous, with projections of 32 percent annual growth in the country between 2012 and 2015.
India's $500 Billion Retail Market Still Off-Limits. The company's expansion plans in neighboring India, however, have soured. Back in 2007, Wal-Mart announced plans to open hundreds of superstores across the emerging nation. Despite India's attractive multi-billion retail market, the country's strict labor laws and stiff regulatory environment have led Wal-Mart to delay its expansion plans indefinitely . According to Walmart Asia CEO, Scott Price, the Indian government's tough regulations requiring foreign retailers to buy 30 percent of their products from small and midsize Indian businesses was a "critical stumbling block" to the company's expansion into the country. Such protectionism, coupled with India's failing infrastructure (including its roads and ports), have harmed India's competitiveness in the global economy. While Wal-Mart stills remains committed to dominating India's $500 billion retail market, those plans are now officially on hold.
Smaller Wal-Mart Stores Coming to the U.S.
Wal-Mart's strategy for maximizing shareholder value within the U.S. market is also adapting to America's tough economy.
Focusing on Smaller Stores, Not Supercenters in the U.S.. For the first time, Walmart U.S. plans to open more smaller-format stores than supercenters. Of the 235-265 U.S. stores the company plans to open in fiscal year 2015, 120-150 of them are expected to be smaller stores. The company plans to open a total of 245 new U.S. stores by the end of this year, slightly above an earlier forecast.
A New Cost-Saving Real Estate Strategy. Walmart plans on testing out a new real estate strategy that could save money. The plan calls for using the back rooms of its massive 182,000 square foot Supercenters as "mini-warehouses" to replace distribution centers in supplying neighboring smaller stores. The company plans to test out the concept, which could eliminate the need for the daily deliveries from distribution centers to smaller stores, next year. With this new strategy, Wal-Mart hopes to cut transportation costs (those 53-foot semi-trucks cost a bundle to transport goods) and to improve each store's supply of goods.
A Continuation of its Popular Lay-Away Program. In 2011, after years of a "buy-now, pay-later" mentality, Wal-Mart re-introduced the layaway concept to a new generation of shoppers. So far in 2013, over 1 million people have signed up for Christmas season layaway. And it should come as no surprise that electronics are once again the top sellers with four out of five of the top items placed into layaway being "electronic tablets."
Is it Time to Invest in Wal-Mart?
Since the stock market reached its recent depths back in March 2009, Wal-Mart's stock price has greatly struggled to keep pace with the popular S&P 500 index benchmark. In the Fall of 2011, Walmart stock broke out of its multi-year funk and began tracking higher. So far in 2013, however, Walmart's stock has delivered just half of the S&P's total returns. (WMT's 12.49% return vs. SPY's 23.39% return)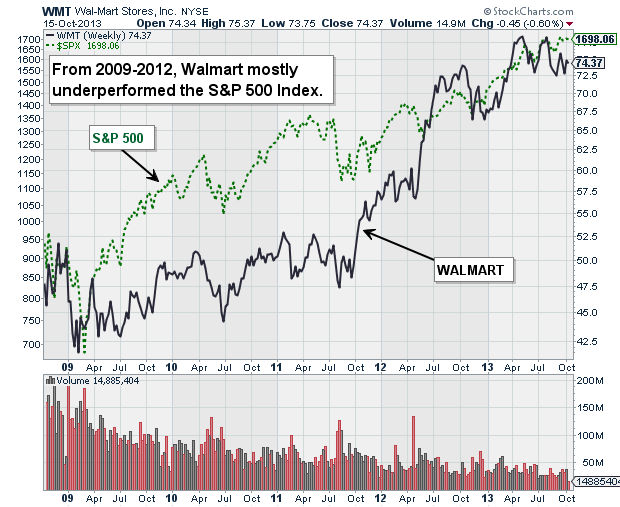 But despite Wal-Mart's underperformance, its commitment to increasing shareholder value has not changed. Since 2009, the company has increased its earnings per share by 59% and its free-cash-flow by 123%. During that same time, the company has returned $60 billion to shareholders in the form of dividends and share repurchases. In fact, Wal-Mart has increased its annual cash dividend every single year since first declaring a $0.05 per share annual dividend back in March 1974. That's 38 years of consecutive annual dividend increases!
Wal-Mart became a publicly traded company in 1970. Let's say that you decided back in the summer of 1971 to toss $100 into Wal-Mart stock. If you had held that stock until today, your original $100 investment would now be worth an astounding $315,105.28! (And this is assuming that you did not reinvest your dividends, but instead, took them as a cash distribution.) If you would have had the foresight to invest say $5,000 back then, your Wal-mart stock would now be worth a cool $15.7 million! (You can use this handy calculator to come up with your own "what-ifs" with Wal-Mart's stock)
And while Wal-Mart is still delivering impressive growth figures today, the era of its exponential growth are behind us. Today, the company serves as an excellent income stock with good growth potential.
While I like Wal-Mart stock for both its outstanding dividend growth and international growth potential, I currently do not own it. In my opinion, the stock is slightly overvalued at current levels. Over the past five years, the stock has traded at just under 14 times earnings. Today, it is trading above that average at nearly 15 times earnings. While the P/E ratio is only one factor of many to consider before purchasing a stock, it can often be a good place to start when attempting to determine a stock's valuation.

While Wal-Mart will remain on my watch list as a potential addition to my brand new portfolio of the 10 best dividend paying stocks for the future, I am not interested in buying it at current levels.
Note: We are currently putting together a brand new stock portfolio of our 10 favorite dividend-paying stocks for the long-term. Because these will be long-term buys for us, we will wait for the perfect opportunity to add each of them. If you want to be alerted in real-time when we add a new stock this portfolio, subscribe to our Gold member program today!
9 Interesting Facts About Walmart
(courtesy of Business Insider)
1. Every hour, Walmart brings in an average of $1.8 million in profits.
2. 245 million people shop at one of Walmart's 10,700 stores located in 27 countries every week.
3. Walmart's $316 billion U.S. retail sales exceed those of Kroger, Target, Costco, and Walgreens… combined!
4. The average Walmart Supercenter carries 140,000 different items.
5. As America's largest grocer, grocery accounts for 55% of Wal-Mart's total annual sales in the U.S.
6. The Walton Family is worth $150 billion. That's as much as Bill Gates, Warren Buffett, and Michael Bloomberg… combined!
7. 90% of Americans live within 15 minutes of a Walmart store.
8. Walmart's net sales were $466 billion in 2012. That's more than Argentina's total GDP.
9. If Walmart were a country, it would be the 26th largest economy in the world.
---
Miss the latest FTMWeekly Radio Show with Jerry Robinson? Listen/Download Below
Topic: On this week's show, Jerry Robinson provides insightful commentary on why he believes investors should prepare for the future fallout from the growing global NSA backlash. Plus, an update for gold silver investors
---
Related Posts
---
---

The U.S. posted its smallest budget deficit in five years as employment gains helped propel revenue to a record $2.77 trillion.
Chicago PMI surged to 65.9 in October, its biggest monthly increase in over 30 years.
Unemployment in the euro zone was 12.2 percent in September amid signs that the region's faltering economic "recovery" is yet to be felt in the job market.
---

Latest report claims that the National Security Agency has secretly broken into the main communications links that connect Yahoo and Google data centers around the world.
The parents of four homeschooled children forcibly removed from their home by police armed with a battering ram have now been threatened by a judge with criminal sanctions if they move forward on a plan to move out of Germany.
RARE images have given a glimpse inside the "Doomsday" vault which holds seeds for all the agriculture the world needs in case of a catastrophic disaster.
Homeland Security to purchase "riot expansion kits" & 240,000 pepper spray projectiles as agency prepares for domestic unrest
Russian investigators claim to have found household appliances imported from China which contain hidden microchips that pump spam data and malware into wi-fi networks and "that send some data to a foreign server.'
---
Daily Wisdom
"The naive believes everything, but the sensible man considers his steps."
Proverbs 14:15