For Platinum member Members Only (Member Login)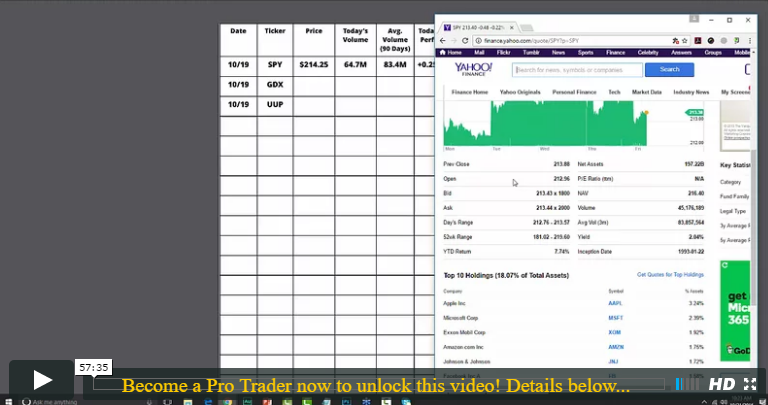 Topics Covered on this video conference call (in order)
We begin with a "pop quiz" on our recent trading lessons (hope everyone had their coffee!) and move into a simple way traders can keep track of Accumulation and Distribution days on their favorite stocks and indexes.
New Printable for Traders! Pro Traders can download our new printable template for keeping track of Accumulation and Distribution days. Jerry explains how to maximize the use of this new resource. Subscribe now to download!
Accumulation or Distribution Day Criteria. An in-depth review of the two criteria for an Accumulation or Distribution day.
Update on Philippines/U.S. Relations. The Philippines' trade minister is now backtracking on President Duterte's call for separation from the U.S. and lean toward China.
Stocks to Watch. We share a quick list of five IBD 50 stocks currently under Accumulation.
Today's Charts to Watch. Jerry shares his analysis on ten charts he is watching this week (plus a quick lesson on why you should use our Dividend Aristocrat list).
Member Questions Answered on Today's Video
How long do you wait to act on the information you record on Accumulation and Distribution days?
Due to the recent pullback in gold mining and junior gold mining, how do you think the upcoming earnings season is going to affect the performance of these miners and junior miners?
Become a Platinum member to See the Full Video Instantly
And get access to our LIVE conference call videos every Tuesday and Friday with Jerry Robinson

Choose your plan:
(Get 2 months free when you pay for the whole year!)

DISCLAIMER: The services provided in the Platinum member membership are intended only to provide information. Trading involves risk. Decisions to buy, sell, hold or trade in stocks, futures, securities, and other investments involve risk and are best made based on the advice of qualified financial professionals.