In this episode of the Precious Metals Market Update, Tom Cloud discusses some of the technicals and fundamentals that are impacting gold and silver prices with exclusive early access for FTM Insiders.

Download
(Right-click and select 'Save as')
Audio Transcript Below
This is Tom Cloud with the Midweek Precious Metals Market Update.
First of all, happy new year to all our listeners, and we appreciate your support during the year. We are going to continue to try to bring as much information to you as we can in the complicated world of precious metals which is changing all the time.
Gold Bests Other World Markets
I want to start out today explaining to people about the value of gold compared to the world investment markets. Through a good friend of mine at a brokerage firm, I found out that at the end of the year, the US stock market was $17 trillion. The bond market, both domestic and foreign, was $70 trillion, and the domestic cash horde around the world where people keep their money in money markets or CDs was $10 trillion. Of course, gold is only about $2 trillion. So, we're talking about that $97 trillion. Gold is less than 2% of the investments in the world.
Our listeners have been fortunate enough to see the last 13 years or the first 12 years of the 13 year bull market. What has happened, people are moving out of bonds when markets are moving up, and out of stocks because the valuations are not there. So now you fast forward all the way back 13 years ago, and the DOW is about 3% higher today than it was 13 years ago, while gold has gone from $256 up to over $1200. So, there's been no comparison in which has done the best.
We want people to realize that we think gold is headed back to at least 5% of the world assets. If it does, it will produce a price well over $2500. It will double the price of gold if gold goes back to 5% of the value that we had back in 1981 at the last height of the market.
Gold Still in Up Cycle
There's been an interesting study put out by Bert Dohmen. Bert has spoken all over the world. He spoke in December at the LA conference and presented his case. This is not a gold person. This is a cycle person that looks at cycles. He showed that over the last 500 years, gold has a 20 year cycle down and a 30 year cycle up. We are 13 years into that cycle right now, and what has been interesting, over these 500 years, there have been about 19 different cycles. Gold will go up and then it will drop an average of 43% from its top to its bottom before it makes the big move.
Now, if we go back to what it did in 1981, gold had gone from $35 up to $400, and then dropped down 50% before it went up 8 times to $850 in March of 1981.
This market we're in right now had a 37% decline since October of 2012, and we think it could decrease a little more, or we may have already seen it. But, here's the important thing. The next move, we think, will be 8 times up, which will put it around $10,000.
Numbers that you are seeing out there, and we're only 13 years into this bull market of 30 years that has gone on 19 different times, are very important. This is very important that you always get a quietness and a drop before you get the very big move.
Further proof of that, of course, is the Federal Reserve Note that Jerry Robinson and I have talked about so many times. Jerry and Jennifer came and visited us at St. Simon's Island, Georgia where we live right next to Jekyll, where the Federal Reserve Act was done in 1913.
Bad for World, Good for Gold
We're now seeing that the dollar has decreased 97% in 100 years. We know from world history that not a single currency in the history of the world has survived that went off a gold backed standard, and the US dollar will not be the first. We really look for acceleration as things begin to fail during 2014.
We look for all kinds of problems with the Obama Health Care Act, and some major problems in Japan. Germany's banks are way underfunded, and I think this will come out in the first quarter. We're seeing political turmoil in Thailand, the Sudan, and other places that is really good for gold, but certainly bad for the world.
I really think it's the quiet before the storm. It's hard to tell people the sky is falling, and for them to believe after we had this pullback in 2013, and it did catch me by surprise, the severity of it, but it hasn't changed one thing on the bull market of both gold and silver.
Top Performer in 2012 – 2013
And then, I want to close by talking briefly about Palladium. I kept hammering and hammering, asking people to diversify their metals and pick up Palladium. In 2013, we saw gold go down 25% and silver 33%, and we saw Palladium go up 3%. If you had diversified some of your gold and silver, or your new purchases into Palladium, it would have helped.
With the severity of the mining problem in Russia and the labor problems in South Africa where Palladium comes from, and with the pickup of car sales last quarter, Palladium, once again, could be the number one metal in 2014 just like it was in 2012 and 2013.
We still have a tremendous deal on Comex Palladium bars, and if nothing else, buy one or two to just get in the act of getting you some Palladium because there's going to be some severe shortages in the physical Palladium market over the next two or three years. Quite frankly, I think you'll even see it this year.
So, I continue to hammer it and very few of you are taking advantage of it. You continue to buy the other, which, long term, will be fine. It also is a great time, however, to buy Palladium. Platinum looks good too. If you don't have either one of them, I would get Palladium first.
Lastly, I want to mention that if you have rare coins, we're looking for another down year. We would urge you to call and talk to us about getting rid of those rare coins because the collector base is continuing to go down. You need to get it converted before the next move up in gold, silver and palladium which we think will start any time.
If you don't have precious metals in your IRA and want to get them, I urge you to give us a call, and we will walk you through how to have a precious metals IRA with gold and silver. You do have to have a custodian for that. We can help you and be your broker in the transactions. So, if you have money laying there that is in cash and needs a place to go, it's probably a great place to diversify your IRAs by getting a precious metals IRA.
For those of you that don't have our phone number, it's 800-247-2812. Once again, we're looking for an exciting 2014, and hope to be a help to you.
With this week's midweek precious metals market update, this is Tom Cloud signing out.
One Year Gold Chart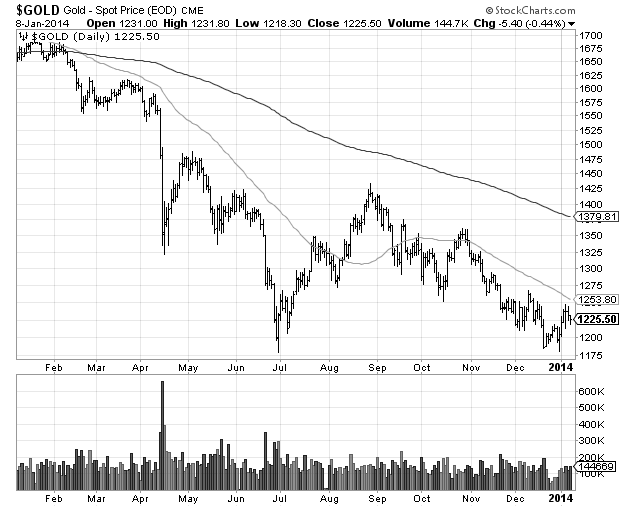 ---
One Year Silver Chart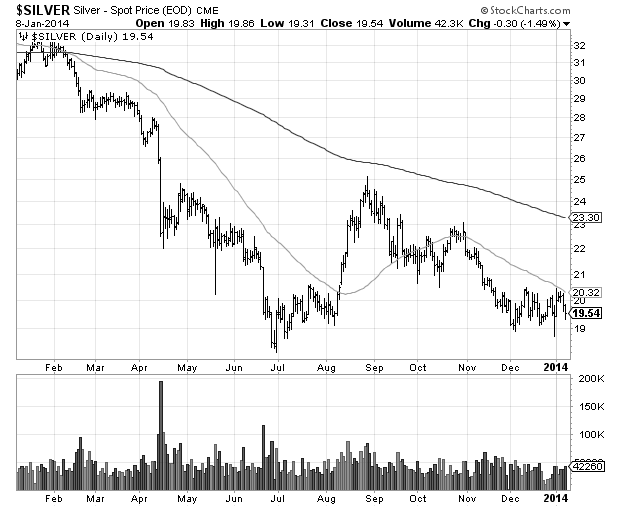 ---
One Year Palladium Chart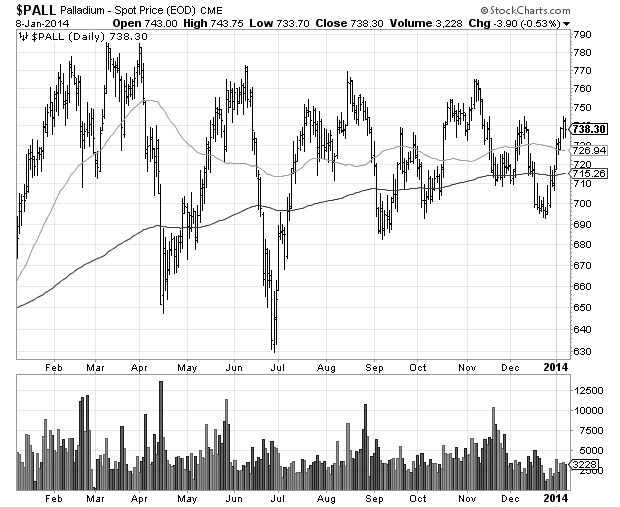 ---
One Year Platinum Chart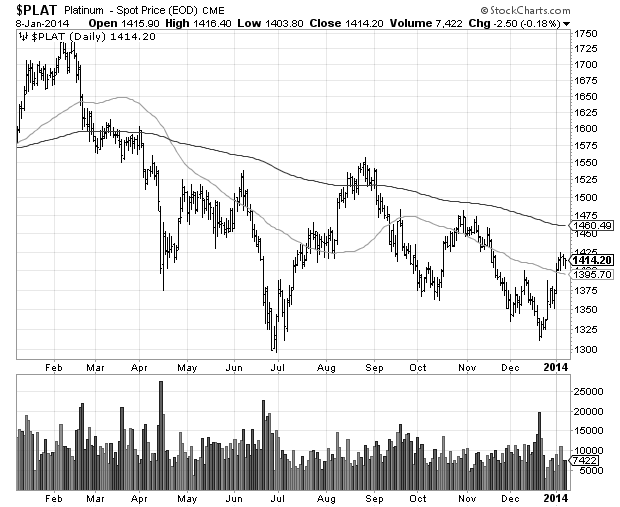 ---
Want to speak with Tom Cloud? Call him direct at (800) 247-2812