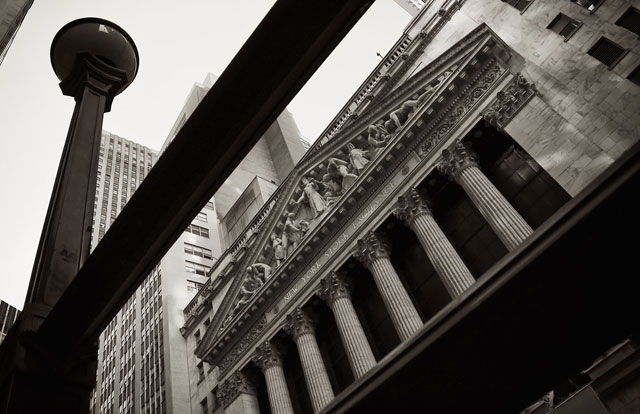 Now that the S&P 500 has rallied 165% off its 2009 lows, retail investors are starting to pile into U.S. stocks. Is it time to sell?

by Jerry Robinson, FTMDaily.com Editor-in-Chief
It is almost too ironic to believe…
In the wake of the most recent economic crisis, which sent the S&P 500 plummeting 37% in 2008, Americans fearfully shunned stocks in favor of bonds and cash.
Since the S&P 500 bottomed in March 2009, U.S. stocks have relentlessly marched higher by 165% as of Nov. 11. Apparently, the temptation for more potential gains in the equity markets has finally overcome the fear that kept those rocked by the 2008-2009 crisis on the sidelines.
In essence, now that stocks have risen dramatically to new all-time highs, the bears are becoming increasingly bullish on stocks.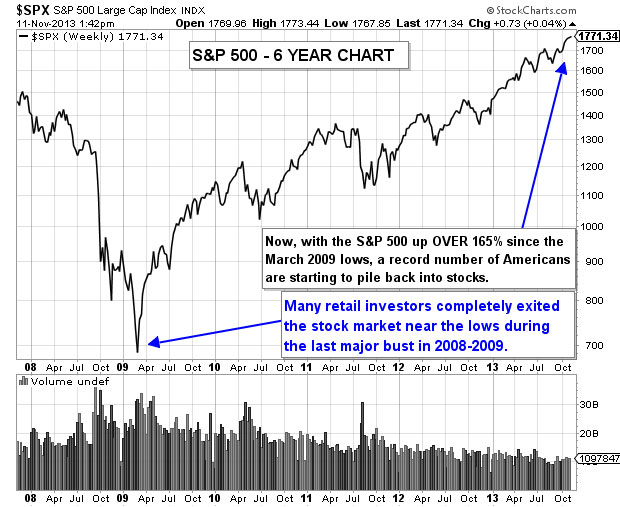 According to new fund flow data, retail investors appear more bullish on stocks than at any time since the 2000 dot-com craze/bubble/collapse.
Record Flows into Stocks… So far this year through Oct. 25, investors have poured $277 billion into mutual funds and ETFs. This is nearing the record $324 billion that flowed into these funds back in 2000, the year of the dot-com bust.
Record Outflows from Bond Funds… Investors have pulled $31 billion out of bond mutual funds and ETFs so far in 2013, which marks the first annual outflow since 2004 and the biggest outflow since 2000.
IPOs Are Heating Up… So far in 2013, corporate America has put out $51 billion in IPOs, which is the most since, you guessed it, the year 2000.
Last week's 73% price spike in Twitter's IPO was more evidence of the stock mania that is once again gripping Main Street.
Blame the Fed's "Charm Offensive"
To understand why this latest stock boom is happening, we need look no further than the Federal Reserve…
In recent weeks, there has been much talk in the diplomatic world about Iran's new "charm offensive." But let us not forget the Federal Reserve has been working its own "charm offensive" against Americans for years. The Fed's latest "charm offensive" came in the form of a noxious combination of aggressive monetary stimulus and near zero percent interest rates.
Below is a chart of the U.S. benchmark interest rate since 1971. As you can see, interest rates have been artificially held near zero since the 2008 crisis unfolded.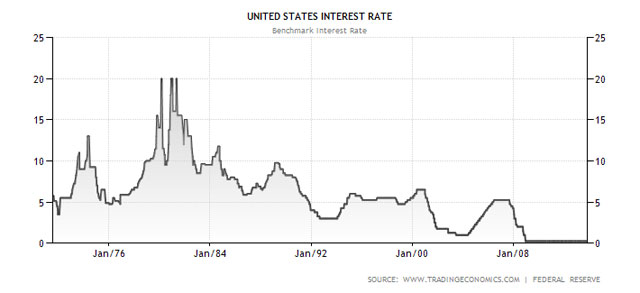 Obviously, keeping interest rates near zero is an unsustainable policy. From 1971 until 2013, U.S. interest rates have averaged 6.1 percent. For now, the Fed has attempted to suspend reality. And in so doing, they have created what future observers will recognize as the "the mother of all bubbles." Interest rates will inevitably rise. And when they do, America's fake "jobless" recovery will be exposed.
Back in the Fall of 2010, Fed Chairman Ben Bernanke penned a piece in the Washington Post where he defended the Fed's aggressive monetary policy. He wrote:
"Higher stock prices will boost consumer wealth and help increase confidence, which can also spur spending… Increased spending will lead to higher incomes and profits that, in a virtuous circle, will further support economic expansion."
Put simply, the logic of the "wealth effect" goes something like this:
The Fed provides extremely aggressive monetary policy >> Low interest rates and cheap money cause investors to speculate in the financial and housing markets >> The financial speculation leads to a rise in stock and housing prices >> U.S. investors see their house values and their IRA, 401k balances rise and become more "confident" in the economic future >> This economic confidence translates into more spending which means higher consumption and higher corporate profits >> The economy expands and the Fed can stop its intervention.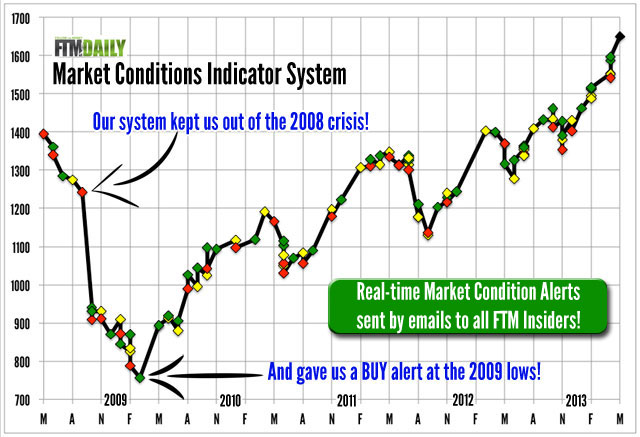 Earlier, in March of this year, I penned an article entitled: The Global Money Printing Campaign is Working its Magic.
Here's a brief excerpt, which seems fitting:
The Fed should be happy to see that its stated goal of creating the "wealth effect" is beginning to be realized…

What does all of this mean to you?

It means that the stock rally that we are experiencing likely has much more room to continue. Trillions of investment dollars are still sitting on the sidelines in bonds and cash. Americans have short memories. If the stock market continues climbing, money will come pouring into stocks. This will drive prices up even quicker. This will set the stage for the next mega-collapse.

I have no predictions on dates when this will occur. However, it is certain due to the vicious cycle created by the Federal Reserve's inflationary policies coupled with typical investor behavior.
Later, on June 12, 2013, I wrote more about this deceptive wealth effect:
"Household net worth for Q1 this year surged by $3 trillion, surpassing its pre-recession peak. The total net worth of U.S. households now stands at a whopping $70.4 trillion. The quarterly jump in household wealth was the highest since 1999. The wealth effect is in full force. While the majority of these gains came from stocks, around 25% came from real estate. (Real estate values increased by $782 billion in the last quarter.)"
Friends, we are here. The wealth effect is indeed working its magic. The Fed's "charm offensive" is once again deceiving American investors.
While we could see a 5%-15% correction in stocks sometime in the near-term, I expect the current stock rally to continue growing for sometime. But the mania in stocks still has much further to go in my opinion. But be warned… When this market finally peaks, the crash will be severe.
---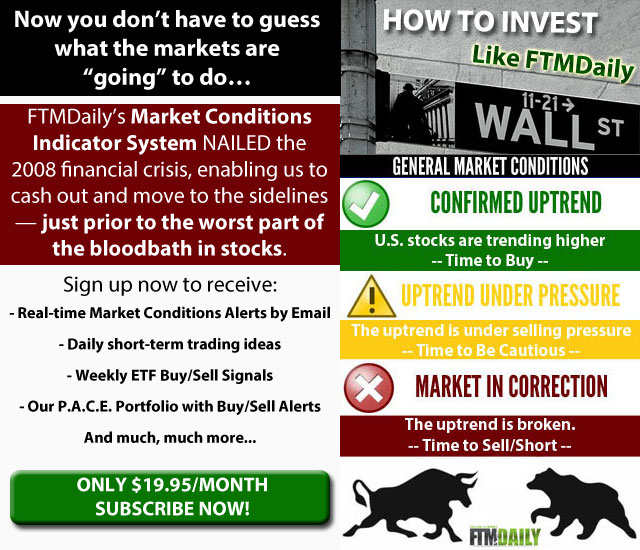 ---
Miss the latest FTMWeekly Radio Show with Jerry Robinson? Listen/Download Below
Topic: On this week's show, Jerry Robinson provides his market commentary and analysis, and later, Jay Peroni, CFP shares how to profit from the the global green energy revolution.
---
Related Posts
---

You are attempting to view premium content for subscribers only. If you are a subscriber, log in here. If you are not currently subscribed, you can learn more here.
---
PHOTOS: Starvation and fear in Philippines after 200mph typhoon kills at least 10,000 people.
---

This year's 24 percent jump in the S&P 500 Index is the third-biggest annual rally after a president was returned to office since the 1930s, trailing Bill Clinton and Ronald Reagan. So far, the index has climbed 108 percent since Obama became president in 2009.
Apple Inc. is developing new iPhone designs including bigger screens with curved glass and enhanced sensors that can detect different levels of pressure
The NSA spying scandal has many in Europe calling for the suspension of negotiations on an EU-US free-trade deal. Officials in Washington are undeterred, and continue to push forward with talks despite growing skepticism this side of the Atlantic.
---

America's NSA and Britain's GCHQ are both spying on the OPEC oil cartel, documents from whistleblower Edward Snowden reveal.
America has become a gigantic gulag over the past few decades and most of its citizens don't know, or just don't care.
"China has been a massive source of food poisoning here in America for years…"
---
Daily Wisdom
"On the first day of every week each one of you is to put aside and save, as he may prosper, so that no collections be made when I come."
1 Cor. 16:2
---
---