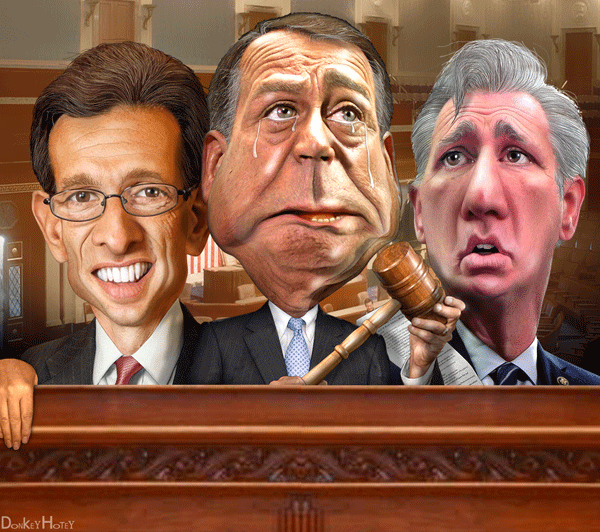 Congress will only take serious steps to reduce spending when either a critical mass of Americans pressures it to cut spending, or when investors and foreign countries stop buying U.S. government debt.

by Ron Paul
Washington, DC, Wall Street, and central bankers around the world rejoiced this week as Congress came to an agreement to end the government shutdown and lift the debt ceiling. The latest spending-and-debt deal was negotiated by Congressional leaders behind closed doors, and was rushed through Congress before most members had time to read it. Now that the bill is passed, we can see that it is a victory for the political class and special interests, but a defeat for the American people.
The debt ceiling deal increases spending above the levels set by the "sequester." The sequester cuts were minuscule, and in many cases used the old DC trick of calling reductions in planned spending increases a "cut." But even minuscule and phony cuts are unacceptable to the bipartisan welfare-warfare spending coalition. The bill also does nothing to protect the American people from the Obamacare disaster.
As is common in bills drafted in secret and rushed into law, this bill contains special deals for certain powerful politicians. The bill even has a provision authorizing continued military aid to opponents of the Ugandan "Lord's Resistance Army," which was the subject of the widely-viewed "Kony 2012" YouTube videos. Most of these unrelated provisions did not come to public attention until after the bill was passed and signed into law.
Members of Congress and the public were told the debt ceiling increase was necessary to prevent a government default and an economic crisis. This manufactured fear supposedly justified voting on legislation without allowing members time to even read it, much less to remove the special deals or even debate the wisdom of intervening in overseas military conflicts because of a YouTube video.
---
This Week's Specials on Precious Metals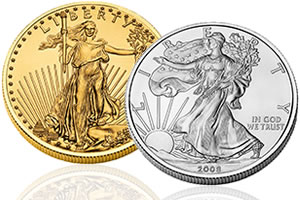 Gold Mexican 50 Peso: 2.5% over spot

Gold Austrian 100 Krone: 2.95% over spot

1 oz. Palladium Bars: 3.5% over spot
Call Tom Cloud for the best prices on gold and silver!
(800) 247-2812
Free Shipping and Insurance on every order for FTMDaily Readers!
---
Congress should have ignored the hysterics. A failure to increase government's borrowing authority would not lead to a default any more that an individual's failure to get a credit card limit increase would mean they would have to declare bankruptcy. Instead, the failure of either an individual or a government to obtain new borrowing authority would force the individual or the government to live within their means, and may even force them to finally reduce their spending. Most people would say it is irresponsible to give a spendthrift, debt-ridden individual a credit increase. Why then is it responsible to give an irresponsible spendthrift government an increase in borrowing authority?
Congress surrendered more power to the president in this bill. Instead of setting a new debt ceiling, it simply "suspended" the debt ceiling until February. This gives the administration a blank check to run up as much debt as it pleases from now until February 7th. Congress can "disapprove" the debt ceiling suspension, but only if it passes a resolution of disapproval by a two-thirds majority.
How long before Congress totally abdicates its constitutional authority over spending by allowing the Treasury permanent and unlimited authority to borrow money without seeking Congressional approval?
Instead of seriously addressing the spending crisis, most in Congress would rather engage in last-minute brinksmanship and backroom deals instead of taking the necessary action to reign in spending. Congress will only take serious steps to reduce spending when either a critical mass of Americans pressures it to cut spending, or when investors and foreign countries stop buying U.S. government debt. Hopefully, those of us who understand sound economics can convince enough of our fellow citizens to pressure Congress to make serious spending cuts before Congress's reckless actions cause a total economic collapse.
The time for debate is over. The time to prepare is now.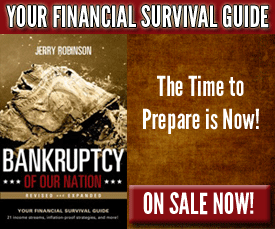 ---
Related Posts
---
---

Italian Stocks Are Soaring… Along with the Rest of Europe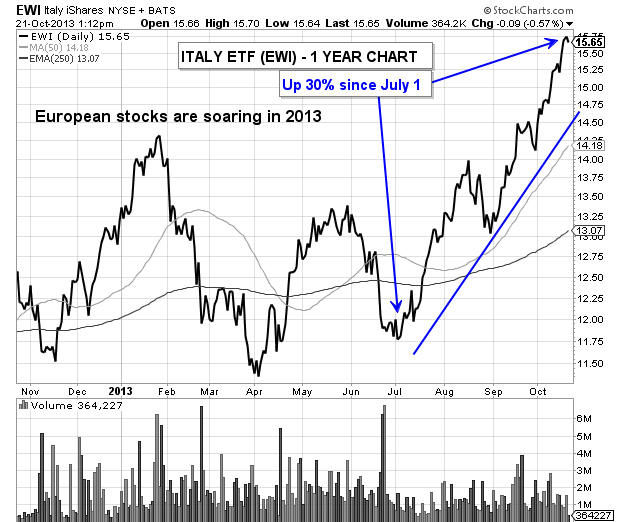 ---

Farmland prices have been on a tear for over a decade, barely slowing as the rest of the country suffered a housing collapse, leading economists and investors to worry that a dangerous bubble is forming in the heartland.
Global investment banker deflects all personal blame and sticks shareholders with the bill.
For the first time since July 2009, the European equity markets have risen for 8 days straight.
---

Latest leaked documents reveal the NSA secretly monitored tens of millions of phone calls in France and hacked into former Mexican President Felipe Calderon's email account.
New report by global human rights watchdog reveals "arbitrary arrests and detention, unfair trials, torture and other ill-treatment" over the past four years.
Depending on how the litigation plays out, and whether it becomes a trade issue, this latest development may actually increase U.S. corn exports to Mexico.
---
Scripture of the Day
"Honor the Lord from your wealth and from the first of all your produce; so your barns will be filled with plenty and your vats will overflow with new wine."
Proverbs 3:9,10