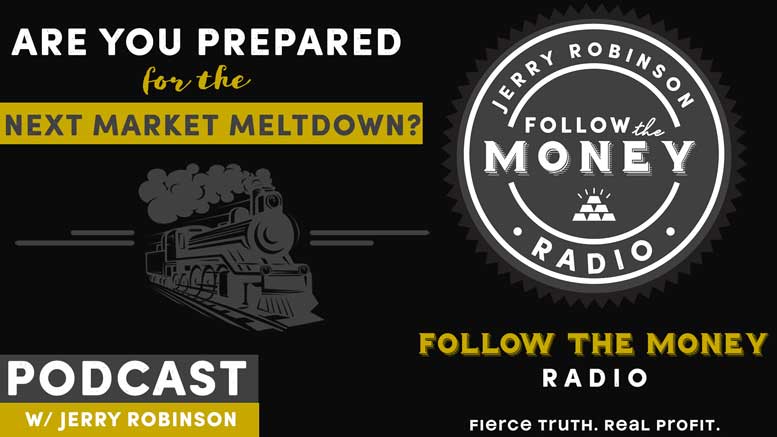 Are You Prepared For The Next Market Meltdown?
Welcome to Follow the Money Radio! 
If you are concerned about the state of the economy and overvalued markets, you should know that there are proven strategies to profit from any decline that may lie ahead. In today's broadcast, economist and trend trader Jerry Robinson shares five ways to profit from a declining market and three specific ETFs he will be buying on the next major U.S. stock market downtrend.
Subscribe
on iTunes |
Download

Segment 1: Are You Prepared for the Next Market Meltdown? (w/ Jerry Robinson)
It's inevitable that the soaring U.S. stock market will eventually reverse course. Economist, author, and successful trend trader Jerry Robinson discusses the shameful monetary mischief that has resulted in the
U.S. $20-trillion debt
, and five ways to prosper in the market when the party is over.
Short stocks
Buy put options
Advance option strategies
Inverse ETFs
Leveraged Inverse ETFs
Jerry's three "go-to" Leveraged Inverse ETFs when a downtrend begins
 Recommended Links
Bankruptcy of Our Nation by Jerry Robinson
PODCAST: Adventures Of A Wall Street Legend
Government Shutdown Exposes Chronic Flaw in U.S. Political System
China Weighs Slowing or Halting Purchases of U.S. Treasuries
Federal Reserve's Quarles Calls for Tailored Approach to Supervision
Five Levels of Financial Freedom
Segment 2: Precious Metals Market Update w/ Tom Cloud
With over 40 years of market experience, precious metals expert Tom Cloud brings us his perspective of what lies ahead for gold and silver. 
Tom's 2018 Forecast is on track: Gold +3.75%, Silver +3.3%, Palladium +5.1%
In only 23 days, Platinum has skyrocketed +9.75%!
The U.S. debt is the highest in the world (and is being largely ignored by Washington)
Why gold and silver should be in your portfolio in 2018
Did you know that 25% of all of the world's investable dollars is in bonds?
---
Call 800-247-2812 now for the best prices on gold and silver coins and receive Free Shipping & Insurance when you mention FTMDaily.
LIMITED TIME OFFER: GET THE 10 CRYPTOCURRENCIES WE ARE HOLDING IN 2018!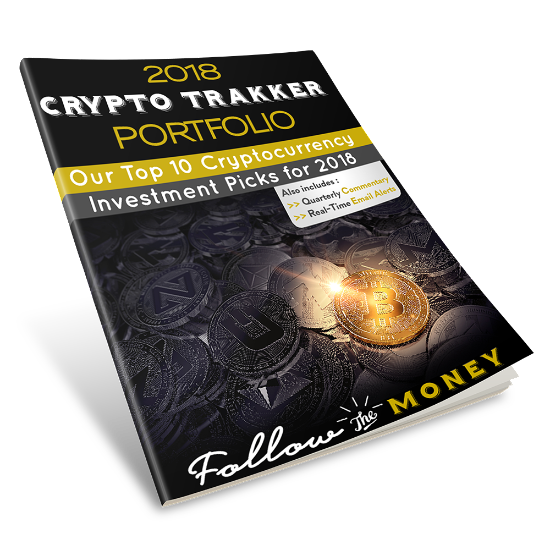 Segment 3: Why Staying Healthy Can Make Retirement Better w/Mike Mitchell
Christian financial advisor Mike Mitchell offers an expert voice of wisdom in making proper decisions for sound retirement. Today, he encourages us to make health a priority in our lives now to avoid costly medical expenses during retirement.

Visit your doctor regularly
Incorporate exercise into your daily life
Avoid any life-threatening bad habits
Call Mike Mitchell Toll-Free at 833-370-0777 With Your Retirement Questions
---
Call 833-370-0777 to speak directly with Mike Mitchell about how you can experience a sound retirement.
If you enjoyed this week's episode, please share it on Facebook, Twitter, and any other social media outlets. Help us spread the word!
One of the best ways to promote our work is to leave an honest review for Follow the Money Radio on iTunes! Ratings and reviews are extremely helpful and greatly appreciated! They do matter in the rankings of the show, and I read each and every one of them personally. Thank you for your support! See you next week!

---
Get Email Alerts From Follow the Money
Sign up to get our Podcast delivered straight to your inbox


We value your privacy and will never share your email
Recent Podcasts by Jerry Robinson
incoming searches: will stock market crash, when will stock market crash, when will market crash, next economic collapse, coming stock market collapse, bond market collapse