For Platinum member Members Only (Member Login)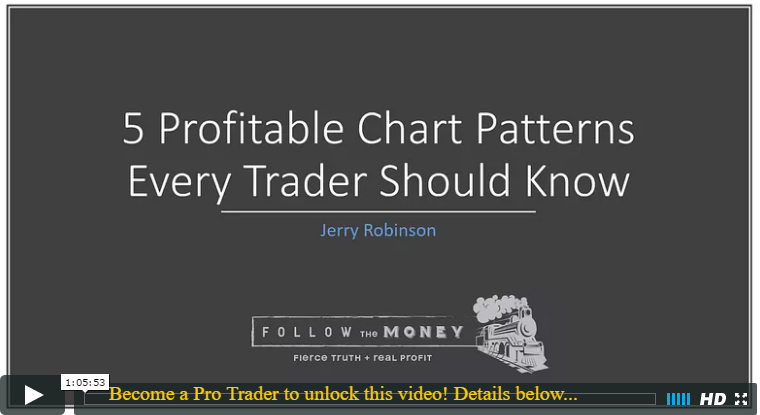 Topics Covered on this video conference call (in order)
Jerry analyzes the components of candlesticks on a chart and shows us how they are a good visual representation of the market in any given timeframe.  He is planning a more in-depth teaching on candlesticks in the future.
Exciting Announcement! Upcoming teachings on the foundation of technical analysis, price and volume, will help you become skillful in utilizing both to your trading advantage.
5 Profitable Chart Patterns Every Trader Should Know – Part 2

. Veteran trader, Jerry Robinson, shares a valuable trading lesson on identifying and using chart patterns to increase trading profits, including 3 profitable chart patterns.
5 Profitable Chart Patterns Every Trader Should Know – Part 1
What is Happening With Gold?

Jerry expounds upon the latest price action in gold, silver, and utilities.  Is now the perfect time to consider buying gold? We will be watching closely.  Also, a reminder of the importance of keeping your mind right about gold.
Russia considering moving back into Cuba and Vietnam.  

U.S.-Russia relations remain strained.
Stocks to Watch. Get two energy stocks Jerry is watching closely today.
Today's Charts to Watch

. Jerry shares his analysis on six stocks he is watching this week, all of which are in the top tier of our SmartScore Rankings.
BONUS: A video explanation of how FINVIZ helps identify patterns.
Member Questions Answered on Today's Video
Is there a way to print out the training slides from today's video?

How do you distinguish between the cup and handle pattern vs. the head and shoulders pattern?

Would you say there's a percentage that the head should be above the shoulders to differentiate a head and shoulders pattern from a double top pattern?
Become a Platinum member to See the Full Video Instantly
And get access to our LIVE conference call videos every Tuesday and Friday with Jerry Robinson


DISCLAIMER: The services provided in the Platinum member membership are intended only to provide information. Trading involves risk. Decisions to buy, sell, hold or trade in stocks, futures, securities, and other investments involve risk and are best made based on the advice of qualified financial professionals.