For Platinum member Members Only (Member Login)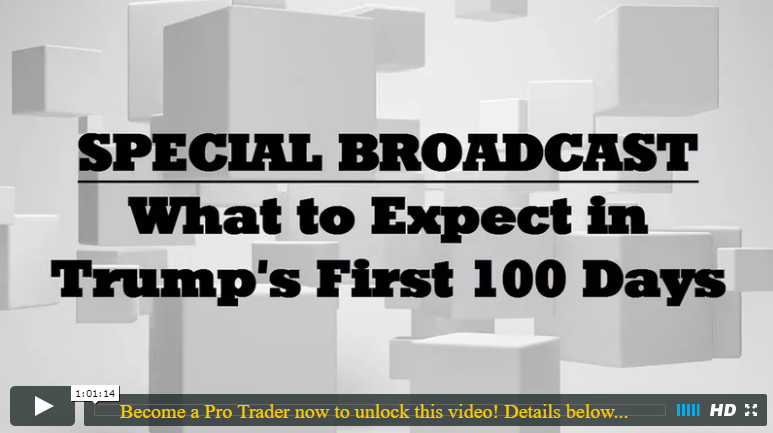 Topics Covered on this video conference call (in order)
Donald Trump's Contract With America. Jerry Robinson provides his insights into President-Elect Trump's documented plans for the first 100 days of his presidency. Some of the highlights include:

Term Limits on members of the U.S. Congress.
A Hiring Freeze on all federal employees.
Restrictions on lobbyists.
Re-negotiating and/or withdrawing from NAFTA and TPP.
Lifting roadblocks on energy infrastructure projects, like the Keystone Pipeline.
New SmartScore Rankings. We provide an overview of some of our favorite stocks and ETFs on our latest SmartScore Rankings.
Charts to Watch Today. Jerry analyzes seven important stock and ETF charts we are watching closely in today's markets.
How Stocks May React to Trump's Presidency. Jerry discusses several possible scenarios for the stock market under Donald Trump's presidency.
Become a Platinum member to See the Full Video Instantly
And get access to our LIVE conference call videos every Tuesday and Friday with Jerry Robinson

Choose your plan:
(Get 2 months free when you pay for the whole year!)

DISCLAIMER: The services provided in the Platinum member membership are intended only to provide information. Trading involves risk. Decisions to buy, sell, hold or trade in stocks, futures, securities, and other investments involve risk and are best made based on the advice of qualified financial professionals.