Subscribers login here to register for the LIVE conference calls or to view the Conference Call Archive.
D-I-Y INVESTING AND INCOME STRATEGIES

Subscribe now and unlock ALL of this…



FTM Quarterly Newsletter – Online Edition
(20-30 pages of economic, geopolitical and investing commentary from Jerry Robinson and FTMDaily's team of experts)

100% Access to Jerry Robinson's Daily Stock Trading Diary (Using his proprietary Trigger Trade System) (Read more about the Trigger Trade System here)

New! FTM Income University (Read more about our Income University here)

Exclusive Stock Market Barometer (Read more about how our proprietary Market Barometer can help you get out of the stock market before the next major downturn!)

100% Access to our very own P.A.C.E. Investment Portfolio (As an FTM Insider, you will always know our favorite precious metals mining stocks, agriculture/food stocks, commodity stocks, energy-related stocks, and world-dominating dividend paying stocks are at any given time!)

Monthly Conference Call
(Each month, dial in to our exclusive conference call line to hear Jerry Robinson and other special guests discuss investment and income strategies.)

Access to our Subscribers-Only Area (Here you will find an archive of all of our past FTMQuarterly newsletters, Conference Calls, Educational Webinars, and much more!)

Real-Time "Buy" and "Sell" Portfolio Email Alerts (Everytime we buy or sell a stock or ETF within the P.A.C.E. Investment Portfolio, you will be alerted by email!)

Perspectives: Jerry Robinson's Commentary (Occasional column filled with important market, trading, investing, and economic trends that you need to know.)

Jerry's Best-selling Book, Bankruptcy of our Nation (You will also receive a complimentary copy of Bankruptcy Of Our Nation, signed by Jerry Robinson.)

BUY CONFIDENTLY AND SECURELY WITH OUR 100% SATISFACTION GUARANTEED REFUND POLICY!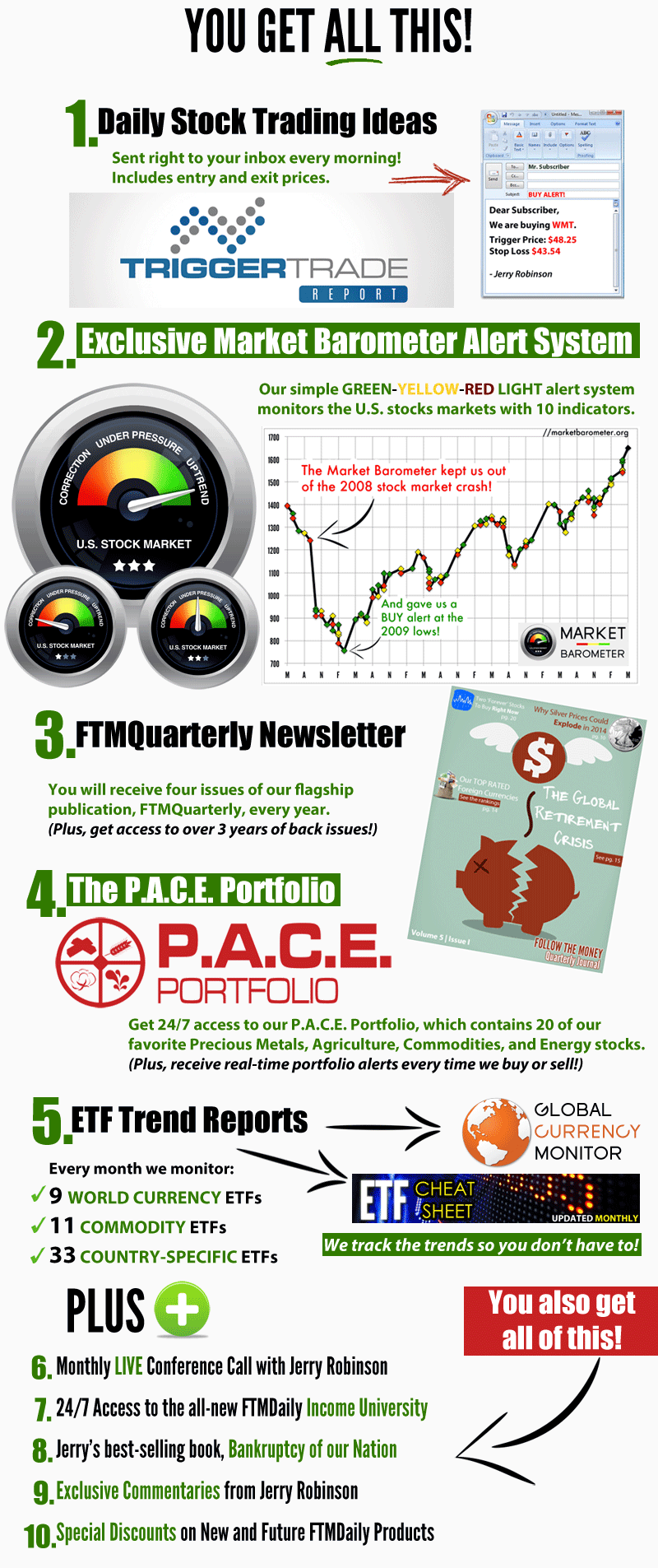 THIS IS A COMPLETE MEMBERSHIP PACKAGE FOR DO-IT-YOURSELF INVESTORS!!
Have a question before ordering? Call us at (800) 609-5530.
CHOOSE YOUR PLAN