For Platinum member Members Only (Member Login)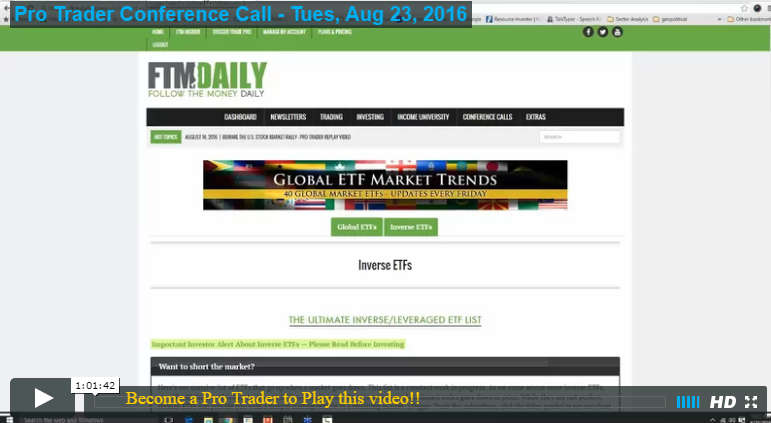 Topics Covered on this video conference call (in order)
New Additions to our Position Trading Portfolio. Jerry Robinson provides details on his two new position trades:

#1 A food industry giant that has been paying consistent dividends for over 25 years
#2 A play on a growing global market attempting its first meaningful uptrend of 2016
FTMDaily's Sector Rotation Strategy Performance. Our sector pick for 2016 has risen 8.76% YTD, while the S&P 500 is only up 7.16% for the year so far.
U.S. New Home Sales Surge. With the latest report of rising new home sales, Jerry shares two real estate stocks that may see a rise in the near-term.
Precious Metals Analysis. Jerry breaks down the charts on Silver, Gold Mining, and Silver Mining, with key support and resistance levels to watch.
REITs Breaking Out of Financial Sector. Real Estate Investment Trusts (REITs) will soon break out of the Financial Sector and into their own Real Estate Sector. Jerry explains why this may provide an opportunity for profits.
Member Questions Answered on Today's Video
If you have a broad market crash, what do you think will happen to precious metals stocks, mining stocks, inverse ETFs, volatility (VXX), and puts on the S&P 500 (SPY)?
Would you provide your analysis of Sprott Physical Gold Trust (PHYS) and Sprott Physical Silver Trust ETV (PSLV)?
Would you provide your analysis of Weibo Corp. (WB)? Is there an entry point at this time?
Of your list of inverse ETFs, which are the best ones in your opinion?
Would you provide your analysis of Gamestop Corp. (GME)? With earnings coming up for GME, do you see a bullish or bearish move in the near future?
Although there are so many unknown variables, can you give your opinion of what you think the "smart money" might do in the stock market as we come out of the summer months?
Would inverse financial sector ETFs be worth buying in advance of real estate breaking out into its own sector?
Become a Platinum member to See the Full Video Instantly
And get access to our LIVE conference call videos every Tuesday and Friday with Jerry Robinson

Choose your plan:
(Get 2 months free when you pay for the whole year!)
Limited Time Discount – Get $50 Off Your First Year!
Use Coupon Code: PRO50 (Offer expires August 31; valid only on the $599 option)

DISCLAIMER: The services provided in the Platinum member membership are intended only to provide information. Trading involves risk. Decisions to buy, sell, hold or trade in stocks, futures, securities, and other investments involve risk and are best made based on the advice of qualified financial professionals.