In this 22nd episode of the Mid-Week Precious Metals Market Update, Tom Cloud discusses some of the technicals and fundamentals that are impacting gold and silver prices with exclusive early access for FTM Insiders.

Download
(Right-click and select 'Save as')
Audio Transcript Below
This is Tom Cloud with the Midweek Precious Metals Market Update.
Things have unfolded very close to what we talked about and what Jerry put out in his newsletter on Tuesday.
Silver Prices Pop
We expected the price to pop as short covering, people buying the metals to deliver for their profits on their short contracts, took place. Certainly, it went up even higher than most of us anticipated, seeing silver jump about a dollar and a half total over a short period of time. Ordinarily, when you see short covering push the price up, people that are covering their shorts are not going back into them when they expire next week. We're very encouraged by that, and, literally, you could see silver go from $20.50 to $22, $23, or $24, if not by the end of this year, early next year.
We're seeing a lot of silver interest now with the price back above $20. We feel very good about that, and, certainly, they could try one last time to push the price down before next Thursday, but it's highly unlikely.
Gold May Have Hit All-Time Low
We've seen the same type thing in gold, and we've seen it get to the $1260's and clear that $1250 hurdle, and hopefully, it will stay. I still believe with all my heart that the $1180 that we saw back in June will be the lowest we may see the rest of our lives.
So, gold, right now, is also a very good buy situation. All the fundamentals we've talked about, with China going into the commercial end of the business and selling to central banks and others, are very, very bullish.
Singapore Future Haven for Gold Storage
The Singapore laws will allow storage with confidentiality. With James Sinclair, the head of the mines over there, and the cartels, I think you can be assured that Singapore will end up being the major haven for storage in the coming decade. That will probably start in full earnest in the first or second quarter of the coming year.
More Fundamental Issues
These are all very big fundamental issues that are going to help drive gold and silver. We've seen the dollar come down below 80 now, which is getting very scary. We're still looking for a break. If it gets below 78, you're going to see gold and silver explode.
One other fundamental issue that, with some of our momentum traders, we have a buy signal on, is that the ratio of gold to silver has gotten to 62 to 1, with gold being 62 times more valuable than silver. We're seeing people move to silver from gold just for the momentum buy, as they think it'll swing back to the 50 to 55 range.
If we do get back to a 50 to 1 ratio in 2014 as almost everyone is expecting, if gold were to only go back to $1665 where it started the year this year, from where it is right now, that would be about a 30% gain. But the ratio, if gold got back to $1665, and silver went to a 50 to 1 ratio, it would be at $33.30, and that would be over a 50% profit. So, the profit would be double for silver over gold.
If these momentum traders are right, to get back to that ratio in 2014 is a very, very good possibility. So, if you're into momentum trading, we can talk about that and leaving the silver on deposit in our account in Dallas while getting a certificate. Then when you're ready to sell, just sign the certificates. Anybody that wants to discuss that, I'll be happy to go over it in detail with you.
Palladium Top Prospect for Coming Years
We continue to hear from every corner on earth that palladium could be the top metal next year for the third straight year. A lot of buying by our clients the last two weeks has been in palladium. If you don't have any palladium, I would strongly urge you to consider adding some to your portfolio. I think it has the least downside of any metal, and maybe not as much upside as silver over the next three year period, but, certainly, it has very strong upside potential. So, I might be looking at that, also.
Hopefully, that gives you a good update for the week. If you need to talk to me, I can be reached at 800-247-2812.
I think the next three years, (with Obama as President and the amount of money being created out of thin air, which is over 20% worldwide, at a time when the amount of gold is probably going to go up 1 1/2% which are the estimates for 2013) will definitely be interesting. You can see, if you create 20 times more paper money than you do real money, which is gold, there's no doubt that, down the road, there's going to be a big adjustment to the upside. It has taken longer than we expected, but it will happen.
With this week's midweek precious metals market update, this is Tom Cloud signing out.
Gold Chart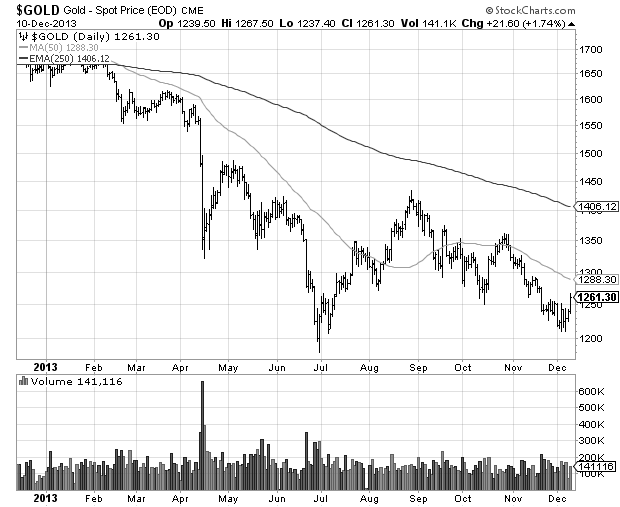 ---
Silver Chart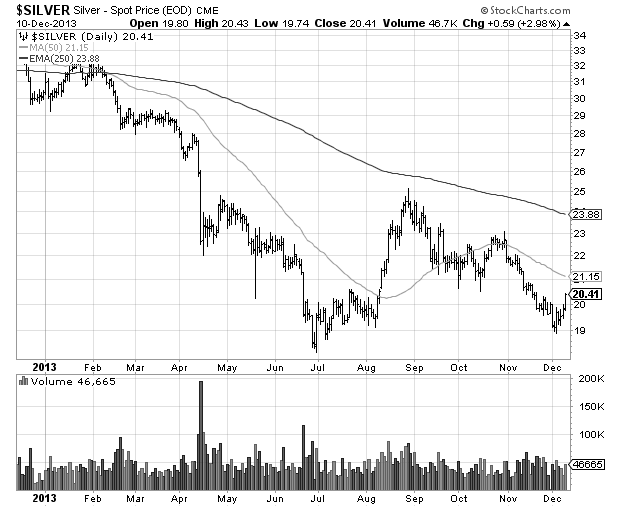 ---
Palladium Chart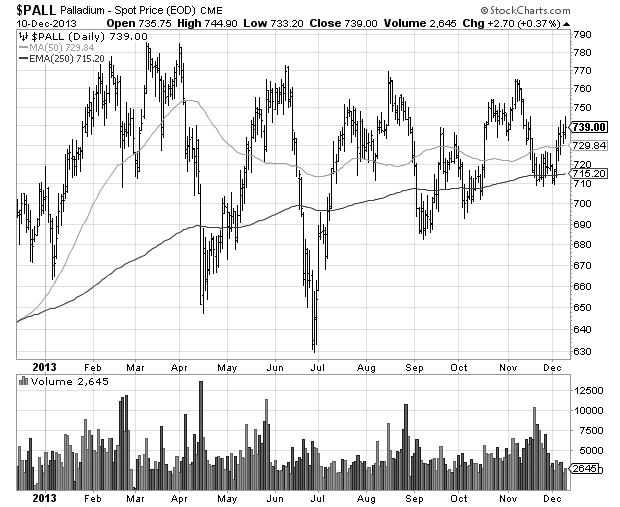 ---
Platinum Chart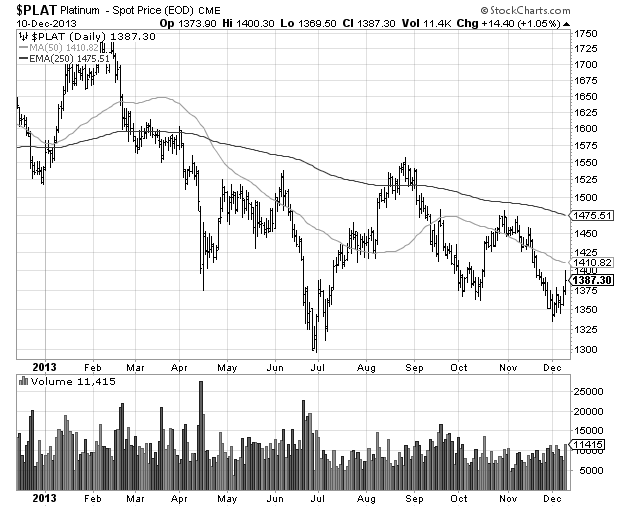 ---
Want to speak with Tom Cloud? Call him direct at (800) 247-2812