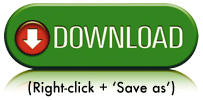 It's Time to Buy China
Plus, an important update for precious metals investors
FTMDAILY.COM – There are many compelling reasons to begin buying Chinese companies for your long-term portfolio. It seems as though now is as compelling a time as ever to buy China.
SEGMENT ONE: It's Time to Buy China
On November 17, as in next week, global investors will gain access to many Chinese stocks for the first time. For years, the Chinese government has held the national economy within the grasp of its iron fist. But in more recent years, China has launched seismic reforms aimed at expanding its international economic standing, which includes luring foreign capital into its booming markets.
And for good reason… China's stock market has been a laggard behind not just the West, but even its own BRICS peer group.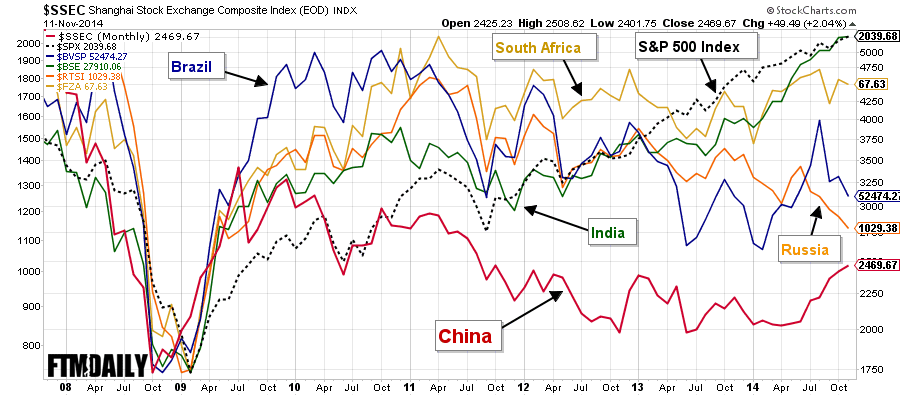 Put simply, Chinese stocks are long overdue for a rally. And with top financial institutions planning a whole array of new Chinese ETFs, the international demand for Chinese stocks will likely improve in the coming months.
I added to my position in Chinese stocks this morning. I am using an ETF that gives me exposure to the Chinese stocks that I feel will benefit the most from the coming boom. (All paid subscribers now have access to the name of this ETF here.
– China will begin opening up its stock market to many more investors next week through a new stock-trading link with Hong Kong. This is seen as a major attempt to lure foreign capital and boost its economy.
– Another big boost for China is a new deal with Russia, who will supply 30 billion cubic meters of gas each year to China. China is expecting the growth necessary to consume this massive energy import from Russia.
Related Articles:
ISIS Plans to Bring Back Gold and Silver Dinar Coins
Russia Steps Up Nuclear Plans in Iran as Talks Near Deadline
Uranium Spot Prices Could Rise Above $50/lb in 12 Months

SEGMENT TWO: Update for Precious Metals Investors
Tom Cloud – Precious Metals Advisor

Tom Cloud joins us for the latest in the gold and silver markets and shares some of the fundamental and technical factors that are affecting prices right now.
Free Precious Metals Investing Resources >>
Click here for over 10 hours of free precious metals investing educational resources >>
SEGMENT THREE: How (and Why) I'm Getting Off the Grid
It appears that winter is already upon us here in the U.S. According to weather forecasts, a wave of frigid (and in some cases sub-zero) temperatures will begin spreading across the U.S this week.
This year, my wife and I have further cut our dependence upon the "grid" for heat. We live in a very rugged and mountainous region, known as the Boston Mountains, of northwest Arkansas.
We have invested in wood-burning stoves, which is much cheaper than burning propane. And the wood-burning stoves have a large flat surface cooking area on top, allowing us to heat/cook food quickly, even without power.
We have also built a large garden with a large variety of fruits and vegetables. We are also raising chickens for our eggs.
Listen to this week's show on Youtube
My next major project is to capture rain water in order to cut our water bill. After all, watering a big garden takes a lot of water. To do that, I plan on placing a few large 275 Gallon Caged Water Tanks alongside one of the buildings on my property that will capture rain water as it rolls off of the roof. By attaching a custom spout to the building gutters, we will be able to save a lot of money every year on our water bill.
This was a big step for my wife and I. As many of you know, we decided to begin getting off the "grid," a few years ago. The process began with first identifying an area of the country where we wanted to live.
Several different factors went into making our decision, but chief among them was climate and distance from major metropolitan areas.
It may sound absurd now to some, but I truly believe that very hard days lie ahead for our country.
Through its aggressive foreign policy, America has made many enemies over the last several decades. Now, with the rise of the BRICS nations and with the Middle East in a greater mess than at any time in recent memory, the U.S. faces many great challenges.
In recent months, Russia has been testing our military might. Meanwhile, China has been beefing up its military where it counts: by specifically targeting and exploiting all of the weakest spots of America's military strength.
But its not just a hot war that some are concerned about… There is already major warfare taking place in cyberspace.
We have already seen a major spike in cyberattacks against Western financial institutions, and top technology companies.
In fact, 4 of the top 5 largest security breaches have occurred over the last 12 months.
But its not just banks and tech companies that are dealing with the increasing cyberthreats.
A recent congressional review found the US electric grid is already under continuous cyber assault by bad actors in Russia, China, Iran, and other nations.
A Congressional commission estimated that within 12 months of a national blackout upward of 90 percent of the American population would die from disease, lack of food and resources, and major societal change."
With winter on the way, now is the best time to begin creating a plan for your family.
Do you have a plan for if the electric grid in your area fails this winter?
One of the quickest and simplest solutions is to buy a gas-powered generator. Don't wait until you need one because by then, the prices will likely spike higher and supplies will likely be limited.
You can also stock up on the foods that you enjoy by buying one extra of each item throughout the winter months.
This is especially important if you live in a highly populated area.
Proverbs 22:3 says: "A prudent person foresees danger and takes precautions. The simpleton goes blindly on and suffers the consequences."
These are no doubt dangerous times. Now is the time for those who are wise to take precautions.
SEGMENT FOUR: What is the "New World Order"?
There are few people in the world who perhaps have a better view of global events in real-time than the U.S. Sec. of Defense. Today, that role is filled by former U.S. Sen. Chuck Hagel.
I am going to play you a clip of a question that was directed at Sec. Hagel, along with Hagel's response. Hagel's answer is long and drawn out with lots of rambling. However, the first part of his answer is revealing as he once again points to the current creation of a New World Order.
U.S. Secretary of Defense Says We Are Seeing a 'New World Order… Being Built' Before Our Eyes
Hagel says we are seeing a new world order. Much of this new world order is simply the post-U.S. dollar order.
Countries like China, and to a lesser extent, India have risen in economic dominance. And this economic power is slowing morphing into political power.
China's political power was on full display this week at the Asian Pacific Economic Cooperation meeting where China announces a major expansion of its recent $400 billion natural gas deal, which was the largest in history.
With the latest deal, China will be consuming much of Russia's natural gas, and all of those sales are expected to take place in yuans and rubles, not U.S. dollars.
This is big. This is part of the New World Order that Hagel is referring to.
But there's another important aspect of this New World Order that has much to do with the Middle East, esp. Iraq. But we'll save that topic for a future show.
---
Receive our
weekly podcasts and other important alerts
Get our Podcast Delivered Right in Your Inbox Every Tuesday

---
Recent Podcasts by Jerry Robinson
---
DISCLAIMER: The above trading ideas are from my own personal stock watchlist and are for educational and informational purposes only. They are NOT specific buy recommendations. Trading stocks is risky and you could lose all of your money. Trade at your own risk. Jerry Robinson is not an investment advisor. You should always consult a trusted financial services professional before making any financial or investment decisions. READ FULL DISCLAIMER.
---