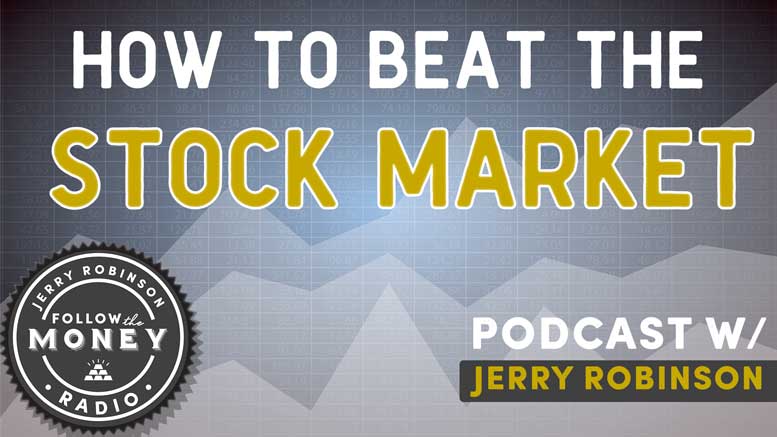 How You Can Beat the Stock Market
Welcome to Follow the Money Radio!
This week, Trading Coach Jerry Robinson examines one of the most powerful, yet little known, ways to consistently beat the market. This strategy, known as the F-Score, has historically beaten the market and even enjoyed gains during the 2008 stock market crash. And later, an update on the gold and silver markets from precious metals advisor, Tom Cloud, and also, another tip for enjoying retirement from Christian financial advisor, Mike Mitchell. 
Subscribe
on iTunes |
Download

Segment 1: 2018 Follow the Money Summit Announcement!
In our continuing commitment to educate and empower you to successfully navigate the financial markets, we are delighted to announce that member registration is now open for our 2018 Follow the Money Summit!

DATE: May 25-26, 2018
LOCATION: Beautiful Downtown Fayetteville, Arkansas
SPECIAL GUESTS: David Morgan, Tom Cloud, Mike Mitchell, and a special guest expert in creating a thriving online business (details will be announced soon!)
ATTENDANCE: FREE for all Members! Registration is now open for Silver, Gold, and Platinum Members.
Segment 2: How You Can Beat the Stock Market (with Jerry Robinson)
The expert framework of our
Profit Trakker Trend Trading System
, in conjunction with the right stocks, can produce spectacular, consistent profits. In this segment, Jerry explores the F-Score Strategy, and explains the following criteria used in this strategy to identify a fundamentally sound company with strong profit potential.
Positive return on assets for the current year

Operating cash flow is positive

A rise in return on assets

Operating cash flow is greater than net income (this measures the quality of the company's earnings)

A decrease in debt funding (also known as leverage)

An increase in short-term liquidity

The company has not diluted the value of its stock by issuing more shares to fund the company's activities

An increase in gross margin

The company is converting its assets into revenue at a quicker pace than last year
Recommended Links
PODCAST: What Stock Should I Buy?
A Little Known Stock Picking Method That Consistently Beats The Market
High Caliber Stock Watch List (Gold and Platinum Members Only)
Exit Strategy #3: Exit Your Trade Based On Technical Analysis
Segment 3: Precious Metals Market Update
With over 40 years of market experience, precious metals expert Tom Cloud brings us his perspective of what lies ahead for gold and silver. Topics include:

Big imports of gold into China and Russia continue
The stage is clearly being set for a gold-backed yuan… for oil?
The U.S. seems oblivious to global monetary shifting
The Biblical wisdom in asset allocation
The growing danger of holding only fiat currency
---
Call 800-247-2812 now for the best prices on gold and silver coins and receive Free Shipping & Insurance when you mention FTMDaily.
LIMITED TIME OFFER: UNLOCK OUR SOFTWARE WITH A 7-DAY FREE TRIAL!
No coupon code required
Offer Expires 11/30/2017

Segment 4: What's in Your Financial "Junk Drawer"? (with Mike Mitchell)
Christian financial advisor Mike Mitchell offers an expert voice of wisdom in making proper decisions for sound retirement. This week, he shares the concept of economic efficiency and how it can significantly impact your retirement living.

Are you looking for ways to increase cash flow for retirement?
Cleaning up your financial "junk drawer" can reduce your cost of living
Economic efficiency can be learned and achieved in any retirement plan
Call Mike Mitchell Toll-Free at 833-370-0777 With Your Retirement Questions
---
Call 833-370-0777 to speak directly with Mike Mitchell about how you can experience a sound retirement.
If you enjoyed this week's episode, please share it on Facebook, Twitter, and any other social media outlets. Help us spread the word!
One of the best ways to promote our work is to leave an honest review for Follow the Money Radio on iTunes! Ratings and reviews are extremely helpful and greatly appreciated! They do matter in the rankings of the show, and I read each and every one of them personally. Thank you for your support! See you next week!

---
Get Email Alerts From Follow the Money
Sign up to get our Podcast delivered straight to your inbox


We value your privacy and will never share your email
Recent Podcasts by Jerry Robinson
incoming searches: Jerry Robinson, Follow the Money, tom cloud, precious metals, retirement income, Mike Mitchell, stock picking, F-Score, economic efficiency, gold-backed yuan