| | |
| --- | --- |
| | |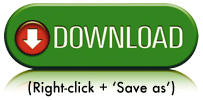 _________________________________
SHOW NOTES – How to Invest Amid Unlimited QE
An outlook on stocks and precious metals in Q4 2012, plus a report on the growing debate over medical marijuana
02:18 >>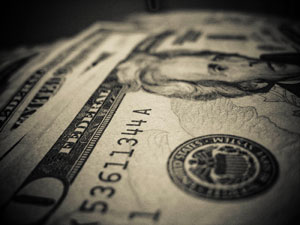 On this week's Follow the Money podcast, Jerry Robinson is joined by Certified Financial Planner, Jay Peroni, to discuss the investment outlook for the remainder of 2012. Jay shares some of his favorite stock investments as we head into the 4th quarter of 2012. Most of these ideas are related to our ongoing P.A.C.E. investment theme (Precious Metals, Agriculture, Commodities, and Energy.)
Related Headlines
U.S. Stocks Log Best Q3 Since 2010 >>
Wall Street Week Ahead: Stock bulls eye Spain, Bernanke and jobs >>
---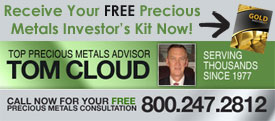 21:23 >>
Next, we are joined by Precious Metals advisor Tom Cloud who provides his insights on the week's action in the gold and silver markets
Below is a one year chart of silver. As you can see, the price of silver began a period of consolidation (where the price appears to go sideways) in February 2012 before breaking out later that month. Then in June and July, silver began consolidating again before soaring higher. Now, after a nice run, it appears to be consolidating again. We believe that this period of consolidation will be shorter than usual and that silver will resume it upward momentum within a few weeks. We are positioning ourselves appropriately.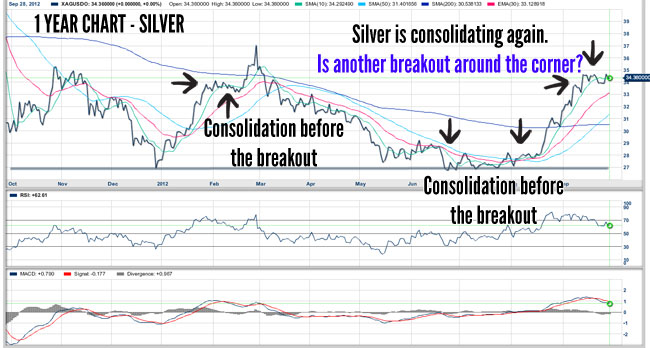 To hear what Tom Cloud thinks lies ahead next week for gold and silver, listen now. (Tom also provides his forecast for silver, palladium, and platinum.)

Related Headlines
Tom Cloud: Silver is the Hot Thing Now >>
Receive Tom Cloud's Precious Metals Email Updates Here >>
View our Free Educational Resources on Precious Metals Investing >>
Gold Futures Ease to Settle at $1,773 an Ounce >>
China, Indian Demand: Key Trend for Gold's Long-Term Bullish Outlook >>
---
30:15 >>
Later in the program, should states have the right to allow medical marijuana for the terminally ill? In this segment, Jerry Robinson reports on the ongoing fight between pro-medical marijuana activists and pro-family groups over the right for terminally ill patients to use medical marijuana. Our report focuses on the state of Arkansas which made national headlines after the struggle over placing medical marijuana on the November ballot went all of the way to that state's Supreme Court. Last week, the Supreme Court ruled in favor of Arkansas Medical Marijuana Act, which is the first of its kind in the southern United States.
Jerry is joined by those on both sides of the debate.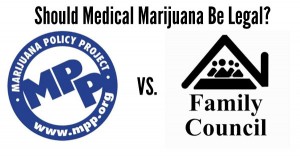 First, Jerry is joined by Morgan Fox from the Washington D.C. based Marijuana Policy Project (MPP). MPP is the nation's largest marijuana advocacy group and has provided the majority of the funding for the ongoing battle in Arkansas to get a medical marijuana proposal on the November ballot. Mr. Morgan explains the benefits of medical marijuana and why it should be accessible to all citizens with a prescription.
Later, we are joined pro-family advocate and anti-medical marijuana activist, Jerry Cox, from the Family Council based in Arkansas. Mr. Cox was a plaintiff in the case heard in the Arkansas Supreme Court last week. He shares why he believes that medical marijuana is a bad idea for Arkansas and for America.

Related Headlines
Medical-Marijuana Vote in Arkansas to Go Ahead >>
Arkansas first Southern state to vote on medical marijuana >>
Arkansas Medical Marijuana Ballot Language >>
7 States with Pending Legislation to Legalize Medical Marijuana >>
---
59:33 >>
Creating an estate plan can seem intimidating. However, with a trusted estate planning professional and financial advisor by your side, it doesn't have to be. In this week's Retirement Minute, financial advisor John Bearss provides the basic steps that are required to begin creating your own estate plan.
>> John Bearss is a financial advisor with 26 years of experience. In addition to offering financial planning advice, he also provides FTMWeekly listeners with 100% free financial coaching on our Five Levels of Financial Freedom. To schedule your free coaching session, call John Bearss directly at (888) 914-9909.
---
Sign up to receive the FTMWeekly Podcast in your email inbox every Saturday