S-L-O-W-D-O-W-N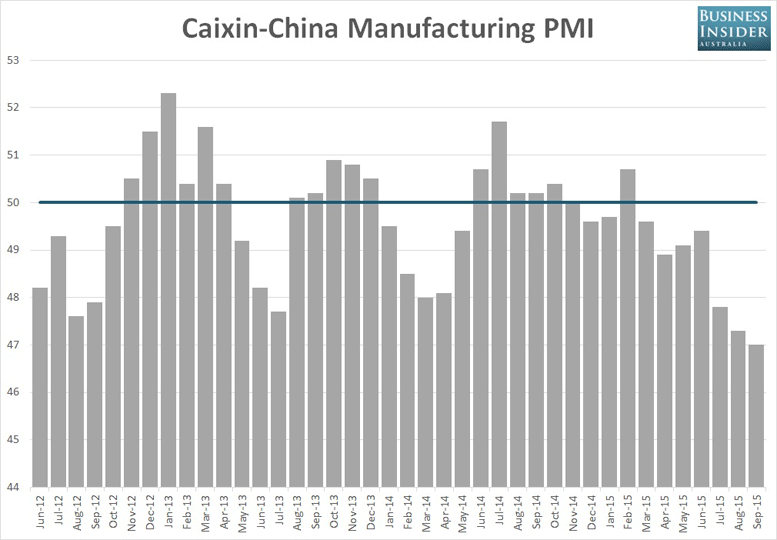 CHART: China Factory Activity Plummets To 78 Month Low
The global growth outlook dims for the second-half of 2015 as the world's second largest economy sputters.
One of the major economic releases I told you to watch this week was the preliminary Caixin Manufacturing Purchasing Managers' Index (PMI).

While the official September figures will not be released until next month, this preliminary (or "flash") reading confirms that China's economy continues to contract. Economists were expecting a reading of 47.6, which was much more ambitious than the actual figure of 47. (Any reading above 50 indicates growth and any number below 50 indicates contraction.)
This is even worse than last month's official reading of 47.3 and is the lowest level since March 2009.
In short, this figure, which measures Chinese factory output, is on track to experience its worst month since the depths of the 2008-2009 global economic crisis.
The disappointing data partially helped spark a renewed selloff in global stocks as more investors fear that China's economy may be grinding to a halt after years of rapid growth. Growth forecasts for China are already being slashed by big banks and other financial institutions.
The Philippines-based Asian Development Bank downgraded its 2015 growth estimate for China from 7.2% to 6.8% and lowered its 2016 estimate even lower to 6.7%.
Another major bank, Barclays, also cut its 2015 growth estimates for the country to 6.6% from its previous 6.8% expectation. Additionally, Barclays slashed its 2016 growth estimate from 6.6% to 6.0%!
And because the economies of many other nations are heavily dependent upon continued Chinese economic growth, this slowdown could wreak havoc on the entire global economy in a hurry.
Under renewed economic pressures, Beijing is likely to announce even more stimulus later this year including interest rate cuts and lowered reserve requirements.
But unfortunately, I believe it will be too little, too late. The global financial markets have been detached from reality for far too long and stimulus can only delay the inevitable reckoning temporarily.
Prepare accordingly.
Until tomorrow,
Jerry Robinson
Get Instant Access to FTMDaily's Monthly ETF Trend Alerts!
Wise traders and investors know that U.S. stocks are not the only game in town. Each month, our FTM Insiders get access to our powerful trend analysis on 40 global ETFs.
Whether you want to invest in Europe, Asia, or Latin America, our ETF Cheat Sheet will keep you on the right side of the market, no matter which global market you want to trade.
---
Bankruptcy of our Nation: Now in Audiobook Format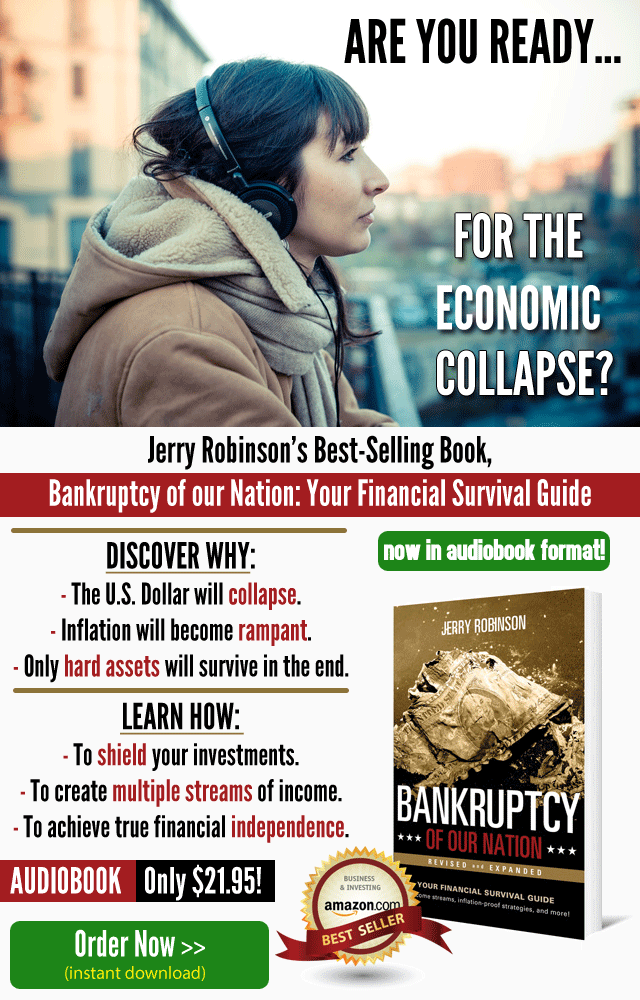 ---
— Paid subscriber access only —
View our Plans and Pricing here
---
Featured image courtesy of: Dmitry Kalinovsky / Shutterstock