by Michael Mitchell
Permanent life insurance is an essential tool in building and distributing wealth. Everyone knows that life insurance provides a death benefit to a beneficiary, but many people do not realize that permanent life insurance can provide its owner financial benefits while he or she is still alive. In this brief article, I will share the many economic living benefits of a properly designed permanent life insurance portfolio.
Permanent life insurance is not the same as term life insurance. Term insurance is for a specified period of time. Permanent insurance continues for the life of the policy owner, provided the premiums are paid.
So, why is permanent life insurance so important for building and distributing wealth? The simple truth is that it is the only financial instrument that creates multiple economic benefits with a single monetary commitment. Let's examine.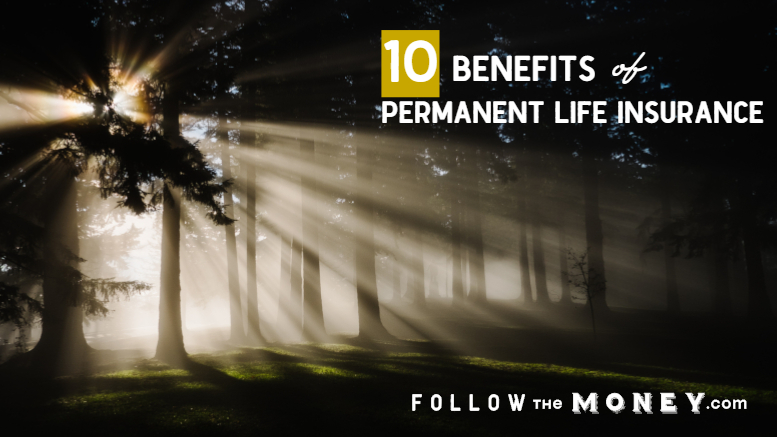 10 Benefits of Permanent Life Insurance
Here are 10 benefits of well-designed permanent life insurance policy that you have probably never heard from the mainstream financial media.
1. Lifetime net worth is immediately replaced (from a protection perspective) via the death benefit.
2. Lifetime net worth is protected in a tax-free environment.
3. The cash value of the policy will, at the very least, recover all the costs required to maintain the asset in a tax-favored environment.
4. The tax-free death benefit of the policy gives prudent pay down strategies of other accumulated assets that would not be accessible without the death benefit. Think of it as a financial coupon.
5. The policy can be designed to have a self-completing feature in the event of loss of income due to a disability.
6. The cash values are accessible by the policyholder during his lifetime on a tax-favored basis (per Internal Revenue Code 7702).
7. If designed properly, market risk can be eliminated through the use of indexing strategies.*
8. The policy's death benefit allows the elimination of capital gains taxes from other highly appreciated assets using creative gifting strategies.
9. The death benefits and cash values contained within a permanent life insurance policy enjoy unique protections, including from lawsuits and creditors.
10. Using the favorable loan provisions of a permanent life insurance plan, a multitude of investment opportunities open up for the creation of multiple streams of income.
Once you understand the many benefits of permanent life insurance and how it can help you achieve your financial planning goals, the next step is to determine how much life insurance you need.
How Much Permanent Life Insurance To Buy?
The best marker for establishing a proper amount of permanent insurance is answering the most important question: "What is my economic human life value?"
This is sometimes a difficult question. However, the best rule of thumb to go by is either your net worth or a multiple of your annual gross income. If you are under the age of 50, income measure is 20 times your gross annual income. However, the formula for determining human life value changes at age 60 or above. The multiple drops to 10-15 times your gross income.
Let's look at an example of economic human life value.
Mark is 48 years old and is looking at implementing a permanent life insurance strategy. He currently earns $50,000 annually at his job, and he also brings in $20,000 per year, after expenses, from a few rental properties he owns. In total, Mark's annual gross income is $70,000.
Since he is under the age of 50, we would multiply his income by 20, giving us an economic human life value of $1.4 million.
This is a good starting point for determining how much permanent insurance Mark may decide to buy.
The True Value of Permanent Life Insurance
I have heard many financial professionals downplay the true value of a permanent life insurance plan. I believe much of this is due to misinformation, preconceived mindsets, and an unfortunate lack of knowledge.
One often quoted gauge of the relative value and performance of a financial instrument is its 'Internal Rate of Return'. Although important, I believe the more relevant measure of an investment is its 'External Rate of Return'.
External Rate of Return is simply defined as the real-life benefits a particular financial instrument brings to its user. I believe it is unlikely that you would find another financial tool available to the average retail investor that has a higher External Rate of Return than a properly designed and properly used permanent life insurance policy.
Here is wishing you success in planning your financial freedom.
About the author: Based in Arkansas, Michael Mitchell is the CEO of Strategic Wealth Partners** (Insurance License #952349) and boasts 45 years of financial advising experience. Michael is featured regularly on the Sound Retirement w/ Mike Mitchell podcast on FollowtheMoney.com. Call Mike directly at 833-370-0777 to speak about this or any financial planning topic.
*Indexed Universal Life Insurance is an insurance contract that, depending on the contract, may offer a guaranteed annual interest rate and some participation growth, if any, of a stock market index. Such contracts have substantial variation in terms, costs of guarantees and features and may cap participation or returns in significant ways. Any guarantees offered are backed by the financial strength of the insurance company, not an outside entity. Investors are cautioned to carefully review an indexed universal life insurance for its features, costs, risks, and how the variables are calculated.
**Securities offered through Brokers International Financial Services, LLC, Member SPIC. Strategic Wealth Partners Inc., and Brokers International Financial Services, LLC are non affiliated entities. Strategic Wealth Partners Inc. only transacts Business in states where it is properly licensed or is excluded or exempted from registration requirements.