'THE ECB'S HISTORIC DECISION'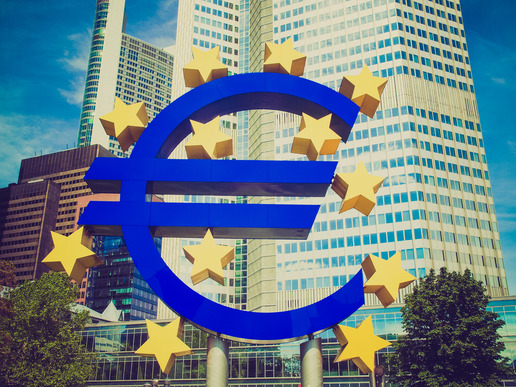 European Central Bank Ushers in Era of Negative Interest Rates
FTMDaily.com – Yesterday, European Central Bank President Mario Draghi unleashed an unprecedented attack on the low inflation and high unemployment plaguing the Eurozone. (This was just as we had expected.)
During yesterday's closely watched meeting, Draghi announced that the ECB would lower its benchmark interest rate to 0.15% from 0.25% in an effort to stimulate economic growth and avoid deflation in the eurozone.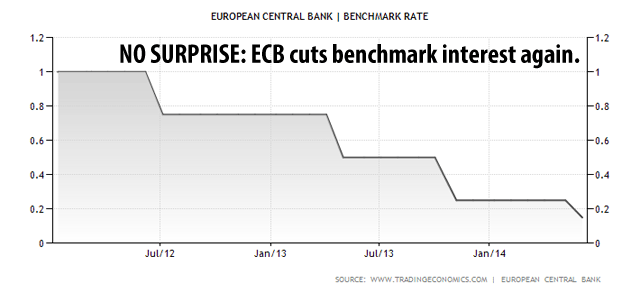 However, the more interesting announcement was that the ECB would reduce its deposit rate below zero, to -0.1%, meaning that commercial banks will now have to pay a "storage fee" instead of receiving interest, on the money they leave on deposit at the central bank.
Mr. Draghi added that the ECB stands ready to deliver even more unconventional measures in the near-future if inflation in the Eurozone fails to rise. So, for now, the ECB is keeping a full-scale asset purchase program (similar to the Fed's quantitative easing program) within their arsenal. However, Mr. Draghi was clear that this option remained on the table.
Mr. Draghi's decision to implement negative interest rates makes the ECB the first major central bank to take one of its key interest rates into negative territory. By punishing deposits by commercial banks, the ECB is hoping to create an incentive for the banks to lend the money instead to businesses and individuals.
DID YOU KNOW? Denmark tried out negative interest rates back in 2012. The results were negligible.
Mr. Draghi also pointed to the Eurozone's weak first quarter real GDP growth rate of 0.2% as a confirmation of Europe's "ongoing, gradual recovery."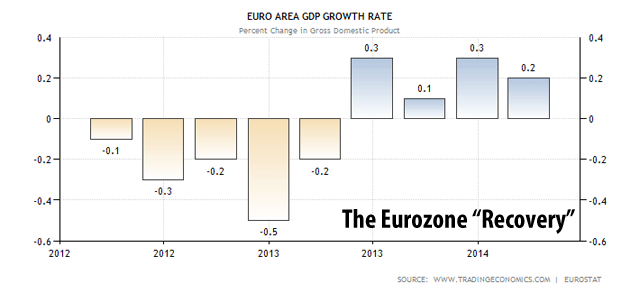 Based upon the ECB's aggressive policy posture, it is clear that Europe's monetary policymakers are greatly concerned that the Eurozone will slip into a downward spiral of falling prices, a weak economy, and a slowdown in consumption.
Finally, gold investors should find some sense of irony in the ECB's decision to punish commercial banks with storage costs on their euro holdings. After all, this clearly invalidates the claims made by the world's financial elites that gold is not money because it does not bear interest. In our modern fiat-based global economy, gold has been maligned as a useful store of value based upon its storage costs and lack of interest payments. Now, with the banksters facing "storage costs" (in the form of negative interest rates) and no interest payments on their euro deposits, we'll see if the modern monetary wizards finally begin see the flaw in their bogus reasoning.
I won't hold my breath. (But, I will continue adding to my physical gold position.)
Until Monday,
Jerry Robinson
---
Will You Know When to Sell Before the Next Market Crash?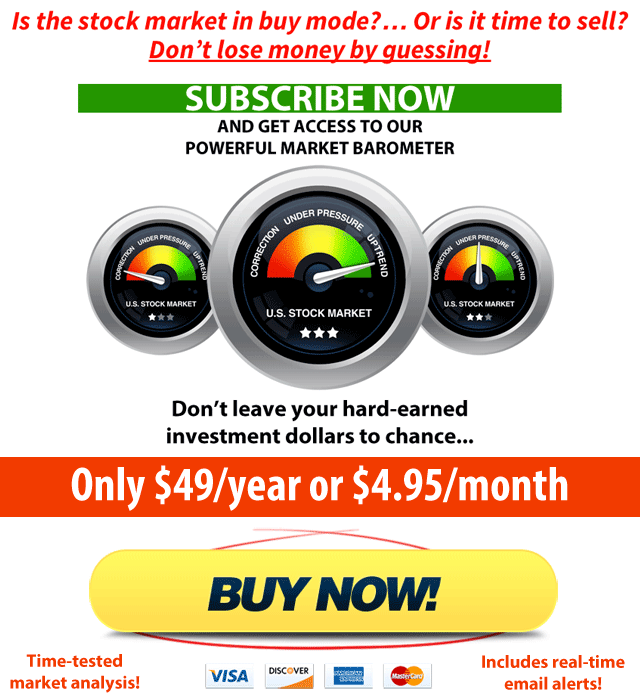 ---
Inside this Issue
---

"Preparing — and Profiting — From the Coming Collapse"
According to the Q1 2014 Flow of Funds report released yesterday by the Fed, household net worth increased to a new record high of $81.8 trillion.
The ECB easing announcement is bullish for gold over the long term, "since gold responds over time to increases in the supply of fiat currency."
Here's what to watch in the release at 8:30 a.m. EDT.
The euro quickly recovered after the ECB decision on speculation the measures will only serve to attract international investors.
Investors pile in as expectations of a massive ECB asset purchase program continue to build…
Settlements in rubles will begin this month…
The country faces the world's fastest inflation and inflaming protests over shortages that have left at least 42 people dead since February.
Oklahoma joins Utah, Texas, and Louisiana, as states that have removed taxes on gold and silver coins, and nearly a dozen other states are currently considering legislation to recognize gold and silver coins as hard money.
View the Investor Wire Archive >>
---
---

"A Daily Stock Trading Idea for Short-Term Traders"
— Subscribers Only —
You are attempting to view premium content for subscribers only. If you are a subscriber, log in here. If you are not currently subscribed, you can learn more here.
Enter the Trading Room to View all Trading Activity >>
View our Trading Performance >>
Not a subscriber? Learn more here >>
---
U.S. Financial Markets
Real-time Gold and Silver Prices
Precious Metals Market Update with Tom Cloud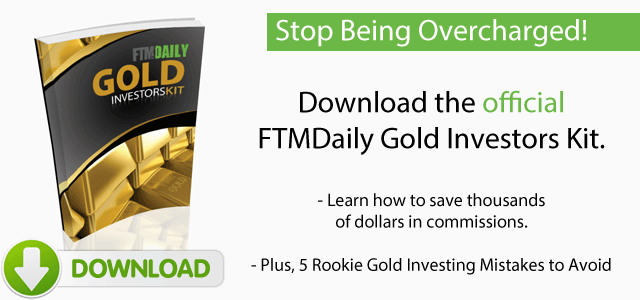 ---

"Daily Investment Trends for the Savvy Investor"
You are attempting to view premium content for subscribers only. If you are a subscriber, log in here. If you are not currently subscribed, you can learn more here.
View the Daily Chart Archive >>
---

"World News Headlines That We Are Tracking"
Following President Obama's commitment of $1 billion to expand NATO's role in Eastern Europe, Defense Secretary Chuck Hagel announced on Thursday that the United States will be bolstering its presence in the Black Sea region.
Deal is signed despite objections from Baghdad…
Touch ID would allow PayPal and other apps to authenticate users with a fingerprint scan rather than a typed password.
At least six electric cooperative utilities across the U.S. mid-and-southwest could raise electricity rates up to 40% if the Environmental Protection Agency imposes new permitting regulations on coal-fired power plants.
Pope Francis ousted the all-Italian board of the Vatican's financial watchdog agency Thursday and installed a more international set of experts following clashes between the board and the agency's director.
In the past decade, local governments have begun removing the tops of mountains to fill in valleys to create land on which to build.
Experts say that the asteroid, which is the size of a football stadium, poses no chance of hitting Earth in its flyby on Sunday.
---


The Benefits of Trigger Trade Pro
Broadcast Every Weekend – Hosted by Jerry Robinson


Topic: On this week's episode, Jerry Robinson announces the release of our brand new stock trading software.
Download Now >>
(Right click link above and 'save as' to your device)
Read This Week's Show Notes >>
Other Listening Options
---


"A Daily Dose of Financial Wisdom from God's Word"

"For which of you, intending to build a tower, does not sit down first and count the cost, whether he may have enough to finish it; lest perhaps, after he has laid the foundation and is not able to finish, all those seeing begin to mock him, saying, This man began to build and was not able to finish."
Deuteronomy 25:13-15
---