'10-YR TREASURIES NEAR ALL-TIME LOWS'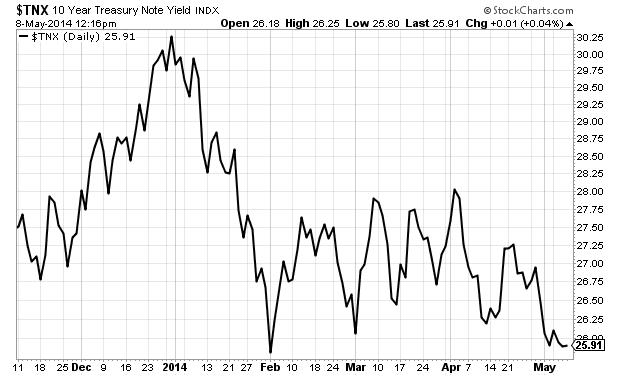 Online Bank Offers Innovative Exposure to Treasuries Through CD's
FTMDaily.com – In yesterday's briefing, I explained how to buy foreign currency with three easy ways to purchase it. One of the three ways is to purchase a foreign currency CD through a financial institution like Everbank.
Everbank is an online banking institution that provides innovative products and is, of course, completely FDIC insured. One of my favorite products Everbank offers is their WorldCurrency CD. You can buy CDs with maturities of 3 months up to 1 year, and there are no rollover fees involved. The minimum deposit to open one of these CDs is $10,000 (unless you are buying the Indian Rupee, which requires at least $20,000). An added bonus is that you can place your IRA funds into one of these CDs if you are looking to diversify away from the U.S. dollar and help preserve the purchasing power of your savings. The currencies available include:
Australian dollar
British pound
Canadian dollar
Euro
Japanese yen
Norwegian krone, and others
You can also buy a WorldCurrency CD with access to emerging market currencies, such as:
Brazilian real
Indian rupee
Mexican peso
South Afrian rand
Everbank also offers CDs that track baskets of currencies. One example of their WorldCurrency CD Baskets is the commodity-rich basket of the Australian dollar, the Canadian dollar, the New Zealand dollar, and the South African rand. Another example is a geographically-inspired "Pan-Asian" CD basket, which consists of the Australian dollar, the Hong Kong dollar, the Japanese yen, and the Singapore dollar.
Another great thing about Everbank is that they offer products called MarketSafe CDs. These are also very innovative in that they offer bonus upside potential and no downside loss. For example, last year their MarketSafe CD product was called the Evolving Economies CD, and it offered exposure to four emerging market currencies, the Colombian peso (COP), the Indian rupee (INR), the Mexican peso (MXN), and the Turkish lira (TRY). If the 5-year performance of the CD exceeds 0%, your return is the greater of 15% or the CD performance. If the performance turns out to be less than 0%, your principle is 100% protected.
This year, Everbank is offering the MarketSafe Treasury CD, which tracks the 10-year Treasury yield with a 3.3x upside leverage factor. The deadline to fund this CD is June 11. You can learn more about it here.
Until tomorrow,
Jerry Robinson
P.S. I am not affiliated with Everbank and make no money from promoting them or their services. As always, be sure to do your own due diligence before making any financial decisions.

---
NEW! The Global Currency Monitor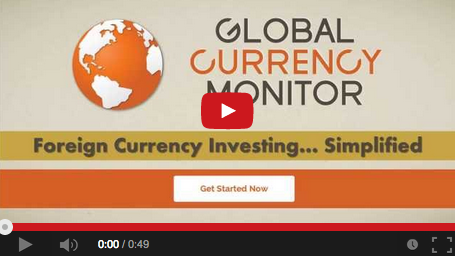 We track — and rate — nine foreign currencies every month.
Get our Monthly Currency Ratings Report here.
---
Inside this Issue
---

"Preparing — and Profiting — From the Coming Collapse"
Sen. Bernie Sanders: "Are we still a capitalist democracy or have we gone over into an oligarchic form of society in which incredible economic and political power now rests with the billionaire class?"
Mrs. Janet Yellen: "I don't know what to call our system or how to — I prefer not to give labels; but there's no question that we've had a trend toward growing inequality and I personally find it very worrisome trend that deserves the attention of policy-makers."
On Thursday, Mario Draghi, the president of the European Central Bank, gave the clearest indication yet that fresh monetary stimulus could be imminent.
In 2014, the Fed will pay an estimated $6.74 billion in interest on reserves to banks overall, with an estimated $3.37 billion headed to foreign banks.
Russia to lose about $550 million in annual tax breaks on its trade with the U.S.
The demand is high, supply is low and that is precisely why more homebuyers today are relying on cash to be competitive.
With average speed of 350km per hour, passengers could complete the 13,000km journey from China to the U.S. in just under two days.
The region could end up with a far worse match than the one it knows, and the US, wishing it had paid more attention to a faithful partner of so many years.
View the Investor Wire Archive >>
---
---

"A Daily Stock Trading Idea for Short-Term Traders"
— Subscribers Only —
CVS Caremark Corp. (Ticker: CVS)
Trigger Price: $76.33
Stop Loss: $70.22
Trading Notes: CVS/Caremark is the nation's premier integrated pharmacy services provider and is flashing a new trigger price of $76.33. Potential profit: 2%-4%
Enter the Trading Room to View all Trading Activity >>
View our Trading Performance >>
Not a subscriber? Learn more here >>
---
U.S. Financial Markets
Real-time Gold and Silver Prices
Precious Metals Market Update with Tom Cloud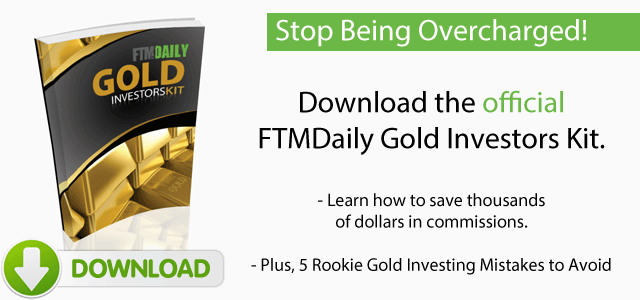 ---

"Daily Investment Trends for the Savvy Investor"
America's Federal Debt Levels are Completely Unsustainable
Fed Chair: Deficits Will Rise to Unsustainable Levels
View the Daily Chart Archive >>
---

"World News Headlines That We Are Tracking"
Just days after its much-vaunted reconciliation pact with Mahmoud Abbas's PLO, Hamas's official TV channel aired a children's program in which viewers were encouraged to "kill the Jews."
Nuke tests comes as relations between Russia and the West have plunged to their lowest point since the Cold War over Ukraine.
Britain has deployed a destroyer to track an unusually large Russian naval task force transiting the English Channel and also noted a "resurgence" in Russian air activity close to its airspace.
On Monday, Putin signed a bill making attempts to "whitewash Nazism" punishable with hefty fines and prison sentences.
The Kremlin and some pro-Russian Ukrainians have blamed far-right Ukrainians for the attacks.
The program aims to build an inhabited moon base and testing ground by the middle of the century, which would allow mineral extraction on Earth's only natural satellite.
A Scandinavian Airlines flight had to take last minute evasive action to avoid colliding with a Russian spy plane just off the Swedish south coast in March, according to a report which emerged on Thursday.
Failure to switch on the cameras as directed in police guidance will be treated as a disciplinary offense.
South Africa claims the African National Congress was offered $10 billion a year for 10 years if it would build temporary housing for Americans in case of an eruption.
Feds plan to grow 1,430 pounds of marijuana on their Mississippi "pot farm," which they have been running since the 1960's.
If the initiative makes the ballot and wins approval by voters it would legalize possession of 1 ounce of marijuana for personal use by adults 21 and older – or 1.5 ounces for doctor-approved medical use. It would allow residents to grow six plants at home.
Decline of religion in the West has created a rise in black magic, Satanism and the occult.
---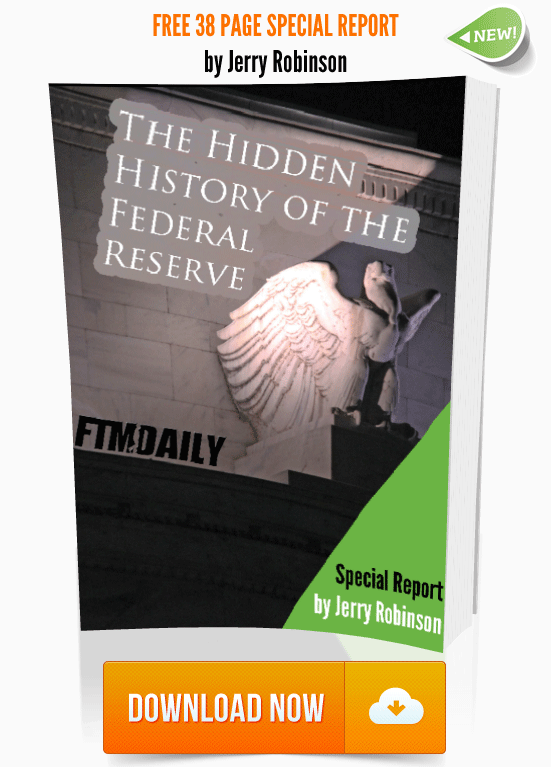 The Hidden History of the Federal Reserve
Broadcast Every Weekend – Hosted by Jerry Robinson


Topic: In this episode, Jerry Robinson discusses the long and sordid history of the Federal Reserve.
Download Now >>
(Right click link above and 'save as' to your device)
Read This Week's Show Notes >>
Other Listening Options
---


"A Daily Dose of Financial Wisdom from God's Word"

"He who is generous will be blessed, for he gives some of his food to the poor."
Proverbs 22:9