GOLD HASN'T DONE THIS SINCE 2001
CHART: Gold Nearing Multi-Year Buy Signal
FTMDaily.com – Yesterday, I demonstrated that gold mining stocks were nearing a long-term buy signal. It may take a few more weeks, or even a few months, before this buy signal becomes valid, but we are getting close.
Today, I want to show you what I found last week when I ran physical gold through our Trigger Trade system. What I found is very exciting for long-term gold investors. See the chart below…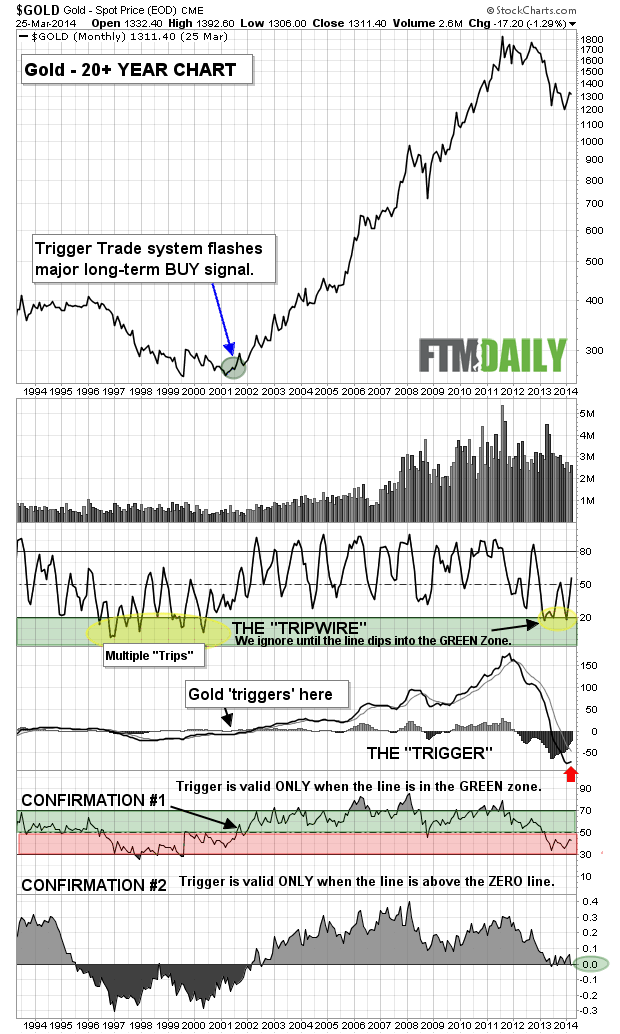 (Watch video of Jerry Robinson explaining the above chart here.)
In essence, our Trigger Trading system is demonstrating that gold's pullback in price over the past couple of years has caused the metal to set up nicely for yet another major leg higher. Based upon our analysis, gold is getting very close to presenting investors with one of the best entry points since 2001. As always, we will alert our FTM Insiders in real-time when this new multi-year buy signal is confirmed.
If you already own gold then you are well positioned for the next move higher. However, if you do not own any physical gold yet, its a good time to consider adding some to your investment portfolio.
Until Monday,
Jerry Robinson
---
Inside this Issue
---

"Preparing — and Profiting — From the Coming Collapse"
The video service will focus on television shows, making this an attack on traditional TV, as well as Hulu and Netflix, which both stream TV shows.
Underpinned by rising oil production, war-ravaged Iraq's economy is widely tipped to be one of the best performers in the Middle East this year.
The retail giant is accusing the credit-card behemoth of violating antitrust statutes by setting uncompetitive swipe fees.
Lehman's payouts top $80 billion as creditors set to receive another $17.9 billion next month.
Citi stock tanks after Fed says bank's capital cushions are not robust enough to withstand a severe economic downturn.
But number of uninsured enrollees remains a mystery…
A new book's authors offer tips on doing it and living well, too
View the Investor Wire Archive >>
U.S. Financial Markets
Real-time Gold and Silver Prices
Precious Metals Market Update with Tom Cloud
Read/Print Audio Transcript >>
View Our Current Precious Metals Specials Here >>
---

"World News Headlines That We Are Tracking"
The two were scheduled to meet for half an hour, but their private discussion lasted 52 minutes.
Russia has announced it will build a new fifth generation, Kalina-class submarine. Will Moscow sell them to China?
With an estimated 17,000 nuclear weapons in the world, we have the power to exterminate humanity many times over.
First Twitter, now Youtube…
At a hospital in Pittsburgh, surgeons are now allowed to place patients into a state of suspended animation — between life and death.
One in 68 children has autism, a 30 percent rise over the last estimate released in 2012.
---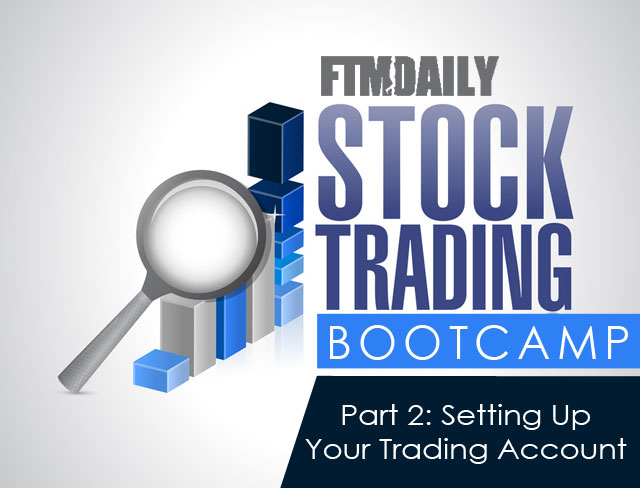 Stock Trading Bootcamp 2014: Part II
Broadcast Every Saturday Morning – Hosted by Jerry Robinson


Topic: In Part II of our Stock Trading Bootcamp podcast series, Jerry Robinson explains step-by-step how to set up an online stock trading account.
Download Now >>
(Right click link above and 'save as' to your device)
Read This Week's Show Notes >>
Other Listening Options
---

"Daily Investment Trends for the Savvy Investor"
You are attempting to view premium content for subscribers only. If you are a subscriber, log in here. If you are not currently subscribed, you can learn more here.
View the Daily Chart Archive >>
---

"A Daily Stock Trading Idea for Short-Term Traders"
— Subscribers Only —
You are attempting to view premium content for subscribers only. If you are a subscriber, log in here. If you are not currently subscribed, you can learn more here.
Trade Alert – March 28
Looking to lock in gains on three stocks Friday.
Enter the Trading Room to View all Trading Activity >>
View our Trading Performance >>
Not a subscriber? Learn more here >>
---


"A Daily Dose of Financial Wisdom from God's Word"

"A faithful man will abound with blessings, but he who makes haste to be rich will not go unpunished."
Proverbs 28:20
---
---