WHAT ABOUT GOLD MINING STOCKS?

What Will Happen to Mining Stocks in the Next Stock Market Crash?

Jerry, first I would like to say THANKS!!! for all you and Jennifer do. It has been very helpful for myself and my family. Please excuse me if my question is too simple as I am new to the financial world. I would like to know your opinion on something. If we have a sizable drop in the stock market, but not a total crash, which I believe is very likely, and if gold/silver respond in a very bullish way as money runs from the market to precious metals, what will happen to gold and silver mining stocks? Would they still continue to prosper as precious metals prices rise or would they be guilty by association and fall with the general stock market? I know its a great time to hold physical gold and silver, but if I have mining stocks should I bail out just because it is "Paper"? I know there are a lot of "if's", but I am interested in your opinion.
Thanks for your time! Look Up For Your Redemption Draws Nigh!
Mike
– Mike (Stillwater, OK)

Mike, you have asked a great question. The answer, of course, is elusive and the only meaningful way to answer such a question is to examine how mining stocks have behaved during previous downturns. Below is a chart of both the S&P 500 index and the NYSE Arca Gold BUGS Index ("HUI Index") going back to mid-1997. The phrase "BUGS" means "Basket of Unhedged Gold Stocks," which is exactly what the "HUI Index" represents, namely, gold mining.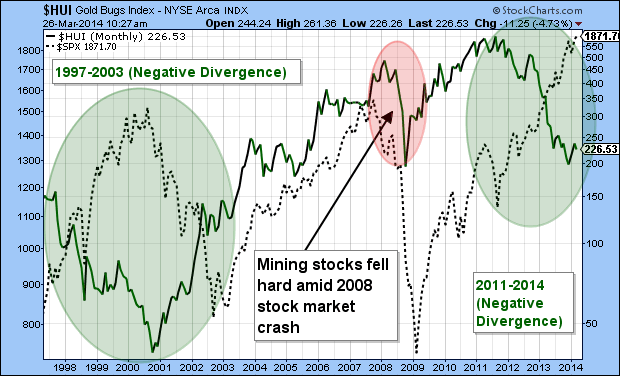 Notice that from mid-1997 to 2003 the price of gold mining stocks fell steadily. This occurred despite a massive bull run in U.S. stocks during the same period, which ultimately ended with the "dot-com" implosion.
However, no stock sector was spared from the 2008 stock market crash, including the mining sector. This is not to say that mining stocks could not buck the trend during another major downturn in U.S. stocks. However, I wouldn't bet my retirement money on it. Mining stocks are highly speculative and should compose only a small portion of any stock portfolio.
Regarding mining stocks themselves, consider the below chart…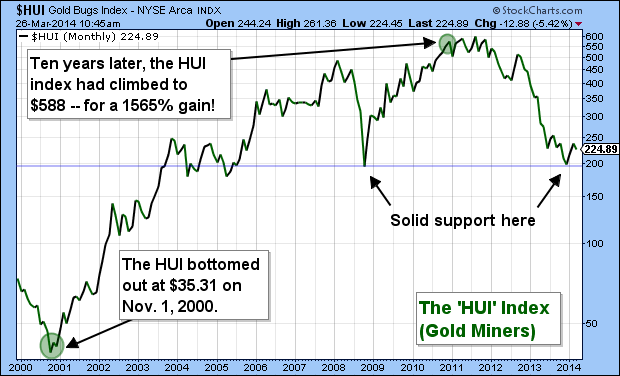 In late 2000, mining stocks bottomed out. But from 2000-2010, the HUI Index was the top performing sector in the U.S. stock market! Many speculative investors became increasingly bullish on mining stocks after it just recently found support near its 2008 lows. So, are mining stocks getting ready to skyrocket? Perhaps. Just for kicks, I have run my favorite gold mining ETF (Market Vectors Gold Miners ETF – GDX) through our Trigger Trading system. While our Trigger Trade system is primarily used to identify short-term buy signals, it can easily be adjusted to uncover long-term buy signals as well. And when it comes to gold mining, I prefer to make long-term trades as the bull runs in this sector can be quite significant.)
So, here's what I got after running GDX through our trading system…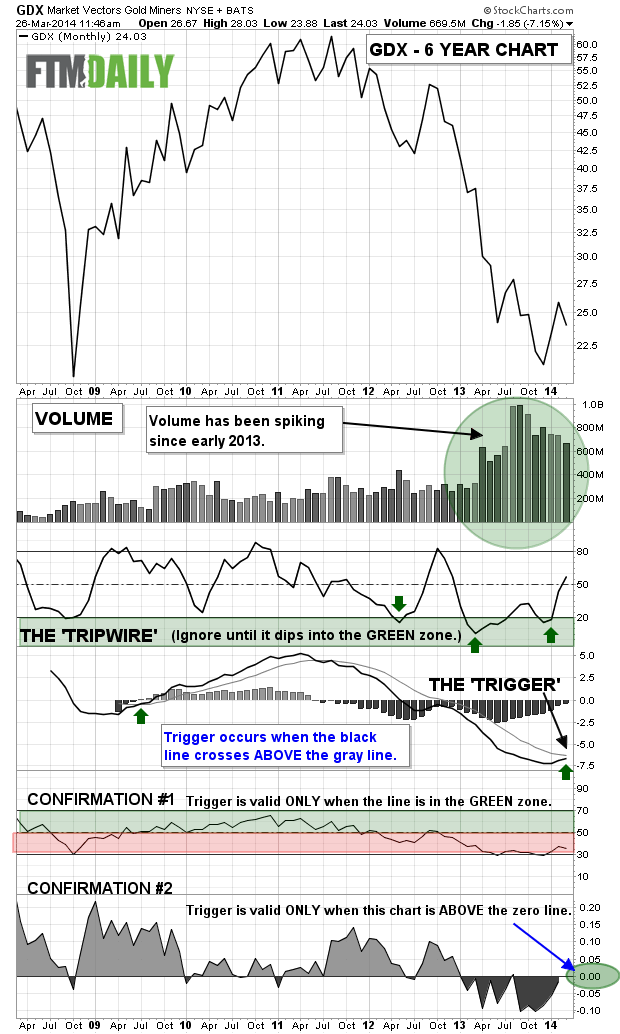 As you can see, GDX has hit the "TRIPWIRE" and is just now preparing to "TRIGGER." However, both of our "CONFIRMATIONS" continue to show that this TRIGGER will be invalid. So, I will not be re-establishing my long-term position in GDX until these two confirmation indicators "confirm" that the buy signal is valid. When this occurs, I will alert our FTM Insiders in real-time.
Finally, regarding physical gold… You are correct that now is a great time to buy and hold gold. As the world economy plods along, global central bank policy has become increasingly disarticulated. Those who buy and hold physical precious metals are, in essence, placing a major bet against the professed sanity of lawmakers, central bankers, and other leaders in the world of high finance. They are also protecting themselves from the continuing erosion of their currency's purchasing power.
Interestingly, our Trigger Trade system is nearing the biggest long-term BUY signal on physical gold in years. But I will save that discussion for tomorrow's post.
Thanks for the question Mike. I hope this helps.
Until tomorrow,
Jerry Robinson
Get 100% access to the daily trading ideas generated by Jerry Robinson's unique Trigger Trade system and instantly download our brand new 2014 Trader's Guide. Learn more here.
---
Inside this Issue
---

"Preparing — and Profiting — From the Coming Collapse"
The spot price (not futures speculation-driven) of U.S. Foodstuffs is the best performing asset in 2014 – up a staggering 19%…
Net long positions in gold amassed by large investors jump 12.5% to a more than one-year high.
Britain and China are poised to sign an agreement next week to promote London as the first yuan trading hub outside Asia.
In September 2013, China's net imports of petroleum and other liquids exceeded those of the United States on a monthly basis, making it the largest net importer of crude oil and other liquids in the world.
Charlie Rose interviews Larry Page onstage at TED2014
MasterCard Inc., the second-largest U.S. payments network, sold $1.5 billion of debt in two parts in its first bond sale on record.
Cuba is proposing a new Cuban foreign investment law that would cut the profits tax in half to 15 percent and exempt most investors from paying it for at least eight years.
The development has worried some economists, because it makes the U.S. more vulnerable to major shifts in the global economy.
View the Investor Wire Archive >>
U.S. Financial Markets
Real-time Gold and Silver Prices
Precious Metals Market Update with Tom Cloud
Read/Print Audio Transcript >>
View Our Current Precious Metals Specials Here >>
---

"World News Headlines That We Are Tracking"
U.S. official: "No one's ruling out the possibility of additional Russian military aggression."
With Brazil and China now wealthier than some G7 countries, Russian foreign minister Sergei Lavrov noted the G7 has lost its monopoly on global governance.
U.S. secretary of state to meet with King Abdullah II, Mahmoud Abbas to bring negotiations back on track.
Arab leaders back Palestinian refusal to recognize the Jewish character of Israel as a condition for peace.
There are as many as 200,000 alcoholics in Iran, according to Iranian media reports.
New study shows people born from 1966 to 1980, known as Generation X, are fatter and twice as likely to have diabetes as Baby Boomers were at the same age.
---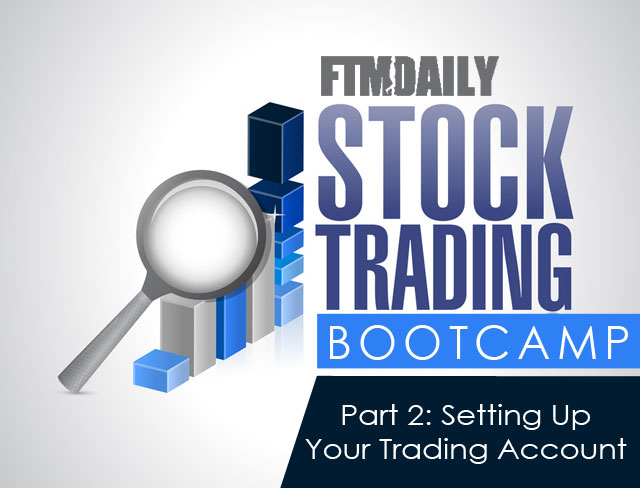 Stock Trading Bootcamp 2014: Part II
Broadcast Every Saturday Morning – Hosted by Jerry Robinson


Topic: In Part II of our Stock Trading Bootcamp podcast series, Jerry Robinson explains step-by-step how to set up an online stock trading account.
Download Now >>
(Right click link above and 'save as' to your device)
Read This Week's Show Notes >>
Other Listening Options
---

"Daily Investment Trends for the Savvy Investor"
You are attempting to view premium content for subscribers only. If you are a subscriber, log in here. If you are not currently subscribed, you can learn more here.
View the Daily Chart Archive >>
---

"A Daily Stock Trading Idea for Short-Term Traders"
— Subscribers Only —
You are attempting to view premium content for subscribers only. If you are a subscriber, log in here. If you are not currently subscribed, you can learn more here.
Trade Alert – March 27
Six stocks currently in play in the Trading Room.
Enter the Trading Room to View all Trading Activity >>
View our Trading Performance >>
Not a subscriber? Learn more here >>
---


"A Daily Dose of Financial Wisdom from God's Word"
"Without consultation, plans are frustrated, but with many counselors they succeed."
Proverbs 15:22
---
---