AFFILIATE MARKETING 101
FTMDaily's Income University Launches First Session on How to Make Money Online with Affiliate Marketing
FTMDaily.com – Many people dream of making money online. Stories of people earning millions of dollars on the internet are tantalizing indeed. But in truth, making money online is difficult. It takes a lot of hard work and a long-term commitment. But the good news is that it is possible… You can make money online. How? One of the most popular ways is with a unique form of marketing called: Affiliate marketing. What is affiliate marketing? Affiliate marketing is a performance-based marketing model that has become extremely popular on the internet. In essence, an affiliate marketer is compensated for promoting someone else's goods or services. One of the reasons why affiliate marketing is so popular is because it doesn't require you to create a product or service. Instead, you are compensated for promoting other people's goods and services. Below is a good infographic that will help simplify the process in your mind.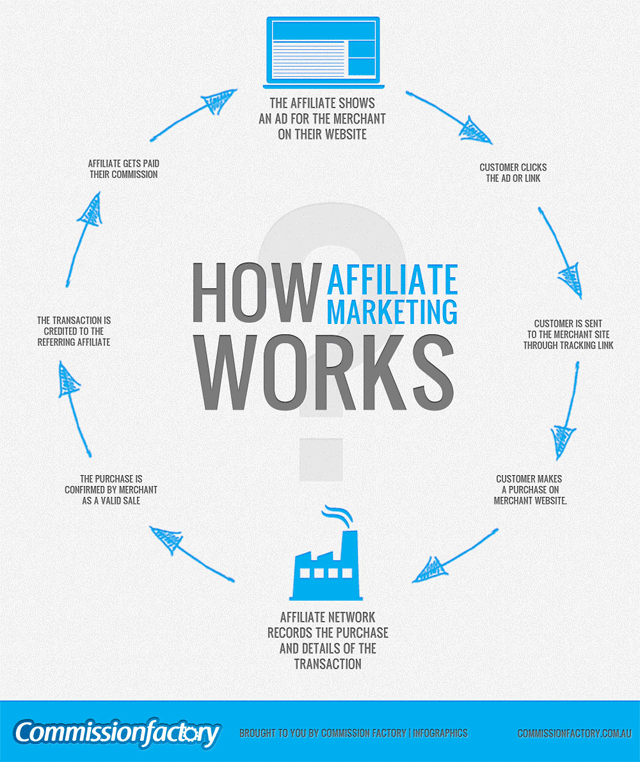 Since 2008, I have been earning money online through affiliate marketing. During the first few years, it was tough. There was a lot to learn and a lot of potential pitfalls to avoid. Now, after several years of proven success, I am finally releasing my first lesson to our subscribers on how I have built a full-time income from online affiliate marketing. The first lesson has already been posted in our FTMDaily Income University and there are many more to come in the weeks and months ahead.
If you have ever wanted to earn money online, but don't know where to start, these lessons will help you immensely.
Do you dream of making money online? Let FTMDaily help you turn that dream into a reality with our new educational series on affiliate marketing. Come join our online community and let me show you how to begin making real money online!
Until tomorrow,
Jerry Robinson
ACTION POINT: If you are already an FTM Insider, simply click here to download Lesson #1 of our Affiliate Marketing Course. If you are not yet a subscriber you can learn more here.
---
Inside this Issue
---

"Preparing — and Profiting — From the Coming Collapse"
In a normal world the Fed would barely cause a ripple by tweaking its interest rate forecast a year or two ahead. But we are not in a normal world.
Oil giant wins 24 bids to begin exploration in the Gulf of Mexico, just days after authorities lifted a year-long ban.
This according to the latest round of stress testing from the Federal Reserve.
What the big banks don't want you to know…
With prices rising and the number of available foreclosures falling, there are fewer bargains to be had.
Several finance websites — including Forbes.com and Seeking Alpha — have published articles by guest contributors who were allegedly paid to promote the stocks they were writing about, raising ethical concerns.
The U.S. targeted Russian President Vladimir Putin's personal banker and other close associates with sanctions Thursday, and warned Moscow it would go after key sectors of the economy if it escalates the crisis in Ukraine.
View the Investor Wire Archive >>
U.S. Financial Markets
Real-time Gold and Silver Prices
Precious Metals Market Update with Tom Cloud
Read/Print Audio Transcript >>
View Our Current Precious Metals Specials Here >>
---

"World News Headlines That We Are Tracking"
In honor of the first day of Spring, we present Antonio Vivaldi's Concerto No. 1 in E Major, OP. 8.
Calls G-8 "dead" and promises more sanctions…
The president said that Ukrainians "should control their own destiny."
The U.S. doesn't need another war – and certainly can't afford it.
Too much inequality and too few natural resources could leave the West vulnerable to a Roman Empire-style fall.
Vatican Apostolic Library, founded in 1451 and considered one of the world's most important research libraries, is hoping in the next four years to archive its entire collection of 82,000 manuscripts, comprising more than 41 million pages.
After a few tough years, Greece is resurgent once again.
A study published this week in the Journal of Neuroscience found that staying awake too long destroys brain cells in mice, and may do the same in humans.
---

Stock Trading Bootcamp 2014: Part I
Broadcast Every Saturday Morning – Hosted by Jerry Robinson


Topic: In Part I of our new Stock Trading Bootcamp podcast series, Jerry Robinson discusses the "trade of trading."
Download Now >>
(Right click link above and 'save as' to your device)
Other Listening Options
---

"Daily Investment Trends for the Savvy Investor"
You are attempting to view premium content for subscribers only. If you are a subscriber, log in here. If you are not currently subscribed, you can learn more here.
View the Daily Chart Archive >>
---

"A Daily Stock Trading Idea for Short-Term Traders"
— Subscribers Only —
You are attempting to view premium content for subscribers only. If you are a subscriber, log in here. If you are not currently subscribed, you can learn more here.
Trade Alert – March 21
BAC up 2.75%… BPFH up 1.76% Thursday!
New stop losses set for two stocks in order to lock in profits.
Enter the Trading Room to View all Trading Activity >>
View our Trading Performance >>
Not a subscriber? Learn more here >>
---


"A Daily Dose of Financial Wisdom from God's Word"

"Do not be deceived, God is not mocked; for whatever a man sows, this he will also reap."
Galatians 6:7
---
---