FREE MARKETING STRATEGY THAT WORKS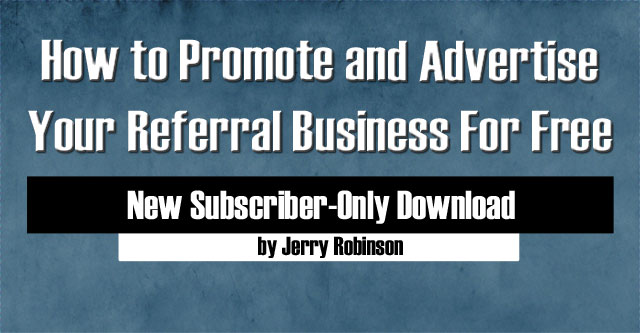 Grow Your Own Business with our Three-Step Marketing 'Blueprint'
FTMDaily.com – Welcome back to our series on launching your very own referral business! In our last PDF download, I explained what a referral business is, along with some basic steps on how to get one started. Once you have correctly set up your referral business, it's time to begin advertising your new venture. After all, what good is a new business without any customers!
In this just released PDF article, I am going to introduce you to some very simple ways to begin promoting and marketing your referral business. Best of all, most of the advertising techniques I am going to show you are completely free!
When I started my first referral business, I sought out all of the "free" advertising options that I could find. (What business owner doesn't want free advertising?!) The following strategy includes three powerful steps that will not cost you a dime… only time. I know this simple and free marketing strategy works because I have personally used it numerous times to generate thousands of dollars in profits from each of my referral businesses.
Let's get started!
Not a subscriber? Become an Gold member today and get access to our huge and growing archive of money making ideas in our Income University! Learn more here..
---
Inside this Issue
---

"Preparing — and Profiting — From the Coming Collapse"
The world's largest bond fund, which manages nearly $2 trillion in assets, has just upgraded its assessment on U.S. economic growth saying it now expects expansion to run between 2.5 percent and 3 percent in 2014.
The stock tumbles 15% on the news…
The Bill reads: "Gold and silver coins issued by the United States government are legal tender in the State of Oklahoma. No person may compel another person to tender or accept gold or silver coins that are issued by the United States government, except as agreed upon by contract."
Warren Buffett has outperformed every stock and mutual fund on an absolute and risk-adjusted basis over the last 30 years. Now, researchers claim they have uncovered the source of Buffett's success.
Average compensation for securities industry professionals in New York City ($360,700) were 5.2 times greater than the rest of the private sector.
President Obama will ask the Labor Department on Thursday to issue tougher rules on overtime, which could lead to extra pay for millions of workers who aren't currently paid for extra hours of work.
Global art sales approached their pre-crisis high last year, led by record prices for postwar artists and a jump in U.S. auctions.
Iraq's production jumped by 400,000 barrels a day to 3.4 million a day in February, the highest since 1980, according to OPEC data.
Of the eight cities studied, Atlanta had the largest cash-based underground sex economy at $290 million a year and Denver the smallest at $40 million.
A Manhattan trader was killed Tuesday morning by a speeding Long Island Rail Road commuter train, marking at least the seventh suicide of a financial professional this year.
View the Investor Wire Archive >>
U.S. Financial Markets
Real-time Gold and Silver Prices
Precious Metals Market Update with Tom Cloud
---

"World News Headlines That We Are Tracking"
The Israeli Air Force launched airstrikes in the Gaza Strip shortly after 10 p.m. on Wednesday in retaliation for a massive rocket barrage earlier in the day, the largest of its kind since 2012.
CIA Director John Brennan's decision to search Senate committee computers was such a blatant violation of the constitutional separation of powers that some pro-accountability groups in Washington are starting to seek his ouster.
Snowden leaks reveal agency has tools to infect computers with malware on a massive scale with little human oversight.
Eric Schmidt says it's possible to end repressive Internet censorship within a decade.
Iran and Russia have reached a primary agreement for building two more nuclear power plants in Iran
Iran has sealed an agreement to export 10 billion cubic meters of gas per year to Oman in a deal that also involves building a pipeline across the Gulf at a cost of about $1 billion.
People across the country are flocking to coding classes to learn how to build websites and apps.
New report says new reservoir, located 250 miles below the earth's surface, may hold as much water as all the planet's oceans combined.
---

PODCAST: Gold and Stock Update
Broadcast Every Saturday Morning – Hosted by Jerry Robinson


Topic: No new radio show this week as Jerry Robinson was out sick with pneumonia…
Download Now >>
(Right click link above and 'save as' to your device)
Other Listening Options
---

"Daily Investment Trends for the Savvy Investor"
You are attempting to view premium content for subscribers only. If you are a subscriber, log in here. If you are not currently subscribed, you can learn more here.
View the Daily Chart Archive >>
---

"A Daily Stock Trading Idea for Short-Term Traders"
— Subscribers Only —
You are attempting to view premium content for subscribers only. If you are a subscriber, log in here. If you are not currently subscribed, you can learn more here.
Enter the Trading Room to View all Trading Activity >>
View our Trading Performance >>
Not a subscriber? Learn more here >>
---


"A Daily Dose of Financial Wisdom from God's Word"

"Do not withhold good from those to whom it is due, when it is in your power to do it."
Proverbs 3:27
---
---