"Daily Economic/Investment Trends for the Savvy Investor"
MARKET LEADER FAILS…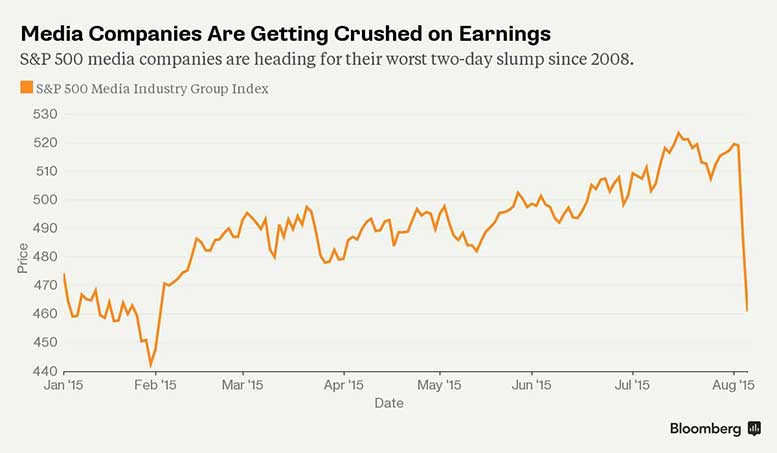 WARNING SIGN: Massive Selloff Strikes Leading U.S. Stock Market Industry
Much has recently been written about how the bull market in U.S. stocks has been heavily dependent upon just a handful of sectors. For example, Bloomberg Market data recently showed nearly all of this year's gains in the S&P 500 index has come from just two sectors: healthcare and retail.
While market advances are always led by a handful of sectors, today's extreme concentration of leading sectors and industry groups hasn't been seen since the dot-com bubble era.
Now, over the last few trading sessions, there has been significant structural damage to the existing long-term uptrend in U.S. stocks.
According to Bloomberg:
"Ignited by a plunge in Walt Disney Co., shares tracked by the 15-company S&P 500 Media Index have tumbled 8.2 percent in two days, the biggest slump for the group since 2008. The drop erased all of 2015's gains for a group that has posted annualized returns of more than 33 percent since 2009."
Bloomberg
Why is this a big deal?
Because until this recent sell-off, stocks in the media industry led the bull market. This small group of 15 stocks has gained more than 500% since their 2009 lows, making them the top performing industry of the entire bull market.
"More than technology or even biotech, media stocks have ruled the roost during the share advance that restored $17 trillion to American equity prices since the financial crisis. Companies from CBS Corp. to Tegna Inc. and Time Warner Cable Inc. are among stocks with the 60 biggest increases during the stretch…
Disappointing results from Disney after the close of trading Tuesday sparked the two-day rout. Selling spread to other television and publishing companies as quarterly reports from CBS to 21st Century Fox Inc. and Viacom Inc. were marked by shrinking U.S. ad sales and profits propped up by stock buybacks."Bloomberg
The takeaway: The leader of the entire U.S. bull market has just collapsed.
While the long-term uptrend in U.S. stocks remains intact, it is certainly weakening. When leading sectors and industries start to fail, it is similar to failing engines on a high-flying plane. It usually ends badly.
When the leaders in any market begin to fail, it's wise to tighten up your stops and tread with caution.
Be advised.
Until Monday,
Jerry Robinson
— Paid subscriber access only —
View our Plans and Pricing here
---
Bankruptcy of our Nation: Now in Audiobook Format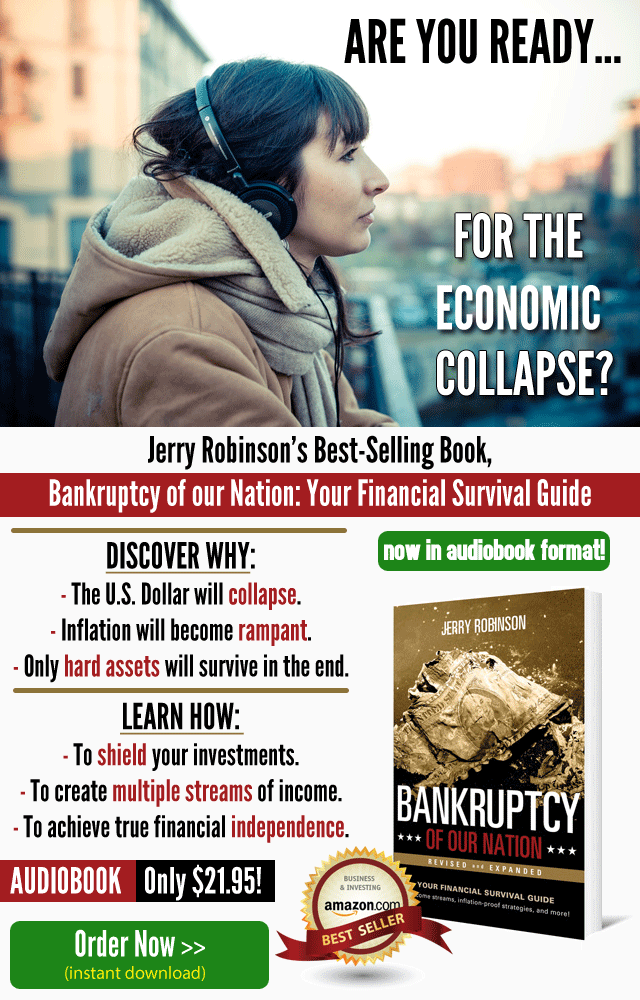 ---
Real-Time Market Update

(Courtesy of Finviz.com)
---

Featured image courtesy of eldar nurkovic / Shutterstock