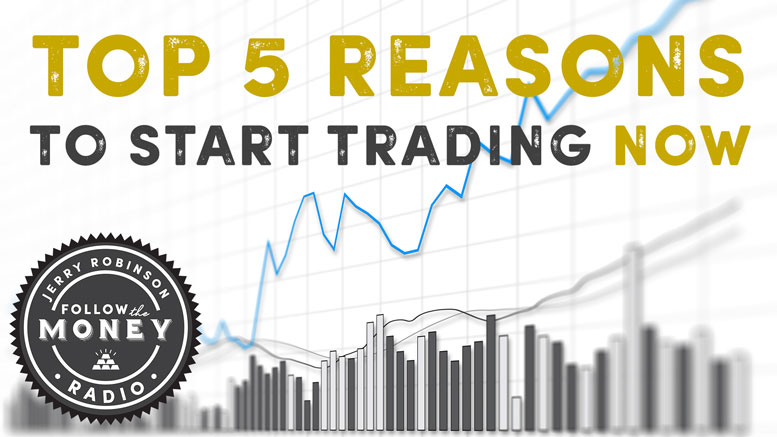 The Top 5 Reasons To Start Trading Stocks Now
Welcome to Follow the Money Radio!
As U.S. and global stock prices soar, more people are looking for ways to profit through trading stocks and ETFs. Trading Coach Jerry Robinson shares five reasons why trading is one of the best skills you can learn, regardless of your current situation. Later, precious metals advisor Tom Cloud shares the latest on the gold and silver markets. And finally, Christian financial advisor Mike Mitchell answers a listener question about how to create a tax-free income stream in retirement by setting up a 770 plan.
Subscribe
on iTunes |
Download

Segment 1: The Top 5 Reasons To Start Trading Stocks Now (with Jerry Robinson)
With over 20 years of trading experience and a history of success in virtually every market environment, veteran investor/trader and teacher-at-heart Jerry Robinson lists the following 5 reasons to discover the immense power and profit potential in trading stocks, ETFs, and options.
Time freedom for your family, your calling, and your dreams
The luxurious freedom to travel anytime and live anywhere
The rising, impending expense of a comfortable, full retirement
The capacity for unlimited upside with limited downside
Trading is interesting, exciting, and can be exceptionally rewarding!
Recommended Links
Five Levels Of Financial Freedom
PODCAST: Learn The Basics Of Online Stock Trading
PODCAST: Is It Too Late To Invest in U.S. Stocks?
PODCAST: Can You Afford To Retire?
America's Retirement Crisis Just Got Worse
Segment 2: Precious Metals Market Update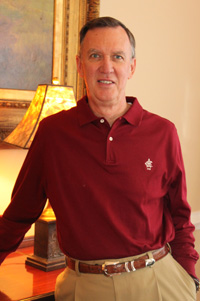 With over 40 years of market experience, precious metals expert Tom Cloud brings us his perspective of what lies ahead for gold and silver. Topics include:

China's major gold purchase pushes price higher
The tsunami of dollars when China liquidates U.S. Treasury holdings
Fort Knox, is all of our gold there? Because if China owns 20,000 tonnes…
President Trump proposes first $4 trillion budget in history
Current World Debt: $65 trillion (and the U.S. holds $20 trillion of it!)
---
Call 800-247-2812 now for the best prices on gold and silver coins and receive Free Shipping & Insurance when you mention FTMDaily.
LIMITED TIME OFFER: UNLOCK OUR SOFTWARE WITH A 7-DAY FREE TRIAL!
No coupon code required
Offer Expires 10/31/2017

Segment 3: What is a 770 Account and How Does It Work?
Christian financial advisor Mike Mitchell offers an expert voice of wisdom in making proper decisions for sound retirement. You may have a 401k plan, but have you heard of the 770 plan? This week, Mike answers a listener's question: "What's a 770 account?"

A powerful bullet in your retirement arsenal
A properly structured life insurance policy
A tax-free income stream in retirement
Call Mike Mitchell Toll-Free at 833-370-0777 With Your Retirement Questions
---
Call 833-370-0777 to speak directly with Mike Mitchell about how you can experience a sound retirement.
Segment 4: Petrodollar Alert: Russia and Saudi Arabia 'Sign $3 Billion Arms Deal'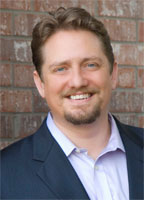 Christian economist and best-selling author Jerry Robinson examines the recent unprecedented visit of Saudi King Salman to Moscow, and how this game-changing alliance may further hasten the inevitable downward spiral of the U.S. petrodollar system.
On the table: nuclear weapons and oil
President Trump's visit to Saudi and the Qatar issue
Conspicuously absent from the discussion: President Bashar al-Assad
What to expect if Saudi turns away from the petrodollar
Recommended Links
Preparing for the Collapse of the Petrodollar System
Bankruptcy of Our Nation by Jerry Robinson
Russia and Saudi Arabia 'Sign $3bn Arms Deal' as King Salman Visit Shows How Much Relations Have Changed
America's Petrodollar System: A Timeline Of The Rise And Fall Of The U.S. Dollar
Petrodollar Update: U.S. Issues Threats Over Pending Russia-Iran Oil Deal
If you enjoyed this week's episode, please share it on Facebook, Twitter, and any other social media outlets. Help us spread the word!
One of the best ways to promote our work is to leave an honest review for Follow the Money Radio on iTunes! Ratings and reviews are extremely helpful and greatly appreciated! They do matter in the rankings of the show, and I read each and every one of them personally. Thank you for your support! See you next week!

---
Get Email Alerts From Follow the Money
Sign up to get our Podcast delivered straight to your inbox


We value your privacy and will never share your email
Recent Podcasts by Jerry Robinson
incoming searches: Jerry Robinson, Follow the Money, finance, tom cloud, precious metals, retirement income, Mike Mitchell, investing, 770 plan, the benefits of trading stocks