by Jerry Robinson, FTMQuarterly Editor-in-Chief
In 1981, the Gulf Cooperation Council (GCC) was formed to encourage economic, scientific, and business cooperation among the Gulf region's oil-rich countries. These countries include Saudi Arabia, Kuwait, Qatar, Bahrain, Oman, and the United Arab Emirates.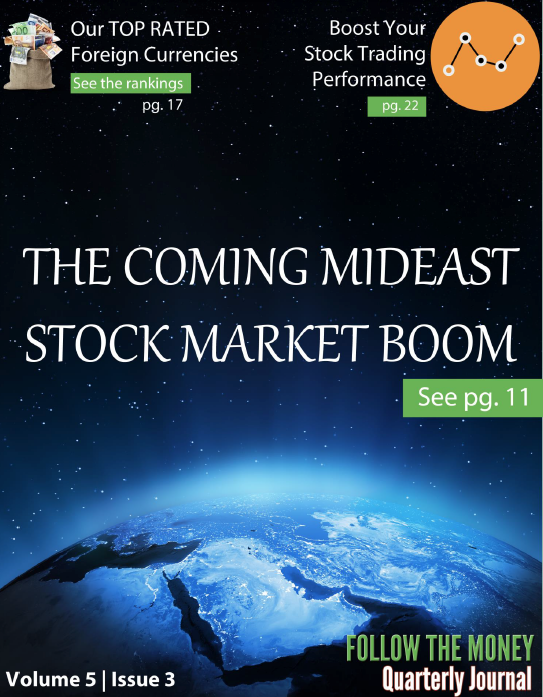 For years, the GCC has recognized the need to diversify their economies away from their extreme dependence upon oil revenues. But it has only been recently that major initiatives have been launched across the region to implement such a shift.
The oil-based growth model, which greatly enriched the region, has come at a cost. The Gulf economies are highly susceptible to volatility in oil prices and are excessively dependent upon foreign workers to man their massive oil fields. As such, the average citizen of GCC countries enjoys rich benefits from the state but has suffered from a lack of education and business opportunities. Despite pressure from the more developed nations to educate their citizens and expand new domestic commercial opportunities, the Gulf monarchies have been resistant. And for good reason. The family-based monarchies that rule these six oil-rich kingdoms have enjoyed long reigns and little resistance from their mostly uneducated citizens. Too much education and worldly entanglement could cause the people to rise up and demand a more equitable democratic government. Through low educational quality and high illiteracy rates, the oil-rich monarchs have been able to successfully keep their people living in ignorance by relying upon the expertise of foreign workers.
So far, the monarchs have been able to quell the occasional public outcry simply by boosting financial benefits to their citizens. After all, money talks.
Now, however, the constraints and risks posed by an overdependence upon the current oil-based growth model are becoming too pronounced to ignore. This has been especially true in the wake of America's recent energy revolution, which has led to a slow, but steady, decrease in U.S. energy imports from the region. Of course, energy demand from emerging markets remains strong and continues to grow. However, emerging market demand can be volatile, unlike the consistent and predictable energy demand from highly developed nations, like North America. In addition, planned U.S. shale oil and gas exports will mean even more competition for the GCC in the global energy markets.
Therefore, the GCC's growing dependence upon oil demand from emerging markets leaves the monarchies highly vulnerable to a devastating global economic shock.
Subscribers login here to continue reading this story and to download this issue in its entirety. If you are not currently subscribed, you can learn more here.