There is an old saying that goes: "The best way to buy gold is on the dips."
If this saying is true, then now is a good time to be buying gold.
It has been no secret that the price of gold has been hit hard in recent weeks. Just take a look at this chart below.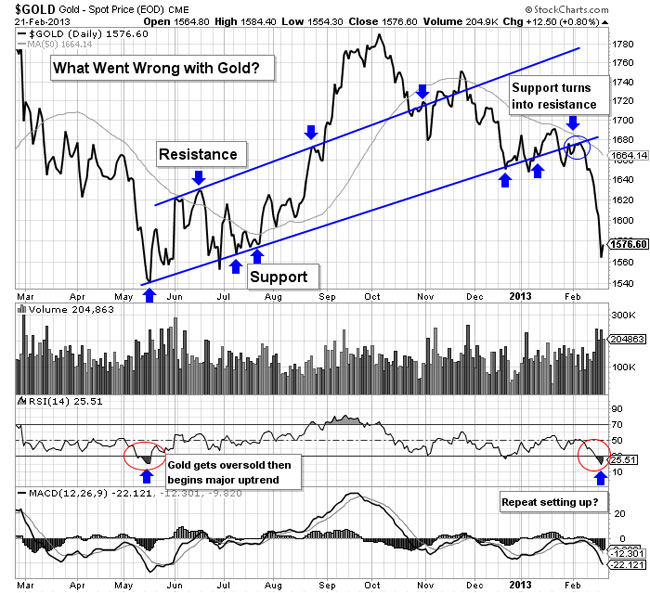 As you can see, gold prices practically fell off a cliff in the first week of February. There are a variety of reasons why gold prices have recently been falling. These include debatable signs of improvement in the U.S. economy as well as the conflicting messages pouring out of the Federal Reserve regarding the future of their massive money printing campaign.
And while a recent technical chart of gold looks negative, the fundamentals remain strong for gold and the long term uptrend in gold is still firmly intact.
Just check out this chart of gold's monster rally over the last 12 years… (FYI: Look how small the recent dip appears in a 12 year context.)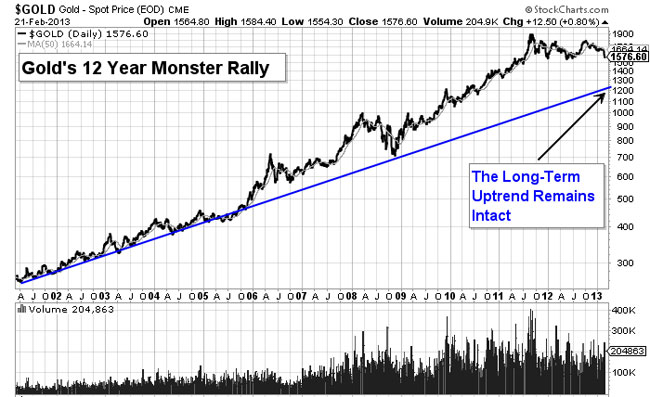 The best way to buy gold is on the dips.
Unless you have faith in the government's ability to suddenly discover a non-violent path out of its mounting debt problems, their entitlement crises, and their outrageous healthcare costs related to their aging populations then buying gold is a no-brainer when it dips in price. I have been buying gold for years and am viewing this most recent pull back in gold prices like every other pullback: As a great buying opportunity.
Global demand for gold set a new record high of $236.4 billion in 2012, according to a recent report released by the World Gold Council. And the fourth quarter of 2012 witnessed a record-breaking $66.2 billion of gold demand. Much of this demand came from central banks within emerging nations. In fact, in 2012, central bank demand for gold reached it highest point since 1964. (Think Russia, India, and China.) According to one recent report, Russia added 3.2 million ounces of gold to their reserves in 2012 alone.
This website is called Follow the Money Daily because I believe that the best way to invest is by watching the investment moves of major institutional investors, sovereign wealth funds, and central banks. And based upon my understanding of the global economy, I am extremely bullish on precious metals in the coming months and years. But personally, I would never put more than 25% of my investment funds into any single asset class, including precious metals.
I got started as a precious metals investor by laying a foundation of physical gold and silver. Once I had some physical gold and silver (coins and bars) in my possession, I then began turning to ETF's and mining stocks for more speculative investing.
If you do not currently own any physical gold or silver, I would strongly recommend that you investigate this possibility. This recent pullback in gold and silver prices has put these two precious metals "on sale."
INVESTORS TIP…
If you are new to precious metals investing, or are just interested in learning more about how to invest in gold and silver, I recommend that you check out this free online precious metals investing tutorial. This tutorial will explain the basics of precious metals investing and will explain why it is smart to have at least a small portion of your nest egg in physical precious metals. Also, you can listen to our weekly precious metals market update every week on our podcast and receive our free precious metals email alerts.