By Jennifer Robinson
Perhaps calling New York, California, or Washington, DC home made sense during your working years. Now that you are reaching retirement, your priorities have likely changed. You are transitioning to a fixed-income consisting of Social Security, distributions from a 401k or IRA, and maybe even a pension if you are lucky. This means you are on a budget… a fairly strict budget, and residing in a state like California or New York is not always conducive to retirees on a budget. It may be time to relocate, and if you are looking for the best states for retirees on a budget, here is a list to get you started in the right direction.
The criteria for our "Top 5" list is fairly simple. We considered the following factors for each of the 50 states:
Cost of Living (source: MERIC)
Median Home Value (from city-data.com)
State Tax Burden (source: Money Choice)
Percentage of population living in poverty (source: Money Choice)
Well-Being Index (source: Money Choice)
Health Care Costs (measured by Per Capita Spending on Health Care in 2009)
1. Nebraska
The state with the second lowest cost of living (lowest is Mississippi), Nebraska is our top pick for retirees on a budget. Not only can your dollar stretch further here, but the poverty level is the 5th lowest in the nation, average house prices are some of the lowest in the nation, and the Nebraska well-being index is ranked in the top ten of all 50 states.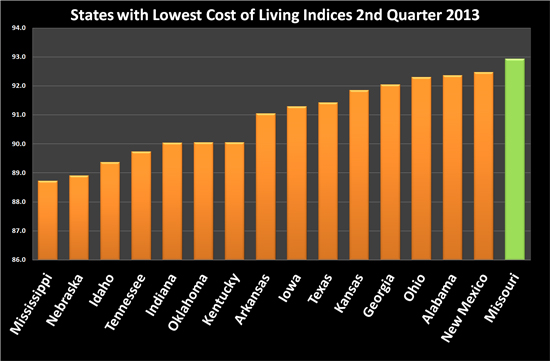 Source: Missouri Economic Research and Information Center
2. Oklahoma
Make your fixed income work for you in Oklahoma, where the cost of living is the 6th lowest in the nation and the the tax burden ranks at the 10th lowest. As a bonus, poverty levels are very low compared to the rest of the country, and the median home value is 108,500. Health care costs, which are a constant concern for retirees, are the 15th lowest in the nation.
3. Texas
Ranking 10th in the cost of living category, the state of Texas is a great place to retire. Often considered one of the freest states in the union, Texas has a low tax burden, boasting of NO income taxes at all. If you are a renter in retirement, you will pay no property taxes or income taxes… this is one of the greatest benefits if you are living on a strict budget. However, if you decide to purchase your own home, Texas home prices are not too expensive, as the median home value is $127,400. Texas is ranked 6th out of all 50 states for lowest health care costs, with per-capita spending on health care at $5,924.
4. Utah
Utah is an ideal retiree state for several reasons. It boasts the 17th lowest cost of living, and it ranks 4th in the nation for overall well-being, including physical and emotional health, healthy behavior, and access to necessities. Health care cost is the lowest in the nation, and Utah also has the 6th lowest poverty rate in the United States. The home prices are not ultra-low, but the median rent is only about $700.
5. South Carolina
Coming in at number five on our list of best states for retirees is South Carolina. This state is in the top half of states with low costs of living, and it ranks 8th in the nation for the lowest tax burden. Health care costs rank fairly well at $6,323 per-capita, the 12th lowest in the nation. Median home value is $138,300, and being close to the east coast makes frequent trips to the beach a reality.
Choose Your Own Destination
Below is an interactive graphic with financial and economic data for all 50 states. You can find out recent data for any state you may be considering in your relocation decision. Remember… data can vary greatly from city to city or county to county, so be sure to perform your own due diligence before packing up the U-haul and moving across the country. Visit the area you are considering, and talk to local residents. They will give you insights you could never find on the internet.
You can interact with the infographic below to discover key economic and financial data about each of the 50 states. Simply click one of the headings across the top to change the map, or click on a state to get its rankings.
Infographic Source: Money Choice