For Platinum member Members Only (Member Login)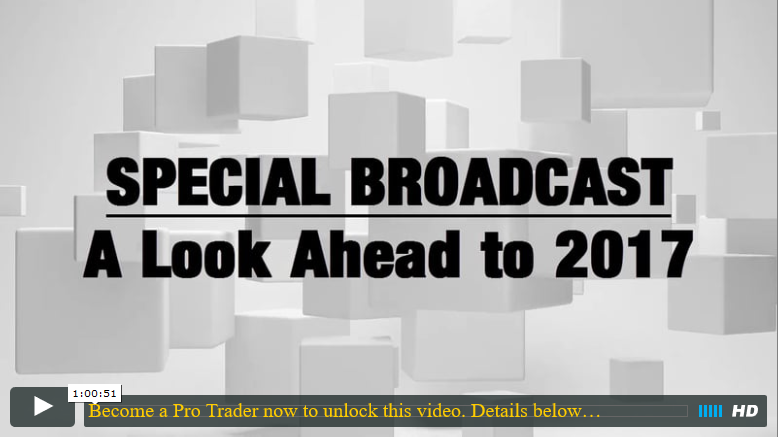 Topics Covered on this video conference call (in order)
On this final trading day of the year, veteran trader Jerry Robinson provides his signature commentary on overall market performance in 2016, and presents some eye-opening charts. Also, Jerry devotes considerable time to answering questions, and shares a brief lesson on the practical and psychological benefits of setting and keeping stop loss rules.
EXCITING NEWS!! "True Riches" is coming in 2017 from Follow the Money! Build spiritual wealth with Jerry's LIVE Bible Teaching, verse-by-verse!
On today's call, Jerry shares a brief analysis of the following stocks he is watching closely this week:
AT&T Inc. (T)– Jerry's comments…
Global X MSCI Greece ETF (GREK) – Jerry's comments…
iShares MSCI Italy Capped (EWI) – Jerry's comments…
PLUS many more – with Jerry's distinguished comments...
Become a Platinum member now for all of Jerry's signature commentaries on stocks and market trends…
RESERVE YOUR SEAT NOW!! Brand new 3-hour LIVE training where Jerry "spills the beans" on his favorite and most profitable trading strategy! Let Jerry teach you to trade with the 180 Trading Strategy – January 14, 2017!
Recommended Links
Follow the Money's Income University
Amazon Wins Patent for a Flying Warehouse
Member Questions Answered on Today's Video
What are your thoughts on the Walt Disney Company (DIS)?
Are you watching Shares MSCI All Peru Capped (EPU)?
Do you buy bitcoin in little bits anytime or just on the pullbacks?
Can you recommend any one news source that zeroes in on stock prices, especially early in the morning?
Do you use different stop loss percentages for swing, position, and long-term trades?
What do you think about buying a call on Amazon instead of buying the stock, since it's so expensive?
Would you comment on what happened with Israel and the U.N. vote?
Become a Platinum member to See the Full Video Instantly
And get access to our LIVE conference call videos every Tuesday and Friday with Jerry Robinson

Choose your plan:
(Get 2 months free when you pay for the whole year!)

DISCLAIMER: The services provided in the Platinum member membership are intended only to provide information. Trading involves risk. Decisions to buy, sell, hold or trade in stocks, futures, securities, and other investments involve risk and are best made based on the advice of qualified financial professionals.