by Jerry Robinson | FTMDaily Editor-in-Chief
HOUSTON, Apr 25
Over the weekend, I received a flood of questions about precious metals investing from our readers. One question, in particular, caught my attention and I want to share it, and my answer, with you in today's column.
Here's the question:
Jerry,




First off, I love the podcasts and webinars. You are making a difference. Please keep them coming! Here's a funny question but I really am looking for the answer. I have lots and lots of quarters run through my hands each week. What year should I be looking for in regards to pulling out those quarters that have silver value versus just the $0.25 stated worth?




Thanks,

Todd
Todd asks a great question. His question inspired me to put together a short list of U.S. coins that contain up to 90% silver. If you run across one of these coins, keep it. It is worth more than you may realize.
1932-1964 Washington Quarters
Current melt value at today's silver price: $8.74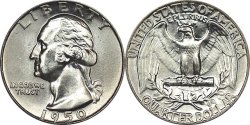 These pre-1965 Washington Quarters are composed of 90% silver. They contain 0.1808 troy ounces of silver and are surprisingly valuable.
1946-1964 Roosevelt Dimes
Current melt value at today's silver price: $3.49
These 1946-1964 Roosevelt dimes are composed of 90% silver. They contain 0.0723 troy ounces of silver and are definitely worth holding on to.
1916-1945 Mercury Dimes
Current melt value at today's silver price: $3.49

These 1916-1945 Mercury dimes are composed of 90% silver. They contain 0.0723 troy ounces of silver. While these dimes are much more rare than the Roosevelt dimes, they are still out there.  If  you find one, hold on to it.
1942-1945 Jefferson (War) Nickels
Current melt value at today's silver price: $2.72

These 1942-1945 Jefferson Nickels were minted during World War II and are composed of 35% silver. They contain 0.0563 troy ounces of silver.
To calculate these totals, I used the free online U.S. Silver Coins Metal Value Calculator here. It's a great resource. There are more U.S. coins that contain large amounts of silver like Morgan dollars, Kennedy half dollars, and others. You can see all of them at the link above.
Also, one more coin value that you may find interesting is that of the common Lincoln penny. While it contains no silver, it is composed of copper (95%) and zinc (5%.)


1909-1982 Lincoln Cent
Current melt value at today's silver price: $.03

A roll of 100 of these pennies is worth $3.00.
Last Thursday evening, we held our regular monthly financial education webinar. The topic could not have been any more relevant: The Fundamentals of Precious Metals Investing. I was joined by veteran precious metals advisor, Tom Cloud. We discussed the future of gold and silver prices, how to add precious metals to your IRA or other retirement accounts, and much more. We also spent a good amount of time answering questions from listeners.
This two-hour educational webinar was captured to video and is now archived on our website.  We have made it available, free of charge, and you can view it below.
Here at FTMDaily.com, we are working hard to create solutions for you during these difficult times of economic crisis. We invite your feedback and comments on how we may serve you better. Feel free to contact me directly at jerry@ftmdaily.com.
In The News Today…
1. MARKET UPDATE: Stocks are caught today between the good news of rising corporate profits and the bad news from a gloomy report from the Philadelphia Fed.
2. DUMP THE DEBT?: More rhetoric coming from China this morning about the country potentially reducing its holdings of U.S. government debt. This time, talk of cutting it by 2/3…
3. IMF BOMBSHELL: According to the latest IMF official forecasts, China's economy will surpass that of America in real terms in 2016 — just five years from now.
4. OIL SPIKE: Oil prices hit $113.48 in trading this morning. Around the country gas prices rising. $3.88/gallon national average. Hits $4.70 in Chicago. Ouch!
5. SILVER SURGE: Silver prices are edging close to the $50 mark. Now at around $47 after hitting $49.79 earlier.
Finally…
A storm brewed over Washington D.C. on Easter Sunday. Here's an interesting picture of lightning right above the White House. (Click the picture for more.)
Why So Serious?…
It's time to laugh a little. Here's a sampling from some of the late-night jokers.
"Michelle Obama said the most popular Obama is their Portuguese Water Dog, Bo. When Donald Trump heard this, he said he wants to see that dog's papers." –Conan O'Brien
"Two things you need to know about taxes. They've extended the deadline to April 18, and when you write your check, just make it out to China." –David Letterman
Cartoon of the Day…
Until tomorrow,
Jerry Robinson – FTMDaily.com
____________________________________________________
____________________________________________________
Jerry Robinson is an economist, published author, columnist, international conference speaker, and the editor of the financial website, FTMDaily.com. In addition, Robinson hosts a weekly radio program entitled Follow the Money Weekly, an hour long radio show dedicated to deciphering the week's economic news.