Podcast: Play in new window | Download (Duration: 2:01 — 1.6MB) | Embed
Retirement Minute – Three Tax Planning Tips for 2012
by John Bearss
Now that October has arrived, I would like to challenge you to take this month and start planning for how you are going to reduce your taxes in year 2012. Your CPA can be a good source to help you with this planning by suggesting different tax benefits that you can implement.
So ask yourself some questions like:
1. If I need to do home updates, are there any tax credits I can take advantage of?
2. Should I contribute to my Traditional IRA or should I increase my contributions into my 401(k) plan?
3. If you have a home business, what items can I write off? Like mileage or a portion of my mortgage payment.
I love this quote by Arthur Godfrey, he said, "I'm proud to be paying taxes in the United States. The only thing is, I could be just as proud for half the money." So start your tax planning for 2012, now.
_________________________________________
Watch our free Retirement Planning webinar with John Bearss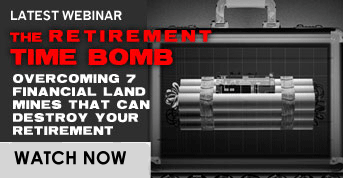 _________________________________________
____________________________________

Your Host: Jerry Robinson (Economist, Best-Selling Author) Jerry Robinson is an economist, published author, columnist, radio talk show host, and international conference speaker. Robinson has been quoted as an economic authority by USA Today, FoxNews and many other news agencies. His columns have appeared regularly in numerous print and web publications, including WorldNetDaily, Townhall, and FinancialSense. In addition, Robinson is also the Editor-in-Chief of the popular economic newsletter, Follow the Money Quarterly. He resides in Texas with his beautiful wife.
The Retirement Minute with John Bearss
John Bearss, Retirement Specialist (Christian Financial Advisor Network)
John R. Bearss is a Retirement Specialist with the Christian Financial Advisor Network. He has been successfully helping clients nearing retirement generate lifetime income streams for 25 years.
_______________________________________________________