Podcast: Play in new window | Download (Duration: 2:26 — 1.7MB) | Embed
Retirement Minute – Four Questions That Current Medicare Enrollees Should Be Asking Now
by John Bearss
The Medicare open enrollment period is now here and this is the time during which people with Medicare can make new choices and pick plans that work best for them. Each year Medicare plans typically change what they cost and cover. In addition, your health-care needs may have changed over the past year. The open enrollment period is your opportunity to switch Medicare health and prescription drug plans to better suit your needs.
This year, the Medicare open enrollment period begins earlier than in prior years. Open enrollment starts on October 15 and runs through December 7 and any changes made during open enrollment are effective as of January 1, 2012.
Now is a good time to review your current Medicare plan. There are some factors you may want to consider as part of that evaluation such as:
1. Are you satisfied with the coverage and level of care you're getting with your current plan?
2. Are you able to see the medical professionals of your choice?
3. Are your premium costs or out-of-pocket expenses too high?
4. Has your health changed, or do you anticipate needing medical care or treatment?
So take a few minutes and review your Medicare Plan, and as always, thank you for joining me this week for your Retirement Minute.
Medicare Plan Finder >> https://www.medicare.gov/find-a-plan/questions/home.aspx
To receive a free Medicare Supplement Insurance quote through the Christian Financial Advisor Network, click here.
_________________________________________
Watch our free Retirement Planning webinar with John Bearss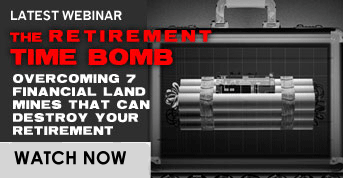 _________________________________________
____________________________________

Your Host: Jerry Robinson (Economist, Best-Selling Author) Jerry Robinson is an economist, published author, columnist, radio talk show host, and international conference speaker. Robinson has been quoted as an economic authority by USA Today, FoxNews and many other news agencies. His columns have appeared regularly in numerous print and web publications, including WorldNetDaily, Townhall, and FinancialSense. In addition, Robinson is also the Editor-in-Chief of the popular economic newsletter, Follow the Money Quarterly. He resides in Texas with his beautiful wife.
The Retirement Minute with John Bearss
John Bearss, Retirement Specialist (Christian Financial Advisor Network)
John R. Bearss is a Retirement Specialist with the Christian Financial Advisor Network. He has been successfully helping clients nearing retirement generate lifetime income streams for 25 years.
_______________________________________________________