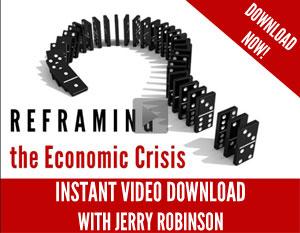 Reframing the Economic Crisis: A Live Video Presentation
Price: $9.95 FREE! (with sign up below)
Release Date: November 3, 2012
Availability: This item is available as an instant download and will be delivered to you instantly upon email regsitration.
Includes: Online Streaming Video
Sign up now to watch this presentation by Jerry Robinson before a live studio audience. In this one hour lecture, economist and author Jerry Robinson discusses many important topics including the economic crisis, the petrodollar system, and the nature of America's monetary system.
In addition, Jerry shares his latest investing insights and how to create multiple streams of income.
Don't miss this excellent live video presentation.
When you sign up, you will be given instant access to the online video presentation.