"Daily Investment Trends for the Savvy Investor"
THE 'BARRON'S EFFECT'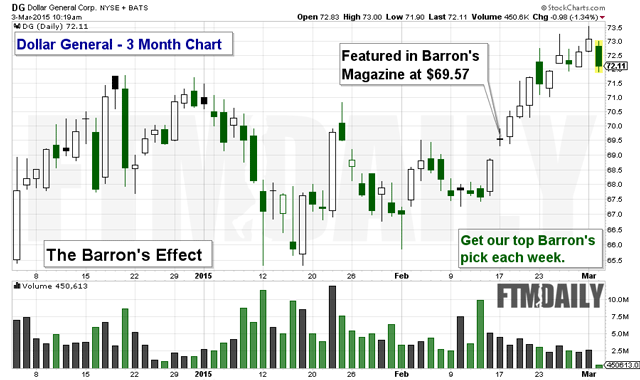 CHART: Profit from the "Barron's Effect"
Early on in my trading career, I discovered an unusual trading technique that I call the "Barron's Effect."
I am referring to Barron's magazine, a popular read amongst the nation's top fund managers and institutional investors, as well as some savvy retail investors.
I began subscribing to Barron's back in the early 2000's. Each issue comes out on Saturday and features stocks to buy as well as stocks to avoid.
I soon noticed that on Monday, after the weekend release of Barron's, the stocks that were profiled would often move more than other stocks in their industry group. I soon realized that this was because of the magazine's influential readership of fund managers and institutional investors, who come in Monday morning and execute the ideas they read about over the weekend.
I soon began testing out my theory by buying stocks first thing on Monday morning that were featured in Barron's magazine. Sure enough, it seemed that the majority of the time, the few stocks that they had featured as good buying opportunities would shoot up in price in the first few days after the magazine's release.
Just recently, I decided to share this strategy with our Pro Traders. Now, every Sunday evening, our Pro Traders get the details on one stock featured in Barron's that I think could rise during the week.
Here's an example of one such alert that our Pro Traders received a couple of weeks ago, on the Sunday evening, Feb. 16…
This week's Barron's stock: Dollar General (Ticker: DG)
According to Barron's:
"Dollar General has been a steady performer for decades, increasing same-store sales every year since 1990. But business really took off during the recession of 2008-'09… At a recent $67.59, Dollar General (ticker: DG) trades for 16.9 times this year's expected earnings of $4 a share. That's a cheaper valuation than Family Dollar (FDO) and Dollar Tree (DLTR), and in line with slower-growing low-priced retailers such as Wal-Mart Stores (WMT) and Target (TGT).
Moreover, Wall Street's earnings estimates could rise in coming months as store traffic climbs. Dollar General customers could see a disproportionately large benefit from the decline in gasoline prices and a pickup in employment, two factors that aren't fully reflected in the current profit forecast. A moderate boost in same-store sales growth to 4% or 5% from a recent 3% rate could help push the stock into the low $80s, up 20%."

As you can see from the above chart, the stock immediately jumped higher allowing our subscribers to jump aboard and earn a quick 3%-4% in just a few days.
Of course, you could always go out and purchase Barron's magazine each week. But that would cost hundreds of dollars. Why not just cut to the chase and become one of our Pro Traders?
You can learn more here.
Until tomorrow,
Jerry Robinson
Get Instant Access to FTMDaily's Monthly ETF Trend Alerts!
Wise traders and investors know that U.S. stocks are not the only game in town. Each month, our FTM Insiders get access to our powerful trend analysis on 40 global ETFs.
Whether you want to invest in Europe, Asia, or Latin America, our ETF Cheat Sheet will keep you on the right side of the market, no matter which global market you want to trade.
---
— Paid subscriber access only —
View our Plans and Pricing here
---
Real-Time Market Update

(Courtesy of Finviz.com)
---