Podcast: Play in new window | Download (Duration: 20:53 — 13.7MB) | Embed
Precious Metals Market Update: May 14, 2011
After the recent weakness in gold prices, and in the extreme volatility seen in silver prices over the last few weeks, many investors are choosing a "wait-and-see" approach to metals investing. However, many analysts are stating that gold prices should begin to firm up next week. The consensus on silver prices, however, are that volatility will reign for at least the next few weeks as we move into a much needed period of consolidation.
In this week's Precious Metals Market Update segment with precious metals advisor, Tom Cloud, we dig down deep into what happened this week to and give you our insights on what lies ahead for gold, silver, and palladium.
_________________________________________
Watch our Free Precious Metals Investing 101 Educational Webinar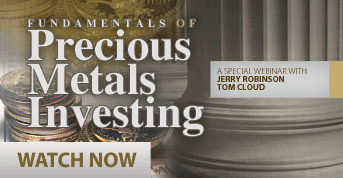 _________________________________________
______________________________
Real-time Gold and Silver Prices
_________________________________________
(Economist, Best-Selling Author)
Jerry Robinson is an economist, published author, columnist, radio talk show host, and international conference speaker. Robinson has been quoted as an economic authority by USA Today, FoxNews and many other news agencies. His columns have appeared regularly in numerous print and web publications, including WorldNetDaily, Townhall, and FinancialSense. In addition, Robinson is also the Editor-in-Chief of the popular economic newsletter, Follow the Money Quarterly. He resides in Texas with his beautiful wife.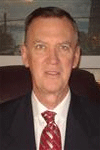 Precious Metals Advisor: Tom Cloud
(Turamali, Inc., President)
Thomas Cloud is the Chairman of the Board of Turamali, Inc. and has a long and successful advisory track record in both financial planning and tangible assets. His expertise as an financial counselor and thorough knowledge of the products he recommends has attracted an impressive list of individuals and major institutions from across the United States. Since 1977, Mr. Cloud has devoted his attention to all areas of tangible asset investing offering a "hands on" approach to each and every Turamali, Inc. client.