Today's chart is free and open to the public.

"Daily Investment Trends for the Savvy Investor"
TRADING THE TREND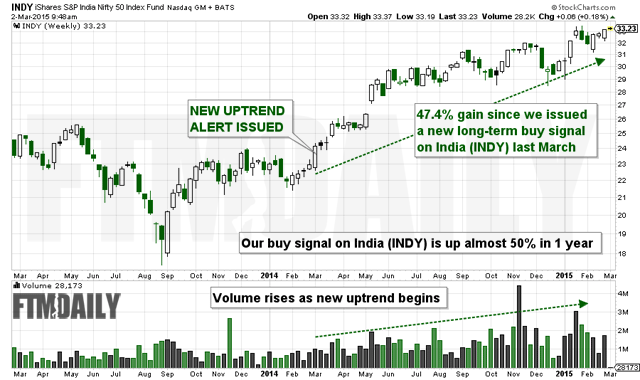 CHART: Our Buy Signal on India Last March is Up 47%
One of our FTM Insiders emailed in over the weekend to thank us for the long-term buy signal we issued on India in our ETF Cheat Sheet last year.
(For those who are unaware, our popular ETF Cheat Sheet is updated monthly and tracks 40 different global financial markets, specifically our favorite ETF from each country. Every monthly issue includes the latest trends on each of these markets. When a new long-term uptrend begins, it often means it's time to buy!)
As you can see from the above chart, we issued a new long-term UPTREND ALERT on India to our subscribers back in the March 2014 issue of our ETF Cheat Sheet.
Twelve months later, the India ETF (INDY) has risen by nearly 50%!
(That's what our ETF Cheat Sheet is all about… Spotting new trends early, and profiting from them over time.)
But India is just one of the many successes that we have alerted our subscribers to over the last several months.

Last April, we issued a new long-term UPTREND ALERT on the Philippines. Since then, our favorite Philippines ETF has jumped nearly 18%…
Last September, we issued a new long-term DOWNTREND ALERT on Greece. Since then, Greek stocks have fallen more than 38%…
Tracking the trends in the global stock markets is just one of the many services we provide here at FTMDaily for our valued paid subscribers.
We track the trends, and our subscribers pocket the profits!
You can see a list of all of our services here. I hope you'll decide to become a part of our Gold member community!
Until tomorrow,
Jerry Robinson
Get Instant Access to FTMDaily's Monthly ETF Trend Alerts!
Wise traders and investors know that U.S. stocks are not the only game in town. Each month, our FTM Insiders get access to our powerful trend analysis on 40 global ETFs.
Whether you want to invest in Europe, Asia, or Latin America, our ETF Cheat Sheet will keep you on the right side of the market, no matter which global market you want to trade.
---
— Paid subscriber access only —
View our Plans and Pricing here
---
Real-Time Market Update

(Courtesy of Finviz.com)
---