by Jerry Robinson | FTMDaily Editor-in-Chief
HOUSTON, June 13
During my speeches and lectures around the country, I continually find that most Americans have no clue that the Federal Reserve is not part of the U.S. Federal government. In fact, the Federal Reserve System is an independent, privately owned and locally controlled group of corporations. (See Lewis vs. U.S., 680 F. 2d 1239, 1241)
And I would venture to say that most people definitely do not know that the "Federal" Reserve has its own armed police force. While recently in Lower Manhattan (NYC's Financial District), I ran into the "Federal Reserve" Police. The Federal Reserve police force has over 1,000 sworn officers. According to Section 11(q) of the Federal Reserve Act, this police force serves "to protect and safeguard the premises, grounds, property, personnel, including members of the Board, or any Federal Reserve Bank, and operations conducted by or on behalf of the Board or a reserve bank." These officers are certified to carry standard police equipment including semi-automatic pistols, assault rifles, submachine guns, shotguns, less-lethal weapons, pepper spray, batons, bullet resistance vests/body armor, etc. They have the same police authority as other uniformed Federal Law Enforcement Officers.
Anyway, as I took a picture of the Federal Reserve police car (see below), I could feel the presence of someone right behind me. It turned out to be a Federal Reserve police officer in full uniform, packing heat.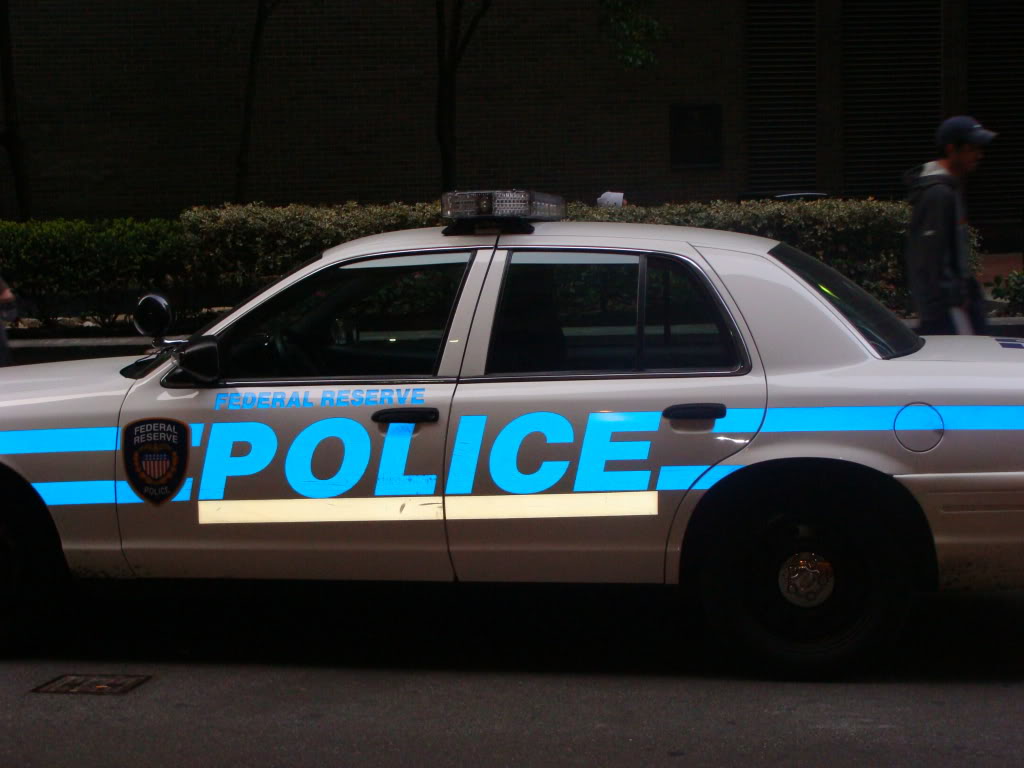 I asked the police officer about his job at the New York Federal Reserve Building. He explained that he had been with the Fed for over 20 years and that the Fed's police force powers had expanded greatly in the wake of 9/11.
So you may, or may not, have known that the private banking cartel, known as the Federal Reserve, has its own police force and firepower. If you have been a reader of FTMDaily.com for very long, you know that I believe that the Fed is a fraud. It is an institution that serves the interests of the global elites and that has helped enslave America into a massive web of unsustainable debt. The "machine gun toting" Fed should be ended now.
___________________________________________
Here at FTMDaily.com, we are working hard to create solutions for you during these difficult times of economic crisis. We invite your feedback and comments on how we may serve you better. Feel free to contact me directly at info@ftmdaily.com.
___________________________________________
In The News Today…
1. MARKET WATCH: Sharp losses for the energy sector erased much of the morning gains for U.S. stocks, as worries of weaker U.S. energy demand sapped the optimism following Monday's corporate buyouts. The Dow Jones Industrial Average was up 10 points to 11962 in midafternoon trade, after turning negative around 1 p.m. Alcoa shed 1.9% and Caterpillar lost 1.5% to lead blue-chip decliners. Chevron fell 1.2% and Exxon Mobil declined 0.7% as the price of oil slid below $97 per barrel. Traders said high inventory and a weak U.S. demand outlook spurred a midday oil selloff. The Nasdaq Composite shed six points, or 0.2%, to 2638.
2. GREEK TRAGEDY: Greece on Monday became the country with the lowest credit rating in the world after Standard & Poor's downgraded it by three notches, saying the agency would consider a likely debt restructuring as a default.
3. WORSE THAN GREECE: When adding in all of the money owed to cover future liabilities in entitlement programs the US is actually in worse financial shape than Greece and other debt-laden European countries, Pimco's Bill Gross told CNBC Monday.
4. METALS UPDATE: Gold fell 1 percent Monday to hit its lowest level in three weeks, as weakness in crude oil and commodities amid worries over economic growth and a European debt crisis prompted selling across the board. Silver also tumbled 4 percent, poised to notch its biggest two-day drop in a month, as safe-haven buying was absent for precious metals despite a downgrade of Greece's credit rating.
5. LIBYA DEBATE: A new Rasmussen Reports national telephone survey finds that just 26% of Likely U.S. Voters feel the United States should continue its military actions in Libya.
Until tomorrow,
Jerry Robinson – FTMDaily.com
____________________________________________________
Jerry Robinson

is an economist, published author, columnist, international conference speaker, and the editor of the financial website, FTMDaily.com. In addition, Robinson hosts a weekly radio program entitled Follow the Money Weekly, an hour long radio show dedicated to deciphering the week's economic news.