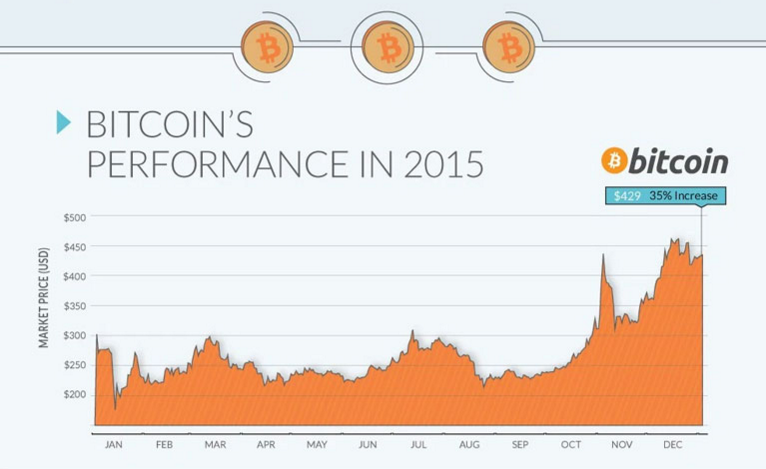 The "sleeper" investment award of the year certainly belongs to Bitcoin as few Wall Street "gurus" enjoyed the 35% ride higher last year.
When the numbers were all calculated, Bitcoin was easily the top performing currency of 2015, trouncing the 8.3% return of the U.S. dollar.
While Bitcoin's 35% annual return may pale in comparison to its massive return of 5,429% back in 2013, it was still enough to beat every other currency in 2015 (and the returns of nearly all other asset classes as well!)
Back in July, we alerted you to the emerging uptrend in Bitcoin along with Bitcoin's massive 94% YoY increase in monthly transaction volume. In fact, 2015 was the first year that total daily Bitcoin transactions broke above 100,000.
INVESTING LESSON >> Major price moves are almost always accompanied by surging volume (transaction) levels. Stronger volume = stronger price moves.
While I am certainly not a Bitcoin evangelist, I personally believe that every savvy investor would benefit from taking the plunge and exposing themselves to at least one Bitcoin transaction. Why? Because it can cost you only a few dollars (you can buy a fraction of a Bitcoin, spending as little as $20) and in exchange, you will get an excellent crash course in the inner workings of Bitcoin transactions and the ingenious blockchain technology.
We even began accepting Bitcoin as a form of payment here at FTMDaily a couple of years ago because demand dictated it.
So now, sit back and enjoy the excellent infographic below, courtesy of The Money Project.

The Future of Bitcoin (Jerry Robinson, Trace Mayer)