The Ledger Nano S is a cryptocurrency hardware wallet that can be used to store over a thousand different assets, including Tron (TRX). Investors need a Tron wallet that will store their private keys off the exchanges and provide a layer of security to protect against potential hackers and bad actors.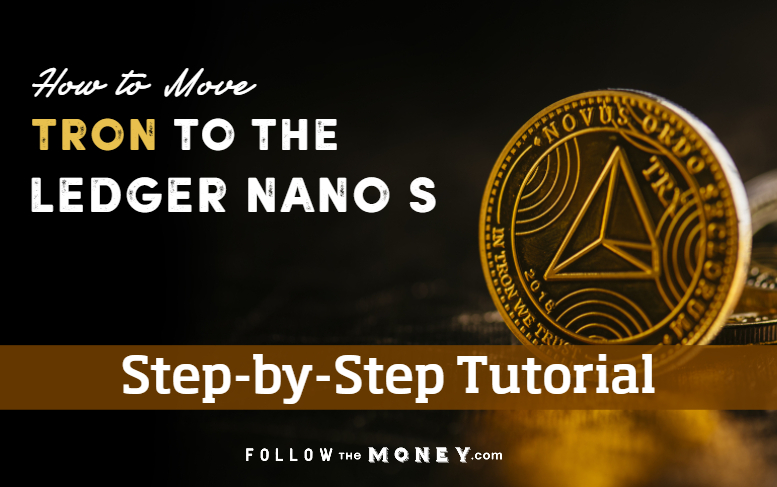 How To Move Tron to the Ledger Nano S
Before you start, you need a Ledger Nano S that has been set up properly and that has the latest firmware installed. You will also need to download the Ledger Live app on your computer.
Part 1: Download the Tron app onto your Ledger Nano S
This first part of the process involves the following five steps:
1. Open Ledger Live on your computer.
2. Connect your Ledger Nano S device to your computer and enter your PIN.
3. From the Ledger Live app, click Manager.
4. On the Legder Nano S, click to allow Manager.
5. Select "Install" next to Tron.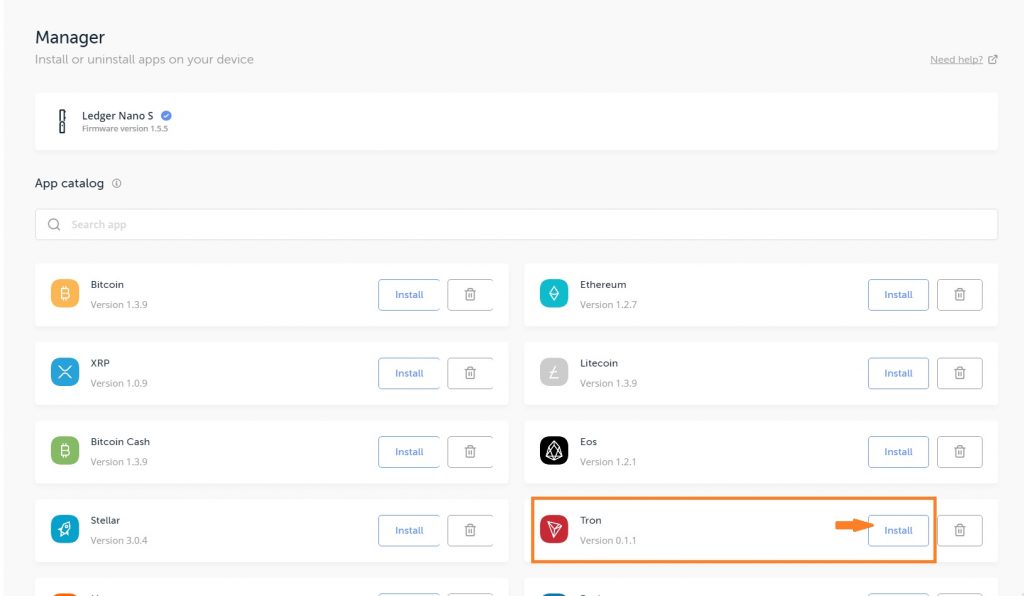 You will see an "Installing" message while it is installing onto your device.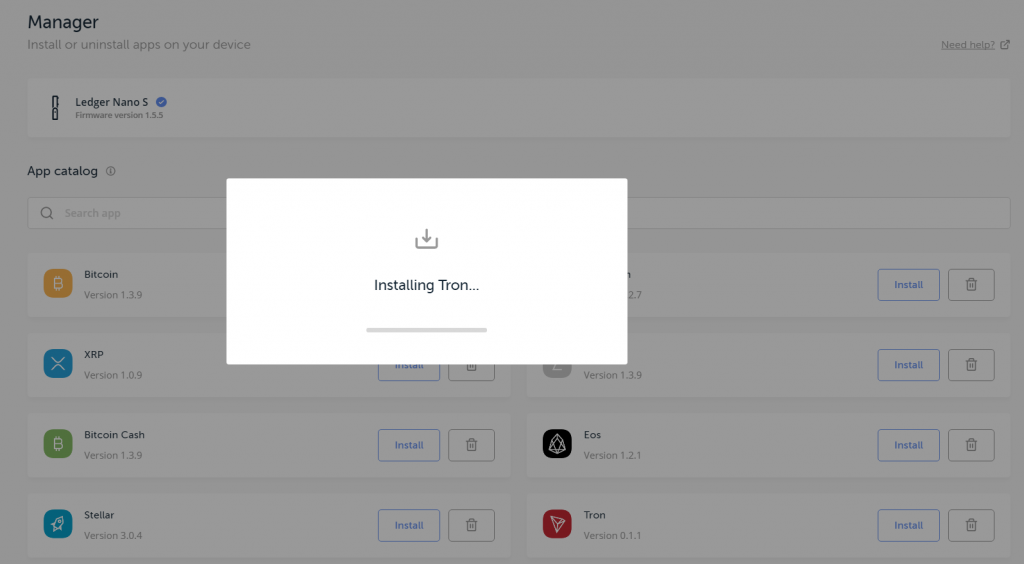 Note: If you get a message that there is not enough space on your Ledger Nano S device, then you will need to uninstall one or more apps. Try uninstalling one app, then repeat step #5 above. If you still receive a message saying you do not have enough space, uninstall another app.
To uninstall an app using the Manager on Ledger Live, simply click the trash can icon next to the app you wish to uninstall. According to Ledger, uninstalling apps does not affect your cryptocurrency assets, and I have found that to be true in my experience using the Ledger to store many different coins.
Be sure you always keep the Tron app on your Ledger up to date with the latest version of the app. If you do not, you run the risk of this process not working properly.
Part 2: Open the TronScan Web App
The TronScan web app essentially allows you to easily view and navigate your Ledger Tron wallet. Follow the next four steps to open the app.
1. Open the TronScan web app. Always check the URL for accuracy.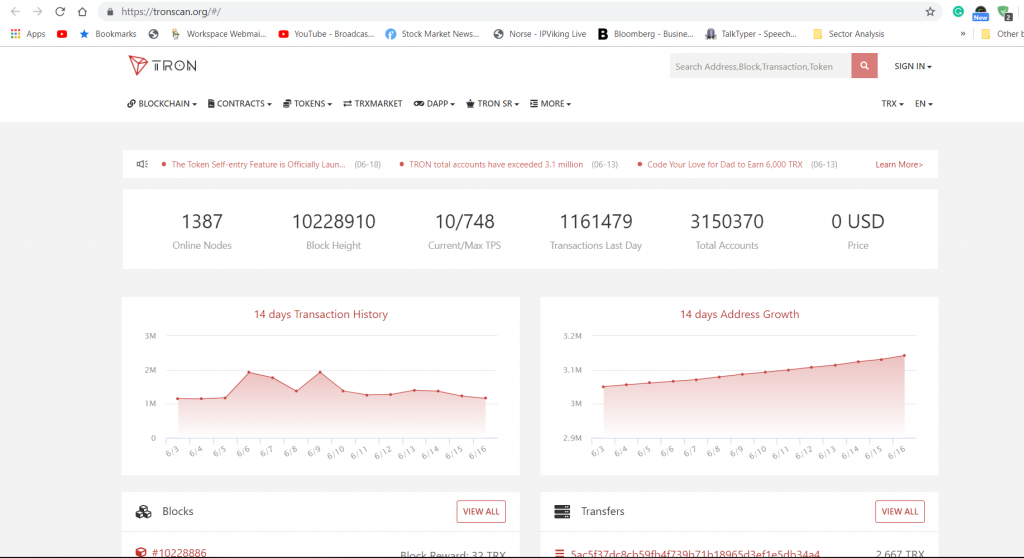 2. Under the Sign In drop-down menu, choose Ledger.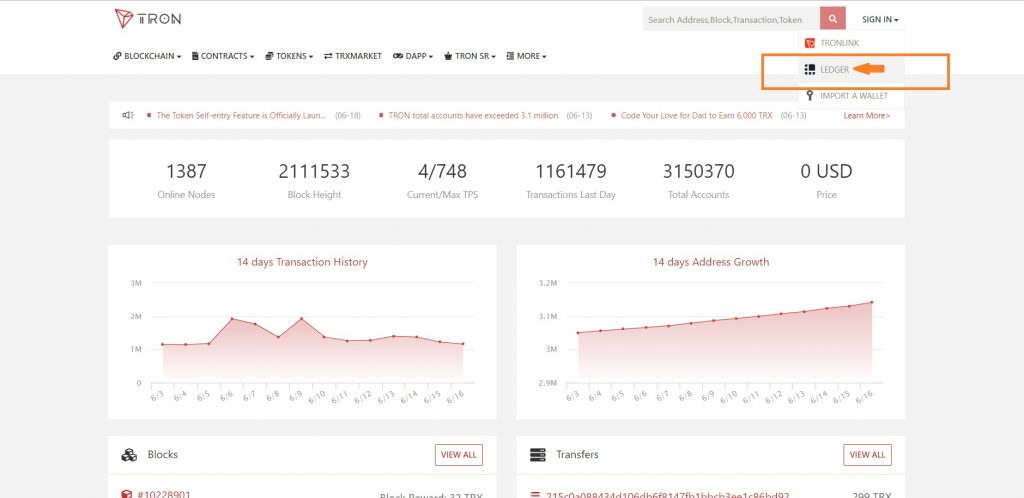 3. Open the Tron app on your Ledger Nano S.
To open an app on your Ledger Nano S device, first, be sure your device is connected to your computer and enter your PIN. Scroll to the Tron app and click both buttons simultaneously.
4. Confirm your Tron wallet address on your Ledger Nano S.
You will see your Tron wallet public address scrolling across the screen on your device. Click the check-mark button to confirm the address. If you are opening a Tron wallet for the first time, you will need to send at least 1 TRX to open the wallet.
You will now see your Tron wallet account on the screen, as shown in the screenshot below.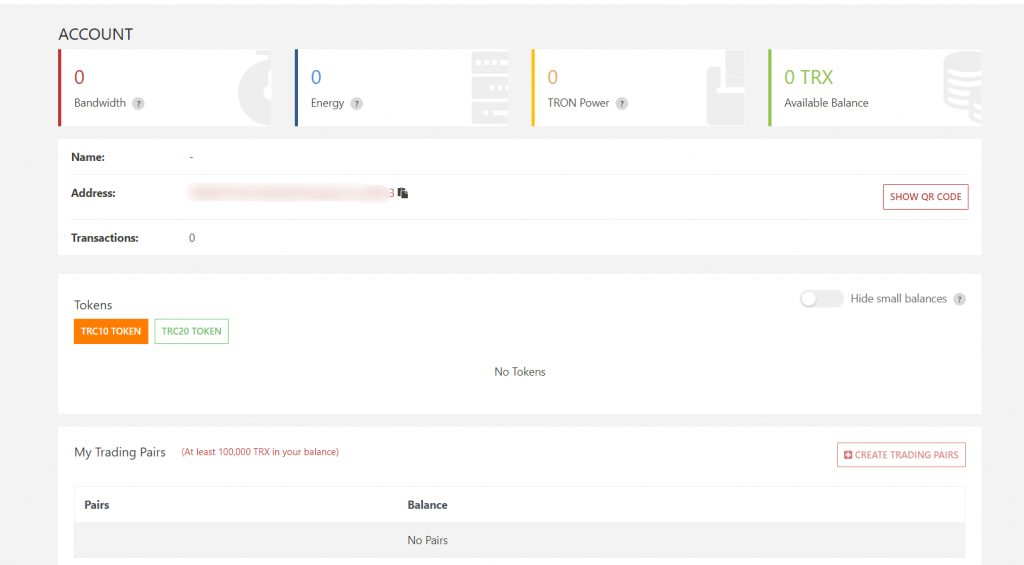 Part 3: Move your Tron onto the Ledger Tron Wallet
The third task is to move your Tron from the exchange (or other wallet) onto the Ledger Tron wallet. This specific example involves moving Tron from a Binance account onto the Ledger Nano S.
1. Login to your Binance.com account and under the Funds menu, click Balances.
2. Scroll to your Tron (TRX) and click Withdrawal.

3. Enter your Tron wallet public address from TronScan into the TRX Withdrawal Address field.
Copy the Address as shown below.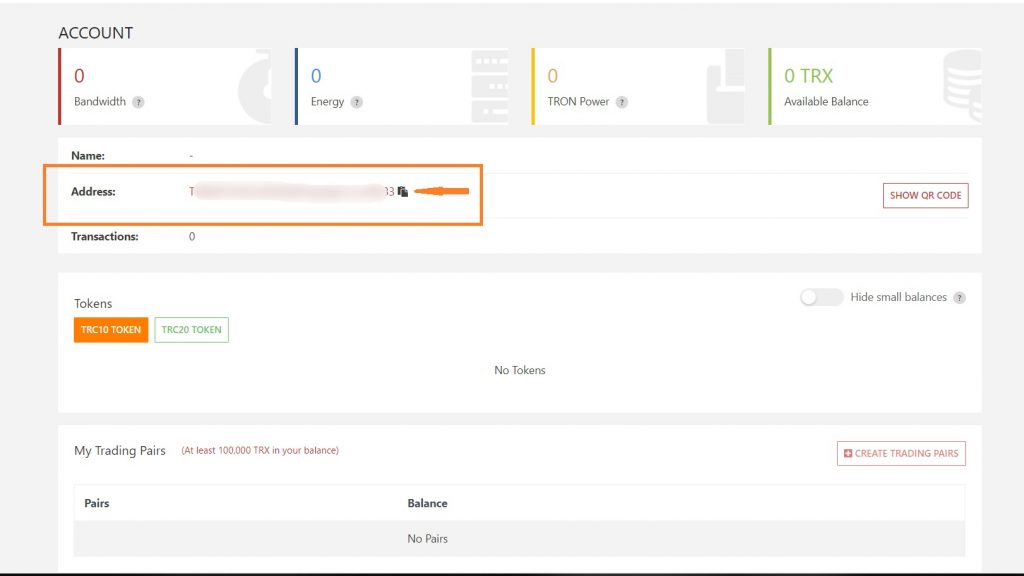 Paste the address into the TRX Withdrawal Address field on Binance. Check the address letter-for-letter for accuracy.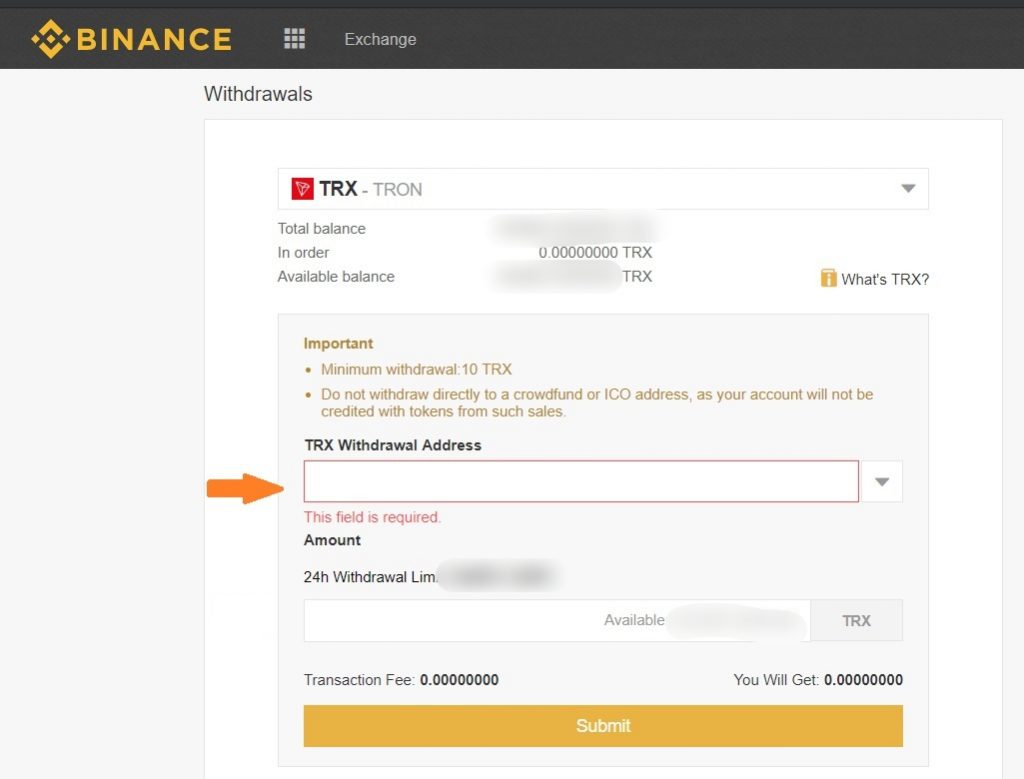 4. Enter the amount of Tron (TRX) you would like to send to your Ledger Nano S.
"If this is the first time you are moving Tron to your Ledger, test a small amount before sending the rest."
If this is the first time you are moving Tron to your Ledger, test a small amount before sending the rest. This will help prevent any potential large losses of your coins due to user error. You will notice a very small transaction fee. Each time we move Tron out of Binance, we are always charged a fee of only 1 TRX no matter how much we are withdrawing.
5. Click Submit after ensuring your wallet address and amount are correct.
6. Enter your two-factor authorization code.
Depending on how you set up your Binance account, this is typically going to be from a Google Authenticator app on your smartphone.
7. Check your email and click to confirm the withdrawal.
Be sure to verify that the withdrawal wallet address and amount are both correct in the email you receive from Binance.
8. Wait a few minutes for the Tron network to process your transaction.
While you are waiting, you may verify that your withdrawal is processing by clicking Transaction History under Funds in Binance. Be sure to toggle to the Withdrawal option.

9. View your Tron wallet in the TronScan app to confirm the transaction was successful.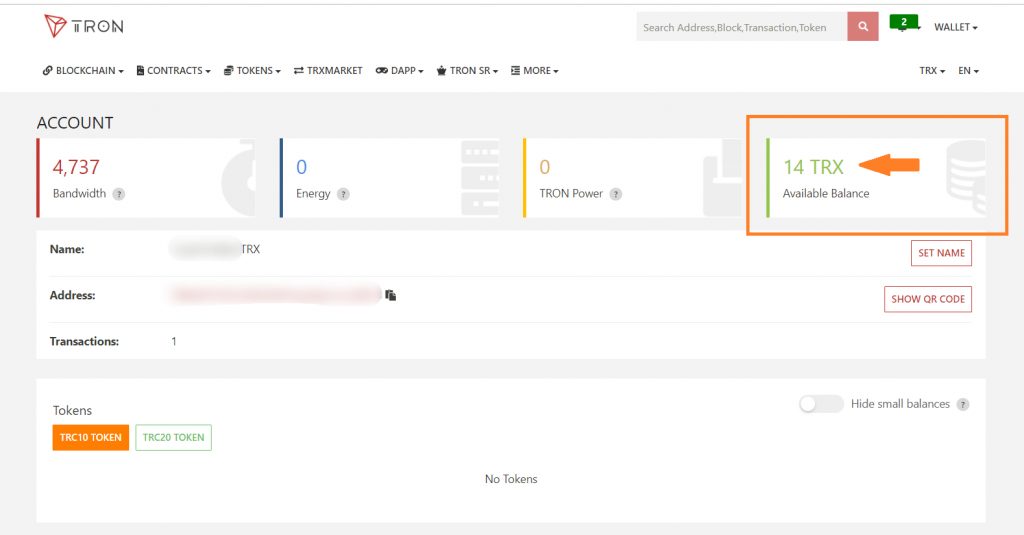 You may also further verify the transaction was successful by viewing your Transaction History again in Binance. The transaction will now be marked as "Completed".

You have now completed the process of moving Tron (TRX) coins to your Ledger Nano S hardware wallet. Good job!
Want To Find The Next Tron?
We believe big gains in cryptocurrencies still lie ahead. Would you like to profit from this paradigm-shifting technology, but don't know where to begin? There are over a thousand different cryptocurrencies available to invest in and many are destined to fail, but the winners have the potential to generate life-changing profits. See which cryptocurrencies we believe have "Tron" profit potential in our 2019 Cryptocurrency Investment Report.
About the author: Jennifer Robinson is the co-founder of FollowtheMoney.com, an early cryptocurrency investor and adopter, and an advocate of Follow the Money's 5 Levels of Financial Freedom. Holding a Master's Degree in Finance and experience in the corporate world, she is well aware of the need for true financial education and seeks to help fill the gap.